U.S. Permit Volumes Fall Below 400K Again in December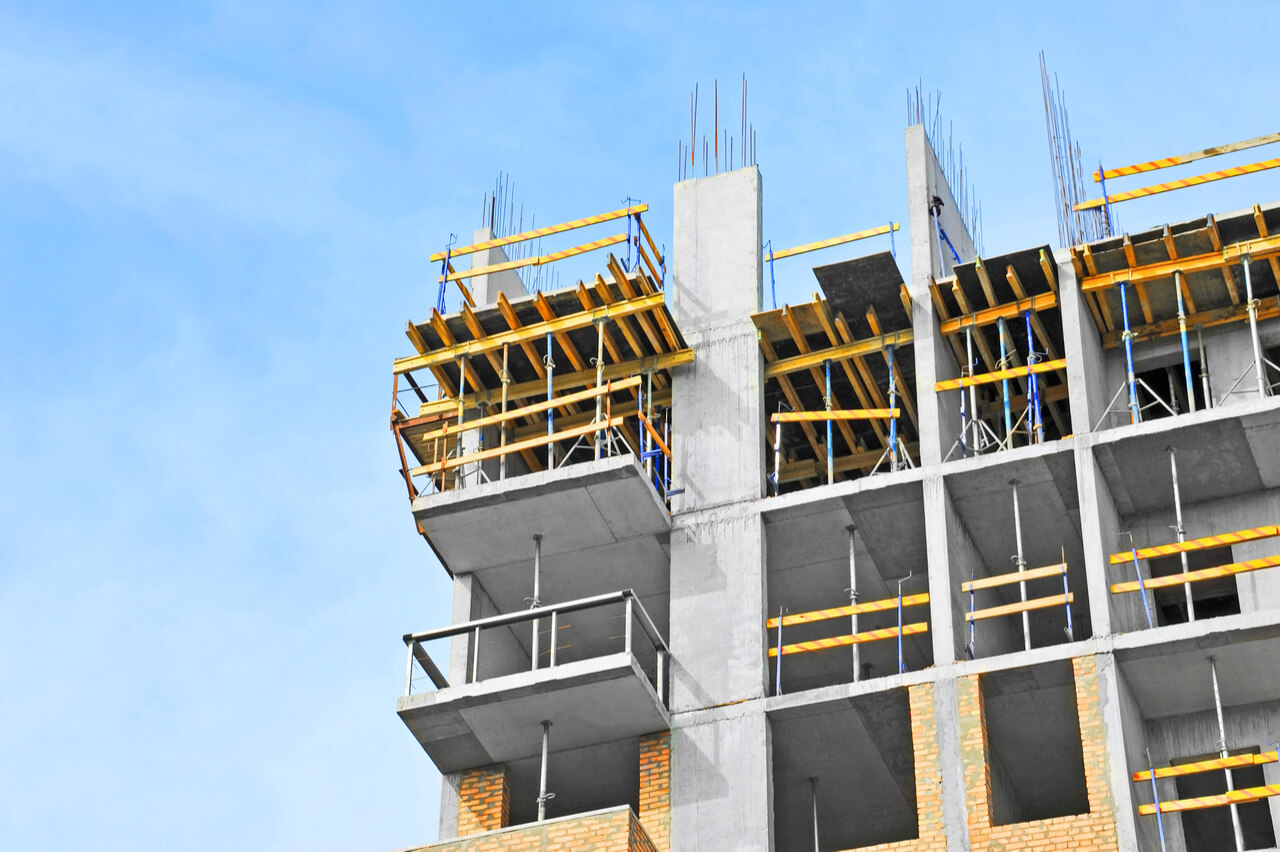 The nation's annual multifamily permitting volume slipped below 400,000 units for the eighth time in 12 months, according to the U.S. Census Bureau.
Local governments across the country approved 382,000 units in 2017. That permitting activity, inclusive of the 33,906 units authorized during the month of December, represents a 4.3% drop from November 2017's annual volume and a 3.8% decline from December 2016's annual total.
On the metro-level leaderboard for annual activity, the first nine of the top 10 metros remained the same as they did in the previous month, and the first six remained in order. Chicago and Austin switched the #7 and #8 spots, and Portland returned at #9. Boston moved into the #10 spot.
All of the top 10 permitting metros continued to buck the national trend of declining permits, with seven of the top 10 metros experiencing double-digit increases over last year. Multifamily permits in New York, Austin, Portland and Boston increased by more than 20% in 2017. Dallas, Washington, DC and Chicago each registered increases of more than 10%. Denver, Seattle and Los Angeles saw annual increases of less than 5%.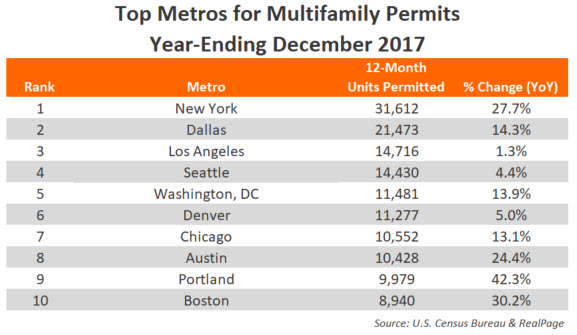 With all of the top 10 apartment markets reporting increases in annual multifamily permits, the annual total of multifamily permits issued in the top 10 metros – 144,888 – was 16.6% greater than the 124,299 issued in 2016. The total number of permits issued in the top 10 metros was almost equal to the number of permits issued within the 11th-42nd ranked metros. A year ago, permits issued in the top 10 metros almost equaled the 11th-30th ranked markets.
For the month, New York retained its leading position while Boston and San Diego landed at #2 and #3, with 1,642 units and 1,422 units permitted, respectively. Meanwhile, top-three staple Dallas remained at #8. The North Texas hub fell down the rankings in November, after recording in October the largest single-month permitting volume in recent years.
The monthly leaderboard's greatest year-over-year change belonged to Tampa Bay. In December 2017, Tampa Bay authorized nearly 800 units. Tampa has elevated development activity in recent years, which has resulted in moderating rent performance. In 2017, Tampa Bay received 4,600 units and increased rents 3.0% – growth in line with historically normal levels but down from recent readings of roughly 5% or higher.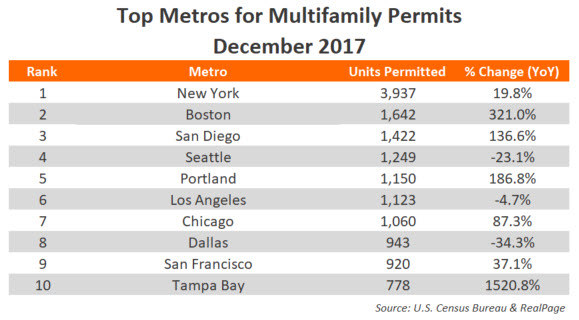 Meanwhile, the introduction of Boston, Chicago, San Diego, San Francisco and Tampa Bay pushed Austin, Charlotte, Denver, Houston and Washington, DC from the standings.