Pace of Job Recovery Flattens in Several Markets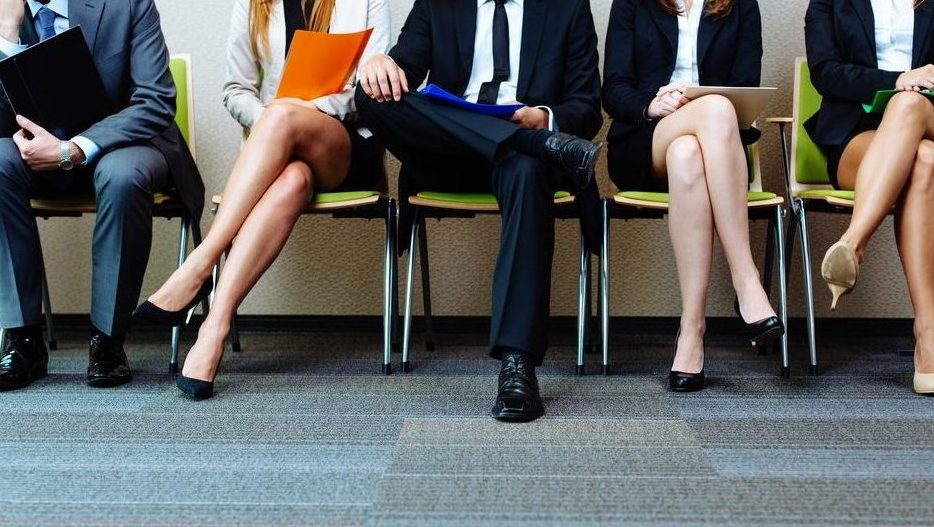 Employment recovery from pandemic-related shutdowns slowed, and in some cases, reversed, in several markets, as COVID-19 infection rates surged in many portions of the country.
November's jobs report from the Bureau of Labor Statistics (BLS) showed that more than half of the core 150 markets tracked by RealPage saw deepened annual job loss totals compared to October.
However, the list of markets with the steepest annual job losses was virtually unchanged from last month, with all markets returning to the list and only two changing places. According to the BLS, New York once again leads the list of markets with the steepest job losses with more than 756,000 jobs lost for the year-ending November 2020. This market did continue to recover some lost jobs in November, as it has done every month since bottoming out in April. However, even after seven months of recovery, New York has regained only about 54% of the 1.4 million jobs lost in the initial downturn.
In Los Angeles, over 386,000 jobs were lost in the year-ending November, which was slightly more than the annual loss from October. This setback occurred after two months of slight job recovery. Losses in Chicago (-341,000 jobs) and Boston (-258,300 jobs), on the other hand, were a slight improvement over October losses.
Philadelphia, Detroit, and Washington, DC each had employment losses of about 180,000 to 200,000 jobs in the year-ending November. Those losses deepened slightly from October's annual loss rates.
Houston has gained back almost 139,000 of the 285,800 jobs lost in April's annual figure (51.5%), but at an annual loss total of 147,300 as of November, Houston still has a long way to go. Anaheim and Minneapolis-St. Paul were the two markets that changed places in this month's list, with Minneapolis losses of 132,600 jobs deepening slightly over last month's loss rate. Meanwhile, Anaheim lost 128,800 jobs in the year-ending November, which was quite a bit less than was lost in the October total.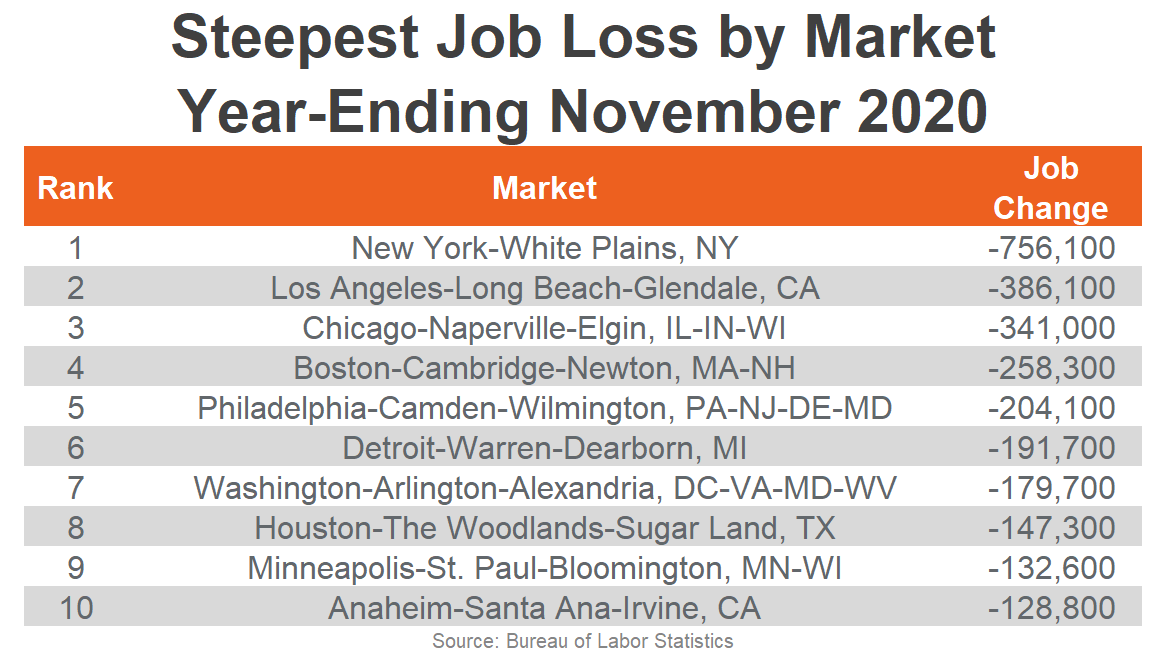 Month-over-month comparisons of labor data from the BLS when it is not seasonally adjusted, even when annualized, can warrant a little caution. Together, the 10 markets with the steepest job losses saw an improvement of only about 10,000 jobs from October to November as half of them added to their annual job loss totals this month.
Of the 10 hardest-hit markets, most have already recovered about half of the total jobs lost in April, at the beginning of the pandemic. However, the pace of that recovery has definitely slowed.
Only 72 of the core 150 markets had fewer jobs lost in the year-ending November than in October, which was 39 fewer than last month. Stricter economic and business controls going into the winter months have already hindered the jobs recovery across the country.
Several markets logged steeper job losses in November. Markets that lost an additional 7,000 jobs or more compared to October's annual loss totals include Detroit and Flint, MI, Cincinnati,  Madison, WI, and Los Angeles. Other markets with additional job losses include Washington, DC, Newark, Dallas, Phoenix, Minneapolis, and Lansing, MI.
Despite deepened job losses in more markets, 18 markets lost at least 100,000 jobs in November's report compared to 19 markets with similar losses last month, and 49 markets in April. However, 24 markets lost between 50,000 and 99,999 jobs compared to last month's 22. Combined, the jobs lost in the 10 worst markets accounted for 29.7% of the total losses for the U.S. The next 10 markets for job losses accounted for another 12.2% of total job losses.
As with the list of markets with the steepest job losses, the list of steepest percentage decline in employment has many returning entries. According to the BLS, New York and Las Vegas were the returning major markets on the list for steepest job loss as a percentage of total employment for November 2020. This month, they are joined by Newark, NJ.
The range or spread of percentage job losses had been decreasing, with an improvement of about 60 to 90 basis points (bps) from the lowest to highest each month, but November's list saw little improvement from October. November's list had percentage losses ranging from 9.7% to 13.3%, while the markets on October's list ranged from 9.8% to 15.4%.
Hawaii's Urban Honolulu market again leads this month's list with a 13.3% decrease in employment from last year, still, a 210-bps improvement from last month.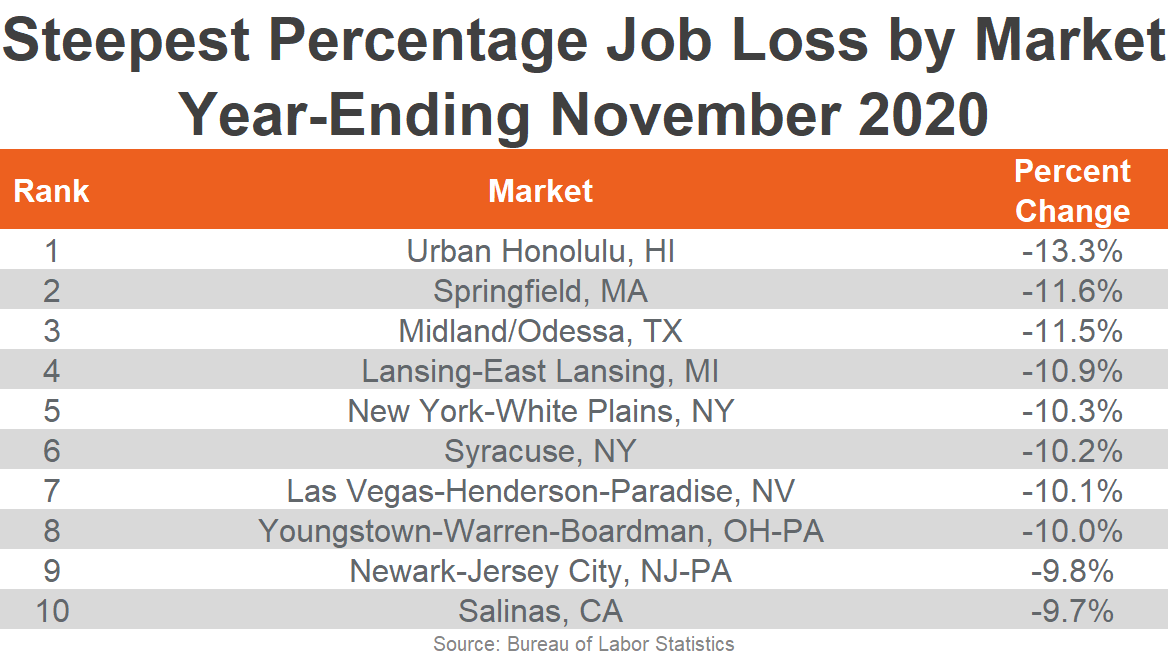 Many of the remaining markets on the list of steepest percentage job change are small markets located in the upper Midwest or Northeast regions. As was the case early in the pandemic, markets with the lowest percentage job losses are typically college-focused economies, including Salt Lake City and Austin.