Orlando Apartment Market Assumes Rent Growth Throne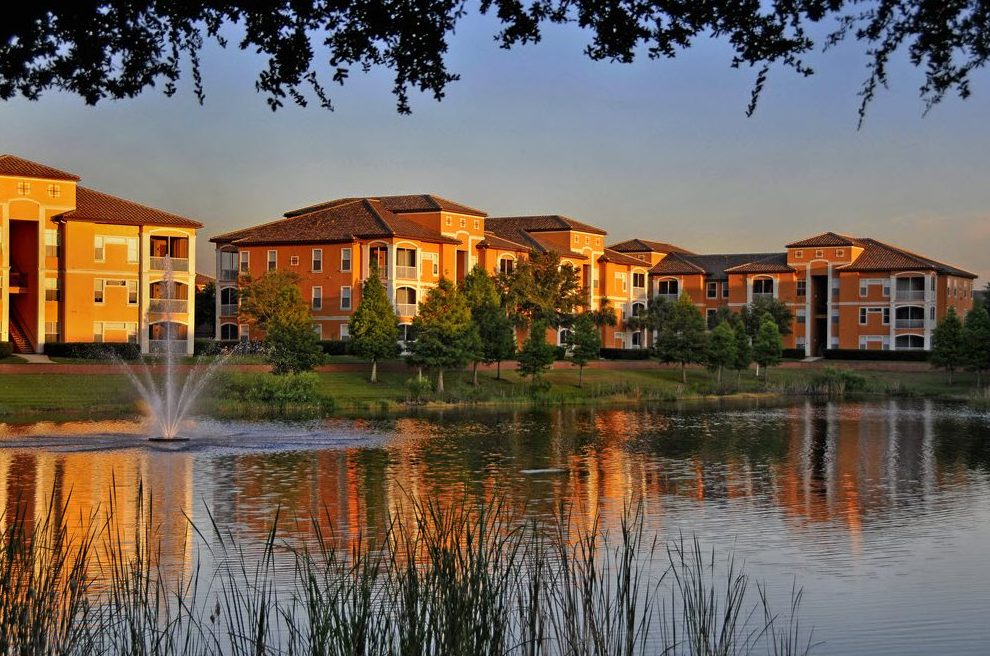 The Orlando apartment market recorded the highest annual effective rent growth among major markets in November, working its magic to end Sacramento's 20-month reign atop the leaderboard, according to monthly apartment market data from Axiometrics, a RealPage company.
Orlando's November rent growth of 5.7% topped Sacramento's 5.1%, an increase good enough to land the California capital at No. 5 nationally. Orlando's performance was more than one full percentage point above the metro's average trailing 12-month rent growth of 4.6%. November's year-over-year rate also was Orlando's highest since the 6.3% of June 2016.
However, 5.7% was the lowest nation-leading rate in more than seven years.
Much of Orlando's recent performance can be credited to robust job growth. Though the job-growth rate in October (the latest Bureau of Labor Statistics data available) was 60 basis points below that of one year earlier, the 3.0% job growth (36,800 jobs added in the year ending October) was double the national rate and tied for second highest among major markets. Such hiring levels came even as unemployment remained very low, at 3.2% in the most recent October 2017 data.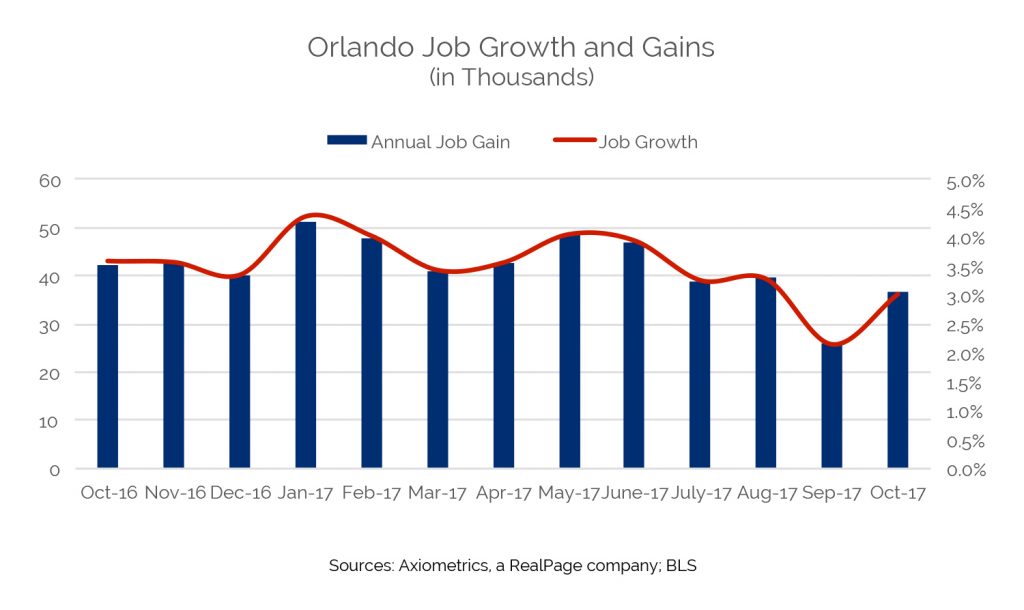 October's Orlando job gains were primarily in Manufacturing (11.5% annual job growth), Financial Activities (7.0%) and Construction (5.9%).
While job growth bolstered demand in Orlando, new supply also remains at high levels. Some 1,960 new units are identified for delivery in the fourth quarter for 2017, according to pipeline data as of Dec. 11, and 2,878 more in the first quarter of 2018 – some 38.2% of Orlando's identified 2018 total of 7,527 units. Job growth will have to continue at its high pace for the Magic City to keep its high comparative standing.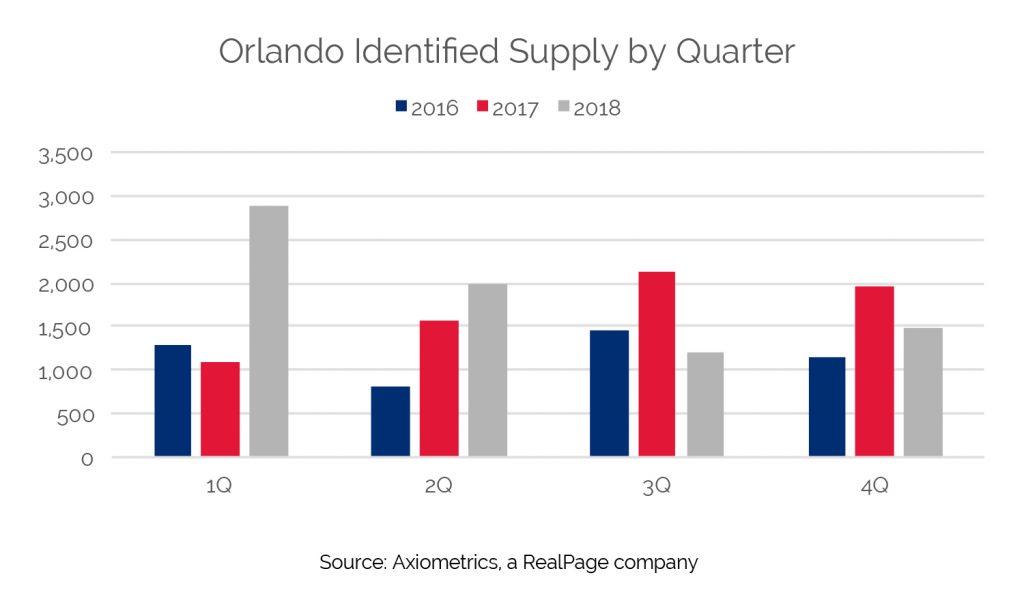 The strength of Orlando's apartment market is being noticed by industry leaders. The Fall 2017 "Market Momentum" survey, compiled by the National Apartment Association and RealPage, found that those surveyed ranked Orlando the metro most likely to receive increased investment. Orlando placed second among markets most likely to experience increased rent growth.
But even though the Orlando apartment market's dynamics are strong, several other metros are within striking distance of November's rent growth leader, some reporting some of the same trends that propelled Orlando to the top.
With 5.5% annual rent growth in November, No. 2 Las Vegas trailed Orlando's performance by just 19 basis points (bps). Vegas has been first runner-up for the past four months, with job growth a full percentage point higher than the national rate. As with Orlando, supply could become an issue in the first half of 2018, when 2,413 new units have been identified for completion. On the other hand, Vegas construction is expected to grind to a halt later in the year, with no identified deliveries in the fourth quarter.
No. 3 Richmond and No. 4 Jacksonville have been climbing steadily up the charts, though again, supply still has not peaked in those to metros and job growth is declining – in Richmond's case, below the national rate in October.
No. 5 Sacramento spent 20 consecutive months at the top of the national perch. Sacramento's rent growth was 11.7% when it wrested first place from Portland, OR in March 2016 and climbed as high as 12.3% in July 2016.
Moderation has occurred since then, slowly and first and then more rapidly. Rent growth fell below double digits in January 2017, and has lost almost 5 full percentage points this year. November's 5.1% rent growth was Sacramento's lowest since the 4.8% of March 2014, though it was still good enough for No. 5 on the leaderboard.
The ebbs and flows of the top five metros are depicted on the chart below. Notice how they have converged the past two months: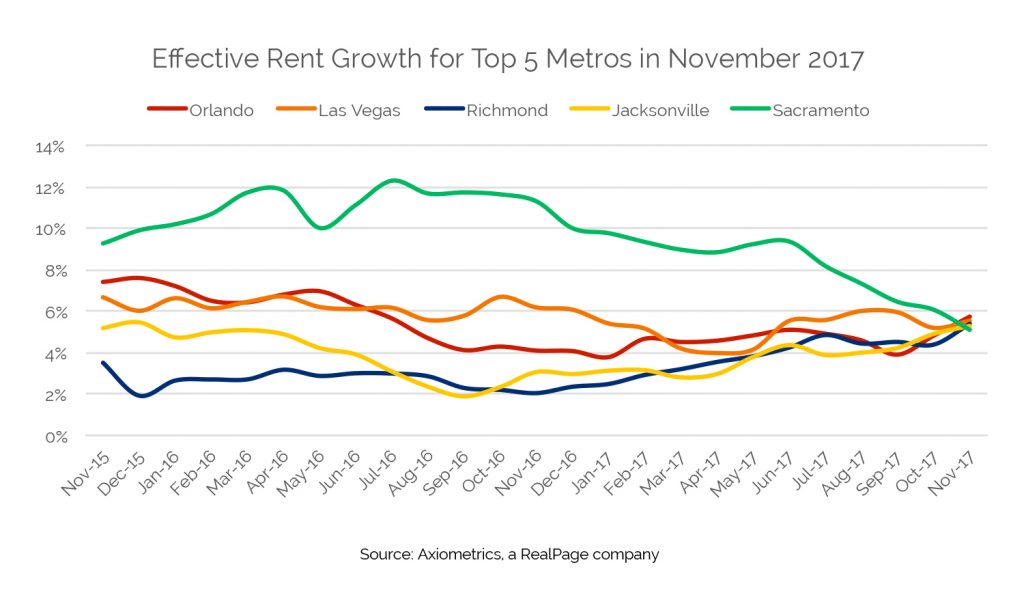 Until last month, only three metros have held the No. 1 position on the rent-growth leaderboard over the past 3½ years: Oakland; Portland, OR; and Sacramento, all of which spent several consecutive months on top. Whether Orlando can string together a long streak as the leader is a question that will be answered in the new year.