Operator Challenges in Adapting to Virtual Operations: Poll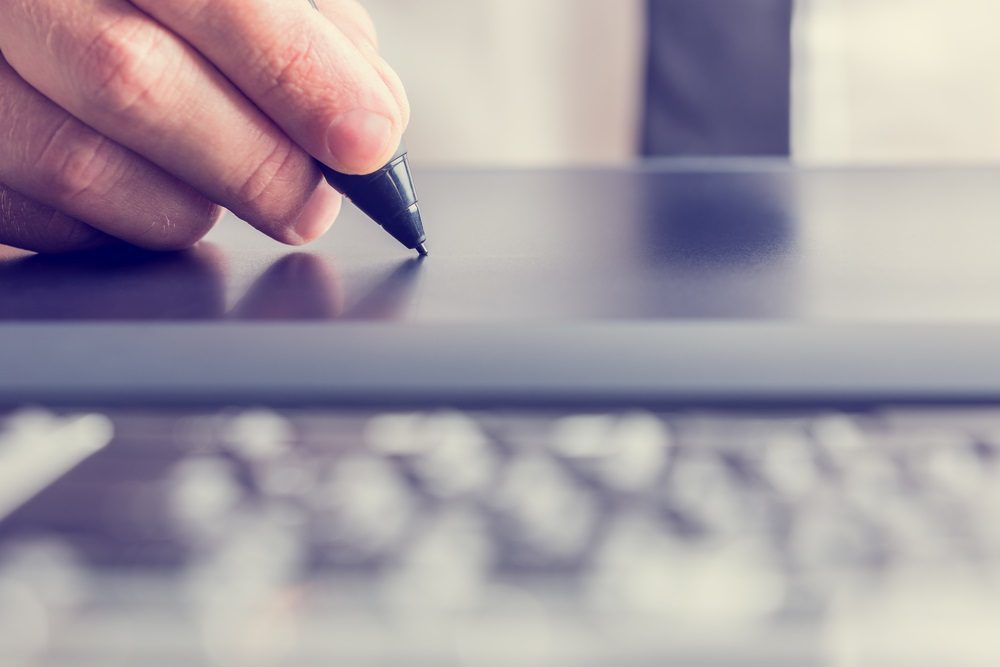 Apartment tours. Lease signings. Maintenance requests. Resident engagement.
Operating apartments is inherently a face-to-face business. The COVID-19 outbreak has changed that seemingly overnight, requiring a shift to virtual operations to ensure continuity of normal business functions. Sudden changes in business operations is never pain-free, but some apartment operators report feeling more prepared for the shift than others.
Remote Leasing
Of late, many leasing offices are working reduced hours with a skeleton staff and pushing more leasing processes online. This virtual leasing office executes everything from a video tours and new resident contact centers to applications, screenings and payments. While many of these procedures were already starting to happen online – think renter's insurance and remote deposits – the pandemic just accelerates the necessity. According to a recent RealPage survey, more than half (52.3%) of operators already offer full-scale virtual leasing. However, more than a third (33.7%) of responders said they do not offer a completely virtual leasing experience.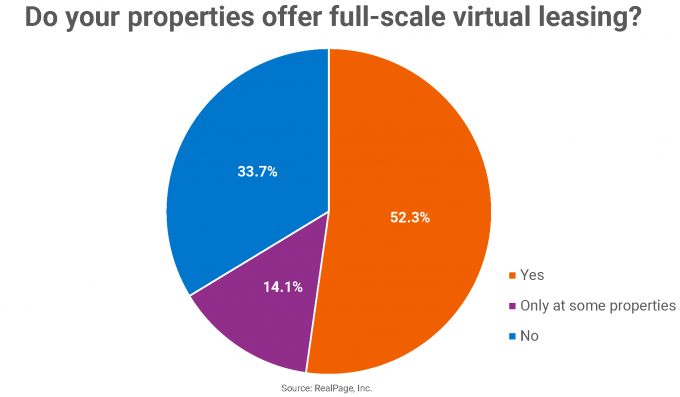 "The poll results show that only half of apartment professionals believe they are positioned to move the entire leasing process online – which certainly gives those communities a tremendous advantage in the social distancing era," RealPage Deputy Chief Economist Jay Parsons said. "This shift was underway prior to COVID-19. The epidemic is accelerating the pace of modernization."
Resident Engagement
With a nationwide occupancy rate of 95.3% in March, plenty of existing residents need attention. A huge part of a property manager's job is to engage residents, encourage retention and boost reputation scores. In-person social functions, cross-tenant interactions and lively common areas help, but property managers have had to pivot to app-based engagement during social distancing.
"These days, every property manager is looking for creative ways to engage residents without actually seeing them," Parsons said. "A successful pivot to virtual engagement over apps and portals positions property managers for a potentially prolonged period of social distancing."
RealPage solutions like Active Building and Modern Message help facilitate these virtual interactions. Much like online leasing, which was growing in popularity before the pandemic, virtual solutions for renter engagement has now become crucial. According to out RealPage survey, most respondents either said they're OK at virtual resident engagement (38.2%) or admitted they have some work to do in this space (39.8%). RealPage's Modern Message can walk property managers through ideas like community polls, photo competitions, scavenger hunts and contests.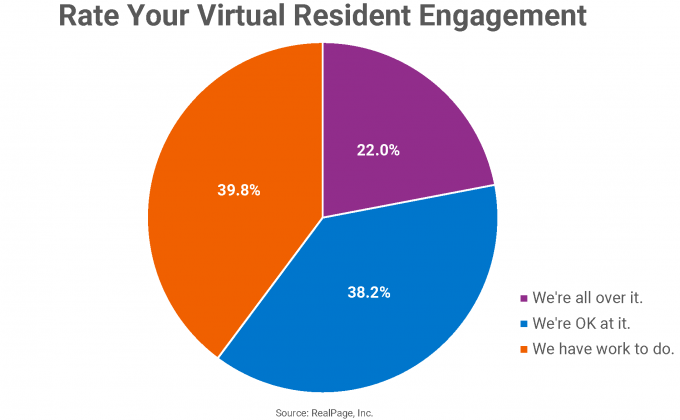 Remote Operations
In addition to getting and keeping residents, there's still the day-to-day operations of property management. As more property managers transition to working remotely, pressure builds to keep operations undisrupted. RealPage SmartSource IT can solve a host of remote network issues such as accounting, compliance and spend management, among other back-office tools. According to our RealPage survey, keeping staff productive and engaged is the biggest issue most respondents (38.4%) are facing.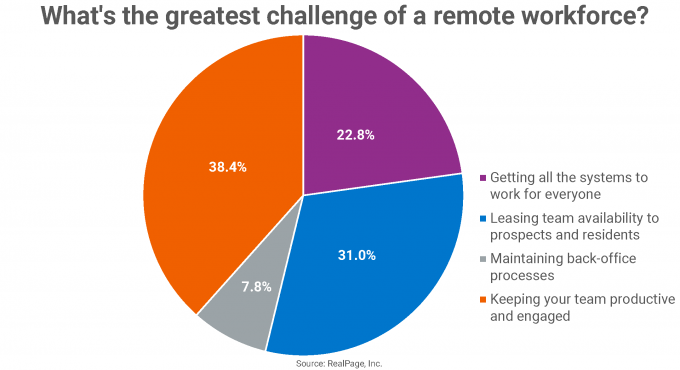 "COVID-19 challenges the basic operational functions we tend to take for granted: internal systems access, back-office functions and front-office leasing," Parsons said. "But even more are struggling to keep their teams busy – a problem that becomes more worrisome the longer quarantining draws out."
One way to keep staff productive in these times is through continuing education and training. RealPage's EasyLMS offers such solutions. With this tool, regardless of how long remote working lasts, teams have the knowledge and skills to handle it.
For more information, watch the recent webcast, COVID-19: Impact on Remote & Outsourced Services.