Oil Industry Job Gains Rebound in Texas, North Dakota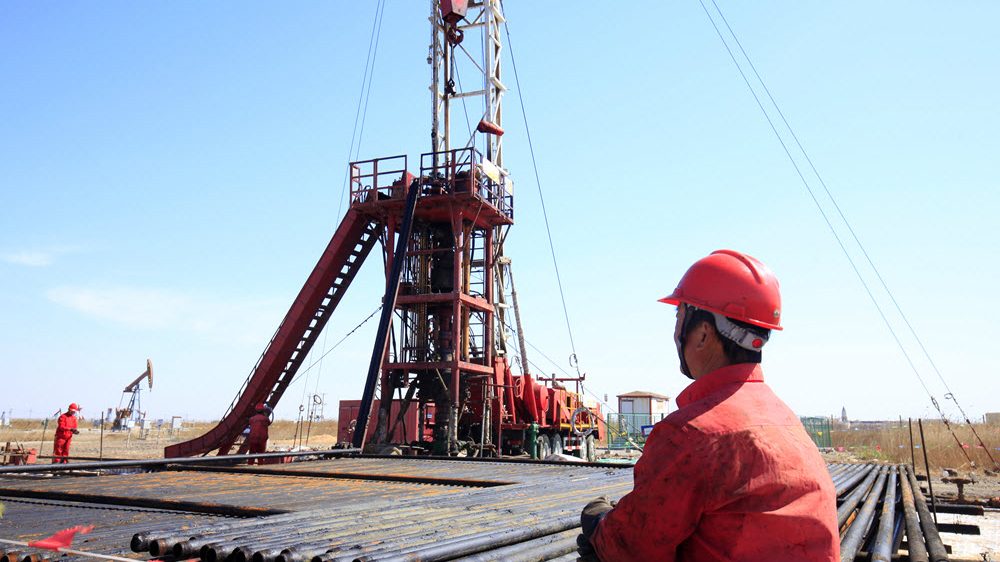 The United States has become one of the world's top producers of oil and gas in recent years, primarily because of the explosion of shale play exploration (fracking) and existing fields. Two of the top states for production have been Texas and, more recently, North Dakota. Texas has three of the five most productive shale plays in the U.S., and North Dakota contains the majority of the Bakken Shale play.
With this production surge came jobs. In the post-recession boom in energy production, rig counts peaked in June 2012 at 932 in Texas and 200 in North Dakota. At the same time, Mining & Logging 12-month job gains (primarily oil and gas production and support) peaked at almost 40,000 in Texas and more than 9,000 in North Dakota.
Both Texas and North Dakota experienced steep drops in Mining & Logging jobs after the oil-price collapse of mid-2014. The price collapse was caused by a worldwide oversupply and overproduction of oil, which outpaced demand, and a combination of other factors.
In the wake of that collapse, the price per barrel of West Texas Intermediate fell from more than $100 in the summer of 2014 to less than $30 in early 2016. Production (as measured by the rig count) pulled back sharply and fell to lows of 179 and 24 for Texas and North Dakota, respectively, by May 2016.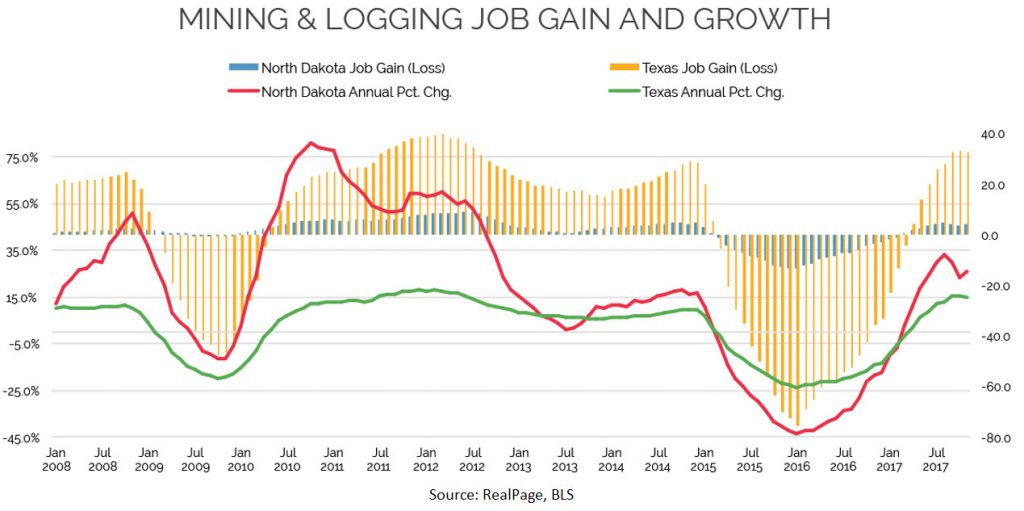 As seen in the chart above, job losses in Mining & Logging plunged to 75,600 in January 2016 for Texas and 13,300 for North Dakota. Based on the level of employment, North Dakota experienced a bigger annual percentage drop that month (-43.6% vs. -23.9% for Texas). Conversely, when oil and gas jobs returned to North Dakota in the past several months, its annual percentage growth was greater than Texas' (25.6% vs. 15.0% for November 2017).
Annual job gains are currently averaging close to the levels they were just prior to the price collapse. Texas' annual Mining & Logging gain through November of 32,700 is already above the 28,000 jobs added in 2014, while North Dakota's November figure of 4,000 jobs gained is slightly above 2014's average of 3,800 new jobs.
Interestingly, oil production in thousands of barrels declined by only 6%-8% in Texas and about 10%-17% in North Dakota during the period when rig counts fell by 50%-70% in both states.