Are Late 2017 Apartment Rent Cuts a Signal of What's To Come?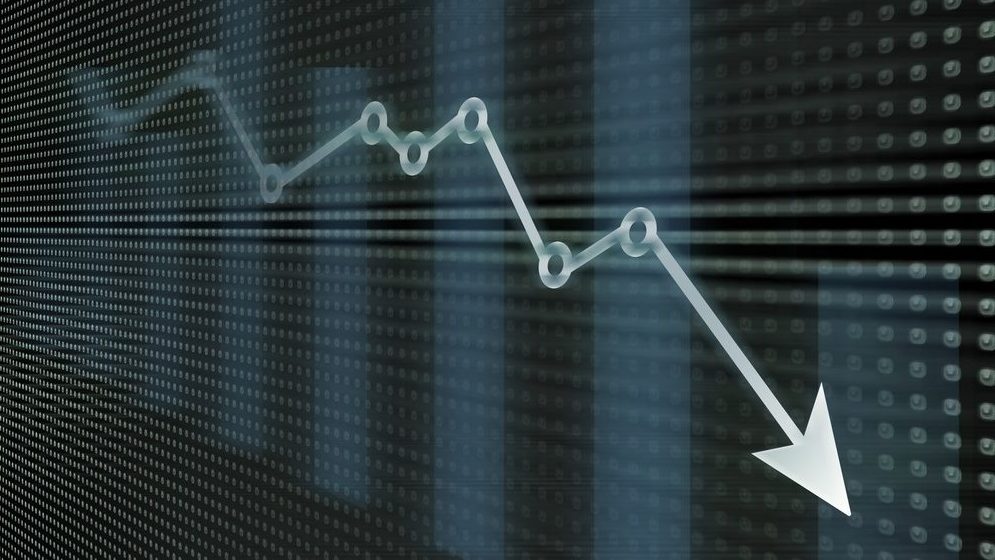 U.S. apartment rents backtracked during the final quarter of 2017. Effective rents for new leases across the nation's 150 largest metros dropped 0.9% during the last three months of the year.
Normal seasonality in the apartment market performance plays a big role in shaping those results. With the combination of holidays and colder weather limiting the propensity to move right at the end of the year, the slowdown in renter prospects coming in the front door leads apartment owners and operators to set rents conservatively.
Rent loss around 0.5% is typical late in the year, and it's not especially unusual to see that decline go to about 1%. In general, then, 4th quarter 2017's loss registered at the steep end of the normal range, a performance that's not at all surprising, especially taking into consideration the big block of just-completed apartments moving through the initial leasing process.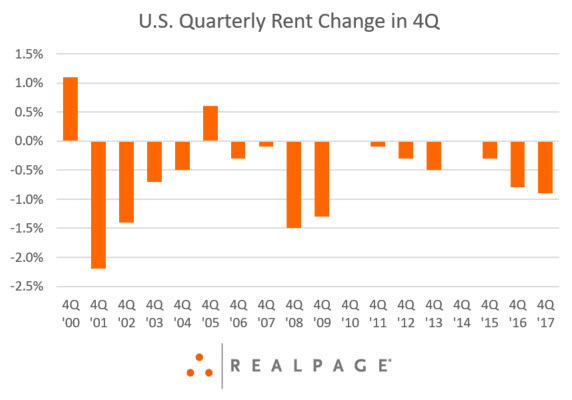 Most of the markets experiencing the biggest rent drops at the end of the year logged declines that weren't especially out of line with local standards for 4th quarter results. Boston, Chicago and Washington, DC, for example, are places that lose lots of pricing power on a seasonal basis, and the quarterly rent cuts in each of those metros came in around the 2% mark – 2.3% in Boston, 2.1% in Chicago and 1.8% in Washington, DC. Looking at some warmer-weather markets, Raleigh's 1.7% price drop was not especially out of the ordinary for than metro, nor was San Diego's decline of 1.6%.
However, 4th quarter rent shifts raised giant red flags in a handful of metros.
Effective rents for new leases in Seattle were chopped 3.2% in the final three months of 2017, with the metro suffering the biggest price cuts among the country's 50 biggest markets. While annual rent growth in Seattle still is running a little above the national norm, the loss of overall momentum that began to register around mid-2017 is stunning. With so many additional apartments still on the way, Seattle probably won't make it back to the top tier of the U.S. rent growth leaderboard in 2018 and 2019.
While Austin is prone to slight rent cuts late in the year, 4th quarter 2017's pricing drop of 2.5% was huge by local standards. In fact, this late-in-the-year pricing slump took annual rent change into negative territory, as Austin's effective rents for new leases declined 0.7% in the 2017 calendar year. Apartment deliveries in Austin are set to slow to some degree in 2018, and fewer units moving through initial lease-up probably will allow rent change to get back to a positive reading. Still, this outlook is a very lackluster performance for a market that often ranks among the country's high fliers.
Nashville rent loss of 1.7% in 4th quarter 2017 was far deeper than the metro's typical slight decline. With annual change at just 0.3%, the market avoided rent loss for the calendar year by a very small margin. Fewer deliveries in 2018 should allow Nashville's rent growth pace to improve a little during the coming year, but there still will be enough new product coming on stream to ensure a very competitive leasing environment at the top end of the product spectrum in the urban core.
Rent cuts also proved meaningful during 4th quarter 2017 across the Bay Area, Denver, Portland, Charlotte, Pittsburgh and Sacramento. In each case, losses were a little steeper than is seasonally typical, but the declines were not so extreme that the big-picture stories for these markets look especially different than they did a few months ago.