Occupancy Strengthens in Most Large Apartment Markets in 2019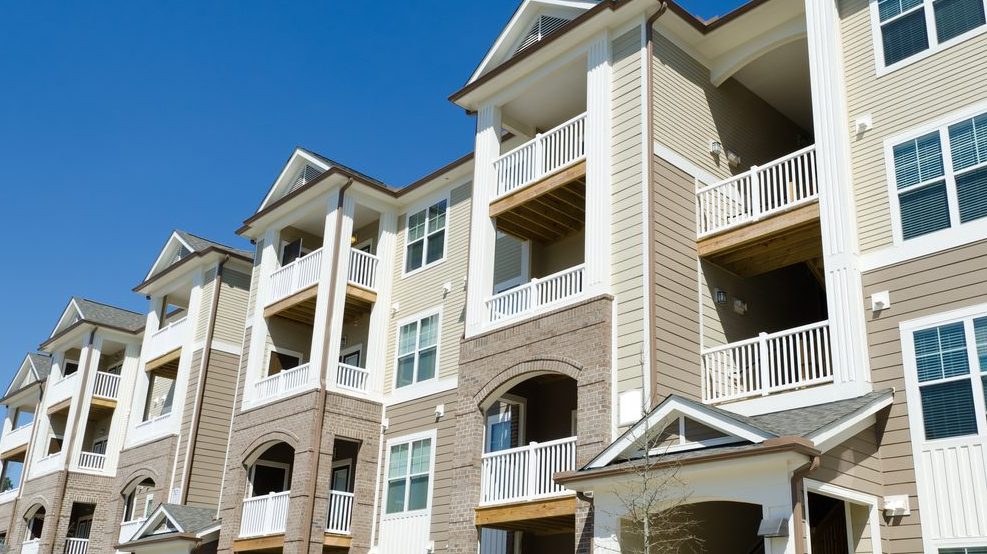 Occupancy across most U.S. apartment markets looks even better than it did one year ago, and nearly all the nation's largest markets are now recording rates above the effectively full mark of 95%.
While annual occupancy growth was relatively mild at 40 basis points (bps) in the U.S. overall, momentum was notably stronger – at 80 or more bps – in 11 of the nation's largest 50 apartment markets. This list was heavy in Midwest and South region markets.
Continuing recent trends of swelling occupancy, North Carolina, Tennessee and the Rust Belt markets enjoyed strengthening performances in 2019. Other markets, such as Indianapolis, didn't make the list for nation-leading change, but still hit decades-long occupancy highs in 2019.
St. Louis ranked as the nation's occupancy improvement leader among major markets in 2019, while rent growth in the Midwestern market also increased notably year-over-year. Limited supply volumes throughout the cycle have allowed market fundamentals to firm up in St. Louis, which saw occupancy climb to 95.6% at the end of 2019, nearly a 20-year peak for the market.
St. Louis follows the trend of strengthening performance among Rust Belt markets. Other Rust Belt markets making the leaderboard for occupancy growth in 2019 are Cleveland, Cincinnati and Pittsburgh.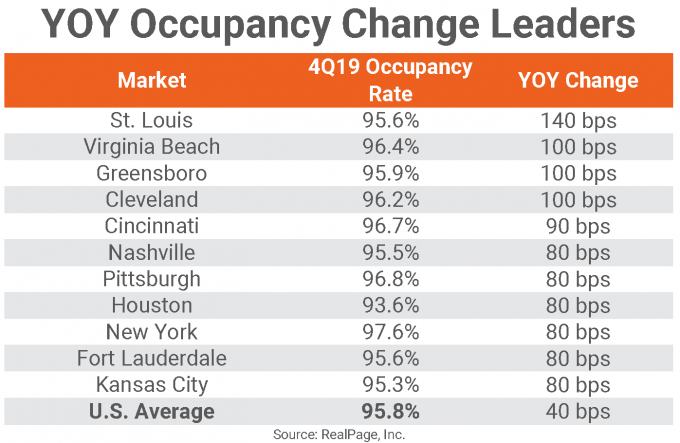 Houston, meanwhile, saw occupancy fall notably in 2019's 4th quarter, but the resulting rate of 93.6% – the weakest among the national top 50 – was still up 80 bps year-over-year. This market has been in flux in the past five years, as hurricanes, floods, unstable oil prices and apartment supply waves led to shifting fundamentals.
On the other hand, in eight of the nation's largest 50 markets, occupancy contracted from year-ago readings. However, among those eight markets, the average softening was only 20 bps.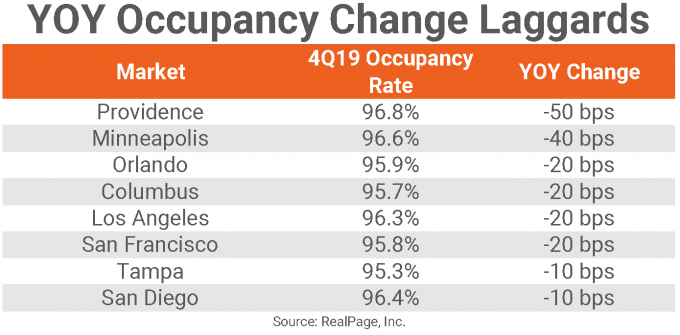 Although Providence lost 50 bps in occupancy between 2018 and 2019, the resulting rate of 96.8% is still one of the tightest showings in the nation and matches the market's five-year average. Helping occupancy here, supply has been slow during the current economic cycle. Though ramping up in the past three years or so, Providence is still only averaging an annual volume of about 800 units.
Minneapolis/St. Paul saw occupancy fall 40 bps in the past year. This market has struggled to grow its workforce recently, and actually saw job cuts in 2019. As a result, apartment demand fell to its lowest annual figure in four years, registering at about a fourth the volume of elevated supply levels. While remaining relatively strong at 96.6%, Twin Cities occupancy is expected to hit more resistance in the near term, as deliveries are set to surge in the next few years.
Contrary to the momentum seen in North Carolina, Tennessee and the Rust Belt, performances softened during the past year across much of California and Florida. Orlando, Los Angeles and San Francisco saw occupancy fade by 20 bps between the end of 2018 and the end of 2019, while the setback in Tampa was milder at just 10 bps. Among the major California and Florida markets, only Fort Lauderdale, West Palm Beach and San Jose saw occupancy strengthen in 2019.
Of the markets that saw softening occupancy in 2019, only two markets – Columbus and Tampa – have occupancy rates below the national norm. In both cases, occupancy rates are still well ahead of what the markets were displaying before the current economic cycle began.