Occupancy is Tight, Especially in Class C Product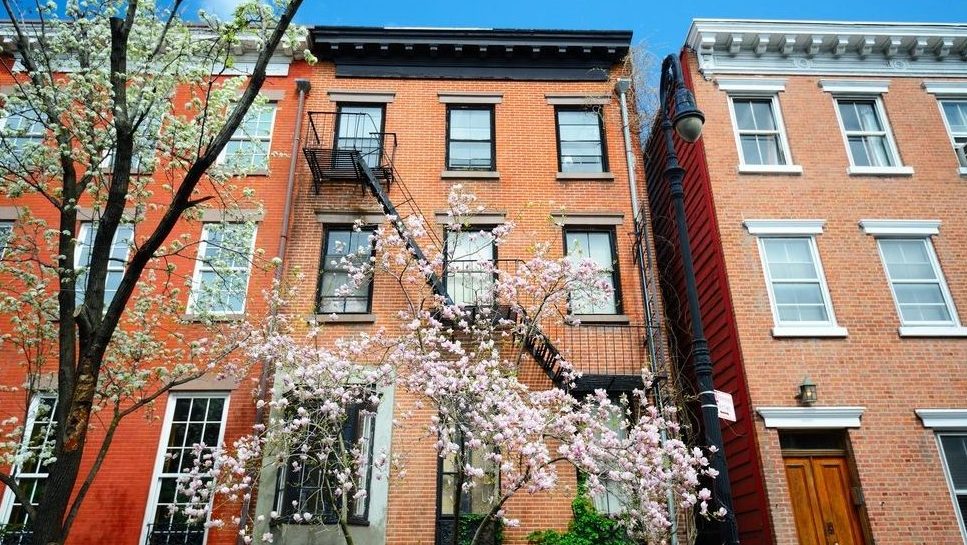 Occupancy in the U.S. apartment market is at its tightest rate in almost two decades. Helping push the national performance up in recent years were the Class C units, which have enjoyed notable progress during the current economic cycle.
As of 3rd quarter, the nation's apartment market achieved occupancy of 95.8%. The last time occupancy was this tight was the peak seen in early 2001, in the months before the economic decline of that year.
While all product classes are registering occupancy ahead of historical norms, Class C units have been the standout performer in recent years. Historically a performance laggard, occupancy in Class C stock started closing the gap in 2012, gaining ground on the traditionally stronger product lines. By early 2016, these more affordable units had changed the conversation entirely, pulling ahead of their more expensive counterparts. As of 3rd quarter 2018, occupancy in Class C stock was at 96.3%, a notable 500 basis points (bps) ahead of the other asset classes.
This shift in the status quo reflects that big rent growth during the current cycle, which began in 2010, allows for increasingly fewer households to afford the rates charged at middle- and top-tier product lines, as discussed in the recent RealPage Asset Optimization webcast.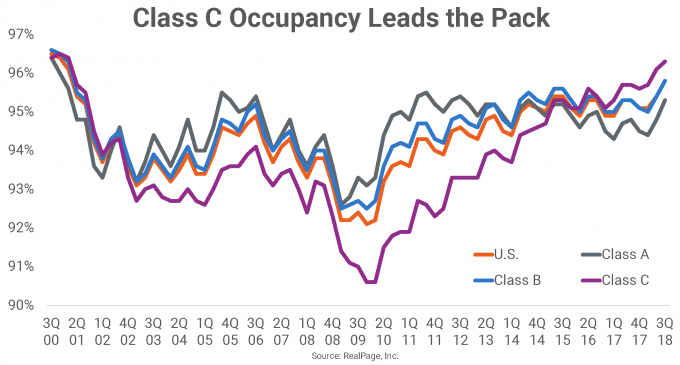 In comparison, occupancy in the Class B stock is running in line with the national average at 95.8%, while the upscale Class A units registered a softer fall 2018 rate of 95.3%. Even with a bottom-tier ranking, however, occupancy in the luxury Class A stock is still strong, considering the large volume of new product that has created a highly competitive leasing environment in recent years, and the sizable rent growth this already expensive product has seen, despite the mounting competition.
Where is Class C Occupancy Tightest?
Among the nation's 150 largest markets, those with the highest occupancy rates in the Class C product are mostly coastal markets. The bulk of these areas are expensive compared to national norms.
Orlando has the fewest vacancies among Class C stock, with occupancy of 99%. While not historically a high-growth apartment market, Orlando's performance has been impressive during recent years, with the market ranking among national leaders for both occupancy and rent growth. Class C product in Orlando started the current economic cycle with occupancy at a feeble 87.1%, 500 bps behind the other product lines. After steadily rising nearly every quarter since, occupancy in this stock is now 250 basis points ahead of the more expensive units.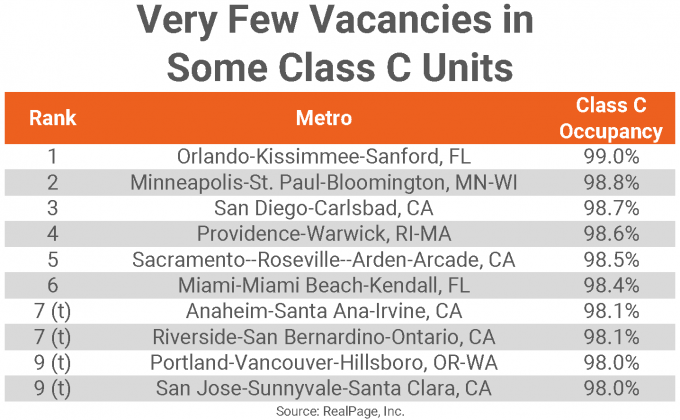 Class C occupancy in Minneapolis-St. Paul was at 98.8% in fall 2018. It's not uncommon for this Midwest market to rank alongside the coastal metros for occupancy strength. In fact, Minneapolis-St. Paul has consistently recorded some of the nation's tightest overall occupancy showings throughout the current economic cycle. In early 2010, when the cycle started, Class C stock in Minneapolis-St. Paul was ranking roughly in line with Class B product and a bit ahead of Class A units at 93.3%. All product lines recorded slow and steady progress over the past eight years, but the Class C stock pulled ahead in early 2017, and now registers at least 110 bps ahead of its counterparts.
San Diego's Class C units are now 98.7% full, 180 bps ahead of the more expensive product lines. This is quite a change from the early 2010 showing of 94.1%, which was trailing the other asset classes by 60 bps. It's not surprising that the Class C stock has performed so well here during the current cycle. San Diego is one of the most expensive locales in the country and is no stranger to affordability challenges. In fact, this market's Class A stock has continued to see steep price increases, despite record apartment supply volumes.
Fall 2018 Class C occupancy was between 98.4% and 98.6% in Providence, Sacramento and Miami. Providence was the nation's overall occupancy leader in 3rd quarter, after logging a notable increase in recent months, prompted by upturns in the Class A and C product lines. Class C stock in Providence started the cycle in good shape at 94%, about in line with Class B units but well ahead of the 89.8% reading in the Class A stock. While progress has been made across all asset classes, the Class C units are still leading the charge, with occupancy coming in about 80 bps ahead of the rates in other units.
Sacramento has seen occupancy in its Class C stock go from 92.1% in early 2010 to 98.5% in 3rd quarter 2018. This was a substantial increase compared to the occupancy growth in the other product lines, which now log rates at least 190 bps behind the more affordable stock. While overall rent growth has slowed in Sacramento in the past year or so, the market was a long-time national leader in price hikes in the years prior to that.
Like Providence, Miami was already logging strong Class C rates, with occupancy at 95.5%, at the beginning of the cycle. But now that showing is even tighter at 98.4%, 180 bps ahead of the other product lines. Miami – the most expensive market in Florida – has logged notable rent growth momentum recently.
Logging Class C occupancy between 98% and 98.1% in 3rd quarter were Anaheim, Riverside-San Bernardino, Portland and San Jose. All these West Coast areas rank among the most expensive in the nation. Among these, Riverside has logged the most momentum in its Class C stock, which started the cycle with occupancy at just 91.5%. These units also logged the softest rent growth in the past eight years, with prices rising about $200.
In contrast, San Jose's Class C stock started the cycle strong at 94.8% and therefore have enjoyed more modest momentum. San Jose's various product lines have seen big pricing surges during the current cycle, with rents in Class C units now coming in about $680 units above the prices from early 2010. While that seems like a lot, it was less than half of the increases seen in the Class B stock ($1,300) and the Class A units ($1,630). Likely inspired by this hike, San Jose's Class A product line is the only one on the top 10 list to see occupancy slide during the current cycle, with a slight downturn of 20 bps.