NMHC Panel Makes a Case for the Suburbs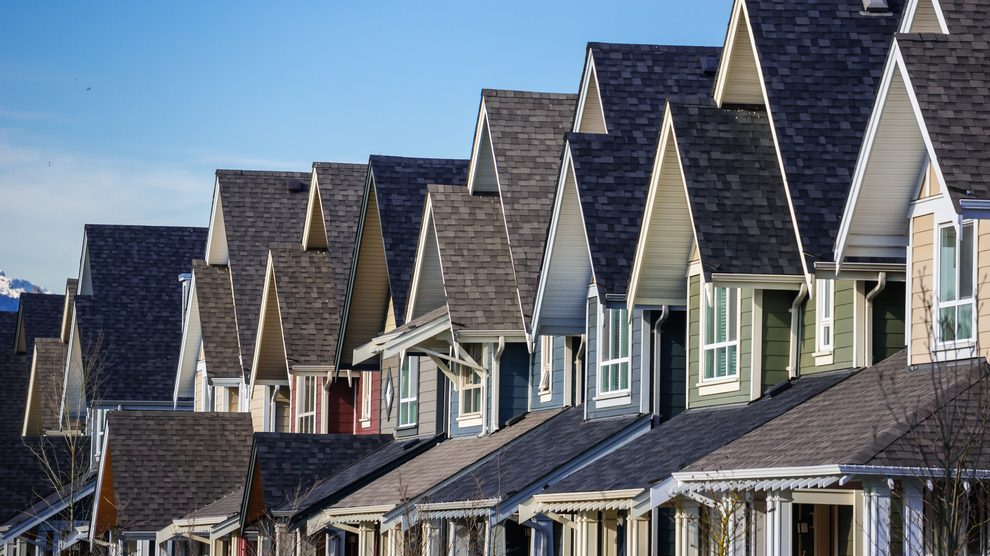 A narrative of suburban strength and opportunity emerged at nearly every session of the National Multifamily Housing Council's Research Forum this month in Plano, Texas.
Exploring the topic in detail were Matt Vance, economist at CBRE Econometric Advisors, and Adam Ducker, managing director at RCLCO, a real estate advisory firm. Both speakers said migration patterns show a need for additional housing investment in the suburbs.
"More folks are moving … out of the cities and into the suburbs, than are vice versa," Vance said.
The trend is especially true for the millennial cohort. A total of 310,000 more young adults aged 20 to 29 moved into a suburb than moved into a city during 2014, Vance said. In the top 50 metros, 71% of households under age 35 live in the suburbs, Ducker added. That figure registered slightly higher for Sunbelt metros.
"The mass majority of [young] Americans live in places that are suburban," Ducker said.
What Defines Suburban and Urban?
The definition of "suburban" is broad and diverse. Instead of a single categorization, suburbs are better defined by type, based on economic factors and proximity to urban areas, Ducker said.
Ducker's classification system included five types of suburban areas:
Established High-End – high home values and established development patterns
Stable Middle-Income – variety of home values attainable to a range of households
Economically Challenged – lower home values with little or no recent population growth
Greenfield Lifestyle – majority of new development at or near suburban fringe, usually adjacent to high-end suburbs.
Greenfield Value – at suburban fringe, often adjacent to stable or economically challenged areas, or near lower-paying job concentrations
Analyzing RealPage's Axiometrics data of Atlanta's average effective rent and annual units delivered by suburb classification, Ducker noted, "the place types have moved very much in parallel."
Established High-End suburbs have consistently logged the highest average effective monthly rents, essentially keeping pace with urban areas. Stable Middle-Income and Greenfield Lifestyle have moved in sync with each other. Greenfield Value and Economically Challenged have seen the lowest rents among Ducker's suburban types.
The definition of "urban," according to Vance, emphasizes lifestyle more than geographic location. Lifestyle considerations include the ability to live, work and play. That profile, however, can look different market by market. The key to recognizing urban, Vance explained, is granularity.
"Driving … to get to an area of walkability still counts as urban," he said, noting some such areas are still emerging, making driving a necessity.
The Future of Development
Vance noted current conditions – including a deceleration in urban core rent growth – spur the question of whether an investor should always be in the densest pockets of a market.
An MPF Research report supports a case for suburban strategy. Since 2013, suburban and urban rents have respectively increased about 19% and 14%. A separate MPF Research report found that over five-, 10- and 15-year timespans, high-end suburbs have produced higher risk-adjusted returns than urban core assets.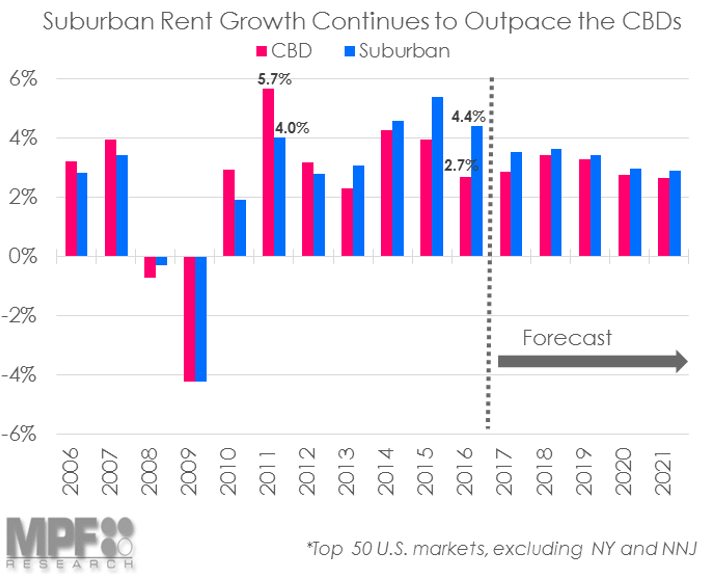 Still, construction remains concentrated in the urban core. On the unmoved allocation of supply, Vance suggested the "trend feeds on itself." MPF Research recently found central business districts comprise less than 4% of total land area, but accounted for roughly 19% of all 2016 deliveries. In 2017, that supply figure could surpass 22%.