New York Retakes Lead for Job Growth in May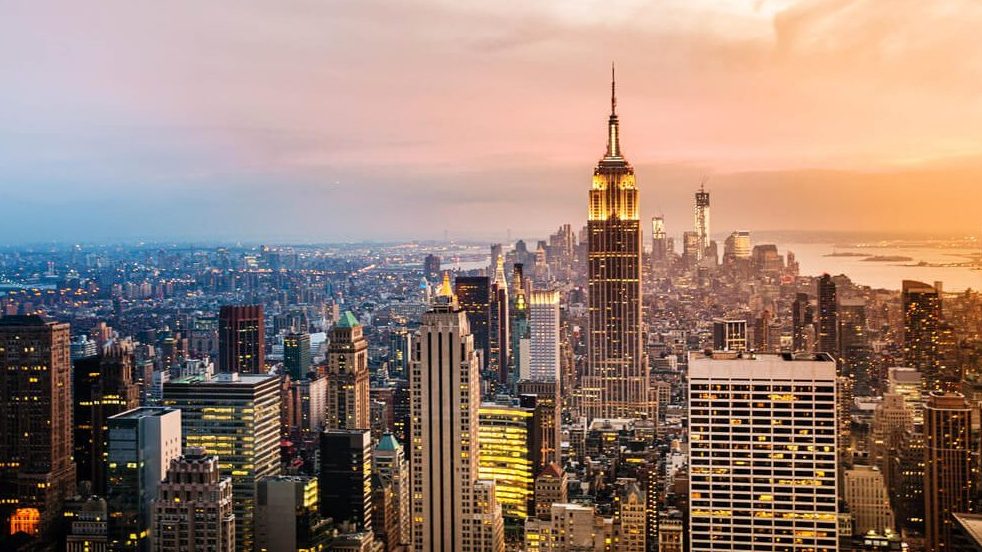 Dallas' time atop the job gain leaderboard proved short lived, as New York took the top spot in the Bureau of Labor Statistics' preliminary May numbers.
Nine of the top 10 metros from April returned in the list for May, with Dallas and New York switching places again. New York returned to the #1 spot for annual job growth in the year-ending May, gaining almost 98,000 jobs. Dallas had edged out New York for the top spot in April and came close in May with 90,700 jobs added.
After Dallas, the next three of the top five remained the same. Houston added 79,200 jobs in the past year, and Los Angeles followed, with 63,900 positions. Phoenix remained at #5, adding 61,800 jobs for the year.
Seattle, Atlanta, Riverside and Orlando all returned to the top 10 in May, and Boston jumped into the list at #8 with an annual gain of 45,100 jobs. San Jose dropped out of the list, falling to #13 in May.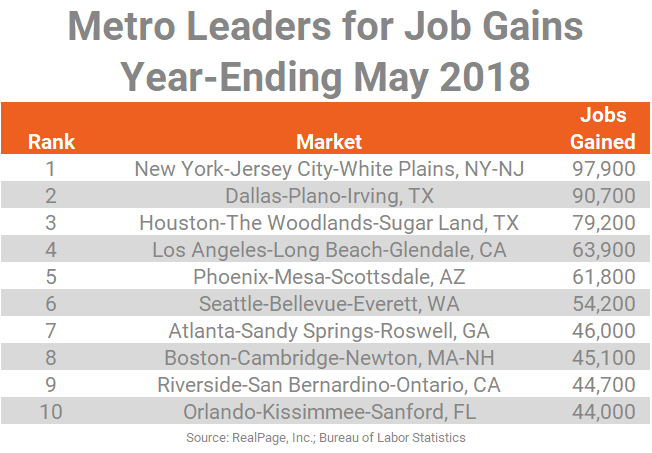 The top 10 annual job gain markets in May 2018 accounted for 627,500 positions added – more than 26% of the nation's total job gain during that period. Taking those same 10 markets and comparing their current gains to one year prior shows an improvement of almost 12% (primarily on the strength of Houston, Dallas, and Los Angeles). If comparing the difference in job growth on a percentage basis for the two time periods, Houston continues to be the clear-cut winner. The market's 2.8% job growth in May 2018 was a full 163 basis point improvement from their weaker growth during the previous May.
U.S. employers added nearly 2.4 million jobs in the year-ending May, growing the nation's job base 1.6%. This was the country's strongest growth since May 2017. Meanwhile, unemployment remained very low at 3.8%.
A few markets are continuing to struggle with their employment bases. Naples once again shed jobs, with the metro's 2,400 positions lost in May primarily coming out of the Retail Trade and Leisure/Hospitality Services sectors. Corpus Christi and Montgomery also lost jobs in the year-ending May. A few other markets – Cape Coral-Fort Myers, West Palm Beach and Newark – recorded very small job increases during the past year, with gains below the 1,000-job mark..
Most of the metros on the annual percentage change leaderboard were familiar. Odessa remained at the top of the list with a 4.4% increase in the year-ending May, though this metro's growth has slowed from recent highs between 6% and 8% recorded over the past 11 consecutive months. Tacoma made a big jump recently, going from #8 in April to #2 in May with 3.8% growth, the metro's strongest economic boost since November 2016.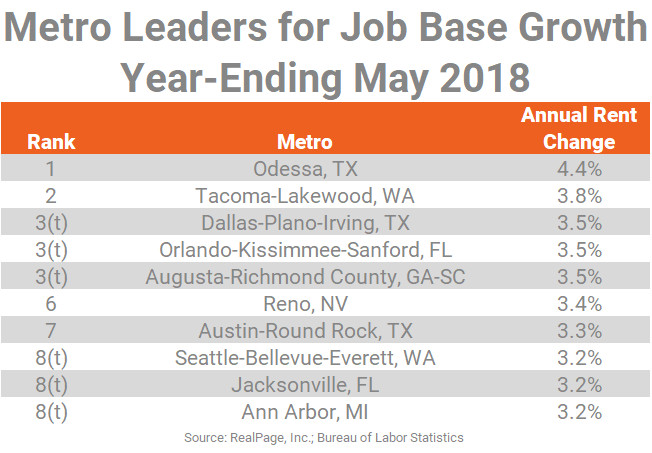 Tying at #3 with 3.5% annual growth in May were Dallas, Orlando and Augusta. Dallas moved up one position, though the metro's job base growth remained the same as last month. Orlando inched up with a slight improvement over April, while newcomer Augusta rounded out the top five after just missing the top 10 list last month.
Reno and Austin fell a few ranks to land at the #6 and #7 spots, while new arrivals Jacksonville and Ann Arbor tied with Seattle at #8 with a 3.2% increase in the year-ending May.
While larger metros tend to have more diverse economies with job gains spread across several employment sectors, smaller markets tend to see growth in only a few segments.
For Odessa, the main driver over the past year was Mining/Logging, thanks to the strong oil and gas sector here. Tacoma gained the most jobs in Retail Trade and Leisure/Hospitality Services, while Reno benefited most from the Manufacturing segment.  Augusta recorded strong gains in Professional/Business Services, and Ann Arbor's increase was primed by state Government jobs.