New York, Dallas Top Job Growth Markets in February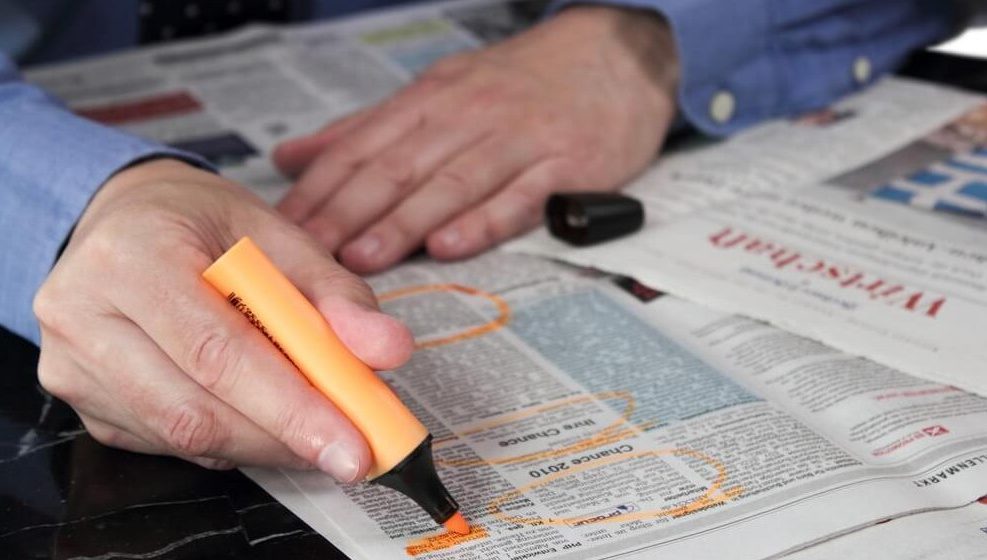 Hiring activity continued at a steady pace in the year-ending February 2018, with U.S. employers adding more than 2.2 million jobs. That figure grew the nation's job base 1.6%, according to preliminary data from the Bureau of Labor Statistics (BLS).
Among U.S. metropolitan areas, nine of the top 10 metros from January returned to the list in February, although there was some movement among the positions. The top four metros returned, with New York retaining its #1 spot with 96,100 jobs gained. Dallas and Houston each improved one spot to displace Los Angeles to the #4 spot. Rounding out the top five was Phoenix, which moved up one spot with an additional 60,000 jobs in February.
Riverside placed at #6, while Seattle slipped two spots to #7. Two Southeast markets – Atlanta and Orlando – returned to the #8 and #9 spots with 52,600 and 43,800 jobs added, respectively. Washington, DC reentered the top 10 with an annual gain of 39,500 jobs after languishing at the #11 spot for the previous two months. Anaheim slipped out of #10 to #13 this month.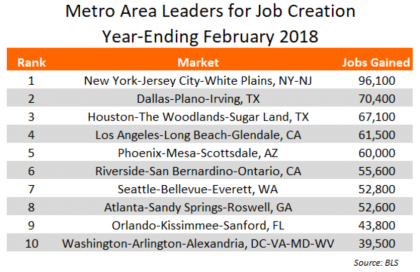 The top 10 annual job gain markets in February 2018 accounted for 599,400 new jobs – more than 26% of the nation's total job gains during that period. That 599,400 figure was 21,600 jobs greater than the 577,800 jobs those same 10 markets accounted for in February 2017.
Meanwhile, on the annual percent-change leaderboard, the top leaders – Odessa, Reno and Salinas – remained in order from January 2018's leaderboard.
February 2018 marked the second consecutive month Odessa registered annual job base growth above 7%. For the 12-month period, the small Texas market added 5,300 net jobs, more than half of which belong to the Mining/Logging/Construction sector. At the same time, Odessa's Education/Health Services and Government industries lost 100 and 200 net jobs, respectively.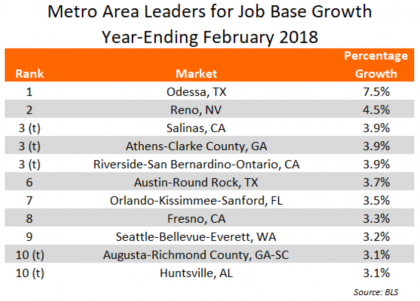 Every annual job growth leader from the year-ending January 2018 returned to the top 10, though in somewhat reshuffled order. The sole newcomer, Huntsville, entered the list at a tied #10. The Alabama market expanded its workforce by 3.1%, or 7,000 jobs, in the year-ending February 2018. While all Huntsville industries experienced some growth, the sectors of Professional/Business Services (1,900 net jobs) and Leisure/Hospitality (1,700 net jobs) accounted for the market's greatest annual gains.