New Lease Trade-Out Peaks in Some Markets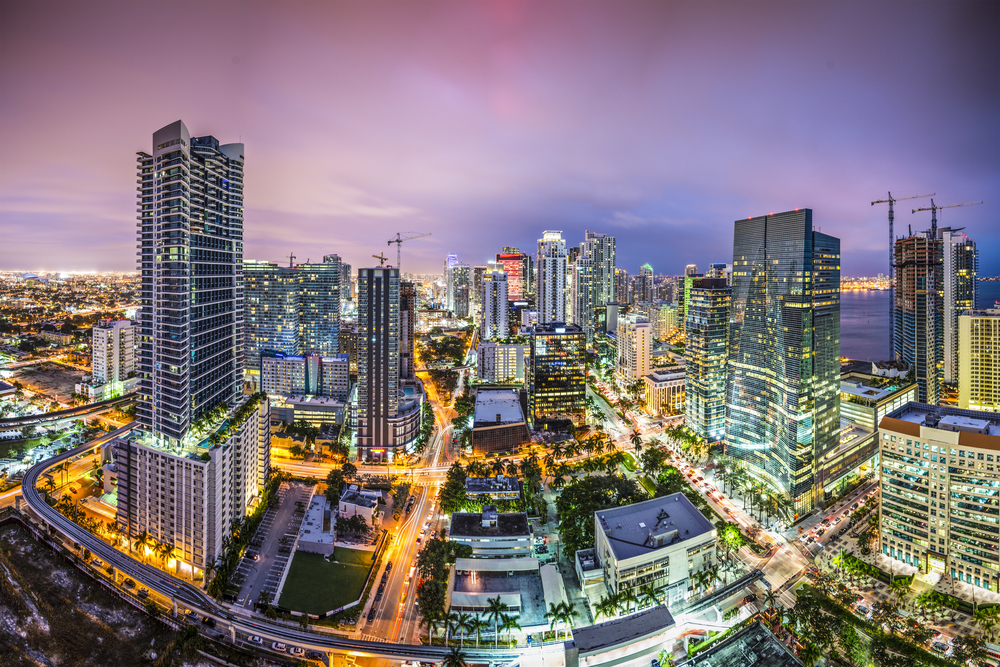 New apartments leases are going for premiums, and some of the nation's largest apartment markets are logging peaks in new lease trade-out.
Renters signing a new lease in June paid about 19% more than previous occupants of the same units, according to recent data from RealPage Market Analytics. This could be the nation's peak growth rate, as about half the largest 50 apartment markets saw lease trade-out ease a bit in June. Returning to a more normal pace of new lease trade-out could take a while, though, as some markets still saw increases north of 26% in June.
Three of the nation's top performers for new lease trade-out were major apartment markets in Florida, where rental prices climb significantly in the past decade.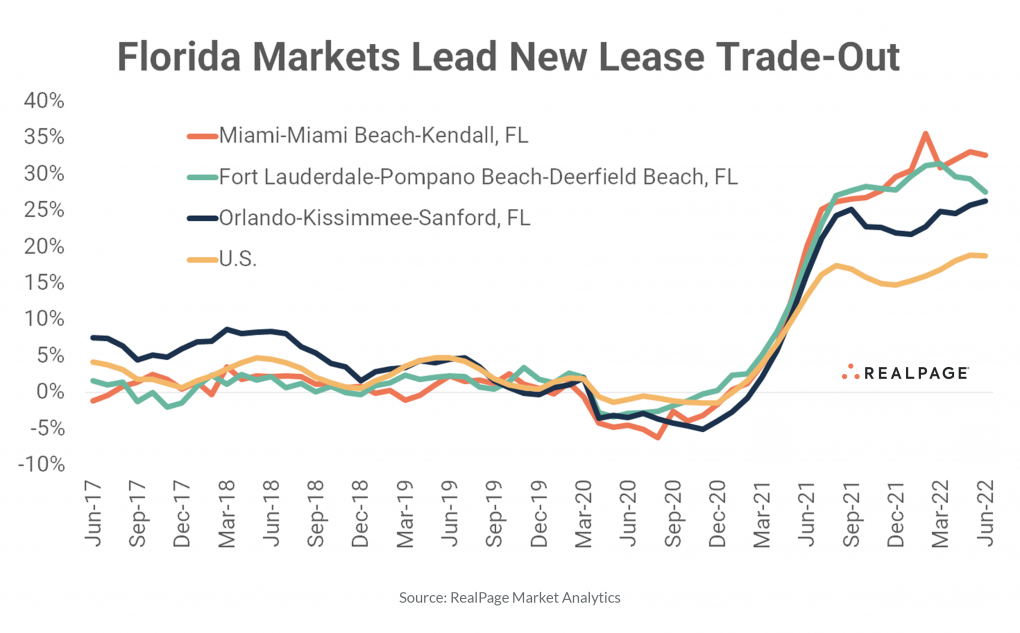 Miami
Miami was the nation's leader for new lease trade-out in June, as residents signing new leases paid about 32.6% more than the previous occupant. For much of the past decade, new lease rent growth in Miami ran slightly behind U.S. norms. When the pandemic hit in 2020, new lease trade-out in Miami dipped, as in most pricey gateway markets. Rent cuts bottomed out deeper than 6% in August 2020 before a significant – and swift – rebound. Rent hikes peaked in February 2022 at 35.6% before coming down slightly in more recent months. In comparison, the decade average for new lease trade-out rent growth in Miami runs closer to 5.7%.
Miami's apartment market benefited from strong economic growth and population increases in the past year, with these demand triggers leading to one of the nation's strongest annual absorption tallies. Meanwhile, new apartment supply has come down from the peak deliveries seen in 2021, allowing occupancy to tighten to 97.3% by June. Among the nation's 50 largest apartment markets, Miami was the only South region market to claim a spot in the top 10 for occupancy performance. Miami has also seen big price growth in the single-family home market in the past year, so this area has benefitted from an influx of demand for all kinds of housing.
Fort Lauderdale
Located just north of Miami, Fort Lauderdale logged new lease trade-out of 27.6% in June. This market's recent peak of 31.5% didn't get quite as strong as the highs seen in Miami, but this was still a historic peak for Fort Lauderdale. In comparison, the decade average for new lease trade-out in Fort Lauderdale is much lower at around 5.5%.
Like many markets across Florida, Fort Lauderdale has seen strong population growth since the start of the pandemic. As a result, occupancy topped 96% in June. However, with new lease trade-out coming down in recent months, it seems like the big price increases triggered by new residents has peaked.
Orlando
Orlando residents signing new leases in June paid about 26.4% more than the previous occupant. Unlike what was seen in Miami and Fort Lauderdale, Orlando's new lease trade-out peaked in June, after climbing for in four of the past five straight months. Typically, Orlando new lease trade-out hovers closer to the 6% mark.
A rebounding tourism market and recovering economic strength allowed Orlando to hold onto solid demand in the past year, pushing occupancy to 96.4% in June. That was the second-highest occupancy showing among the major Florida apartment markets and a bit ahead of Orlando's decade norm of 95.7%.
New York
New lease trade-out in New York has recovered from the deep declines seen in the downturn of the COVID-19 pandemic, with growth hitting 30.5% in June. New York was arguably hit hardest during the pandemic downturn, and new leases were trading for 21.5% less than the previous occupant at the worst point in November 2020. Since then, the New York has recovered significantly.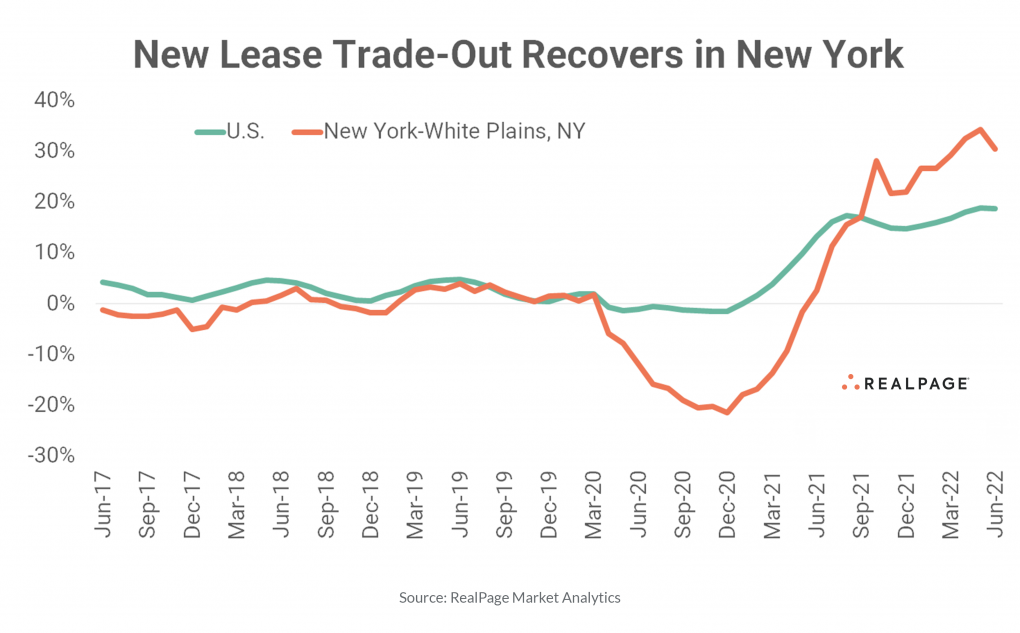 Among the nation's largest 50 apartment markets, New York ranked as the top occupancy performer in June when occupancy hit 98.6% – an all-time high for the market, and one that has maintained for four months straight. Occupancy was high across all of New York's neighborhoods and across all product age categories.
San Diego
In San Diego, residents signing new leases in June paid 27.4% more than the previous occupant. In contrast to some other major markets, new lease trade-out is currently on its way up in San Diego, increasing for the past seven consecutive months.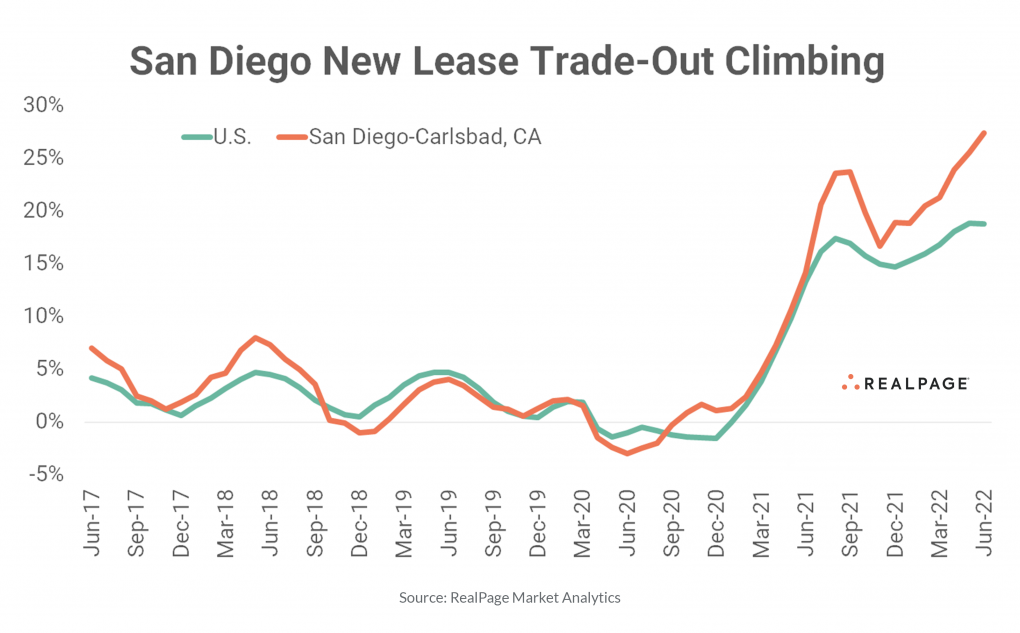 Among the nation's largest 50 apartment markets, San Diego tied Newark as the #2 occupancy performer in June, with a rate of 97.9%. This was after a significant rebound in the past year. San Diego occupancy generally runs ahead of U.S. norms, averaging 96.5% in the past decade, compared to the U.S. average of 95.4%. This was also one of the few West Coast markets that avoided deep declines seen during the worst months of the pandemic.
Other major U.S. apartment markets that saw new leases trade for more than 22% above previous occupant prices were Newark, Tampa, Raleigh/Durham, Nashville, San Jose, West Palm Beach and Anaheim.