New Housing Starts Spike in December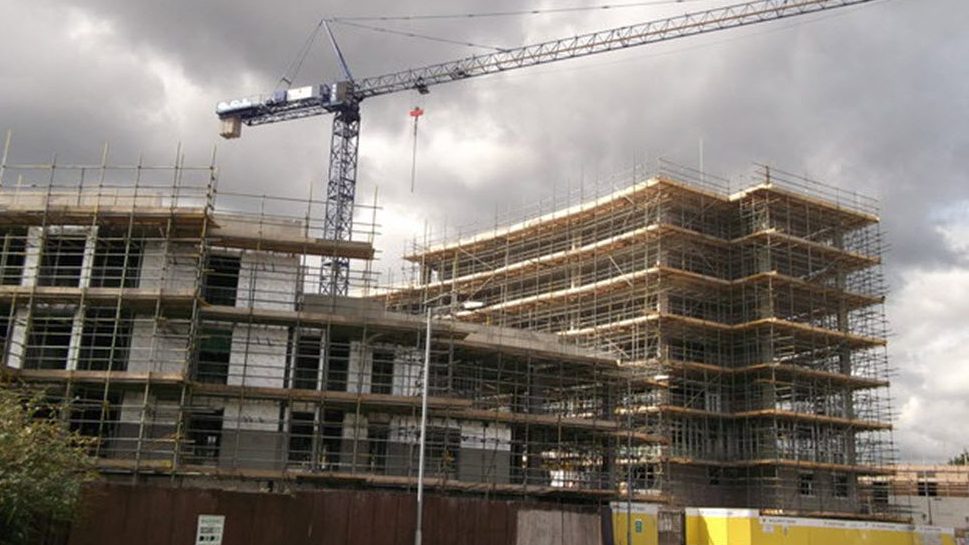 Total housing starts across the U.S. hit a record high in December. Multifamily starts haven't reached current levels in more than 30 years and single-family starts are at a 13-year high, according to U.S. Census figures.
The seasonally adjusted annual rate for annual multifamily starts rose 32% from last month and 74.6% from year-ago figures (to 536,000 units). Single-family starts climbed 11.2% from the previous month and 29.6% above year-ago figures (1,055,000 units). Together, total residential starts rose almost 41% above 2018's pace of 1.61 million units.
Meanwhile, permits for both single-family and multifamily units fell from last month. Year-over-year, single-family permits are up 10.8% and multifamily permits are down a negligible 3%. Permits were only 5.8% above 2018's pace with 1.42 million units permitted in 2019.
Because projects must be permitted before breaking ground, starts naturally lag permits by a month or two. As permits hit a high in November, it stands to reason that starts would surge in December.
Annual multifamily permitting has averaged about 430,000 units since mid-2016. For the last five months, however, that number has risen to about 500,000 units. While it is too early to call this a trend, the volume of multifamily permitting hasn't abated. Starts of multifamily units, which is slightly more volatile than permits, have averaged close to 365,000 units annually over the same period, but have followed recent increases seen in permits, topping 400,000 units five times in the past eight months. In the last year, seasonally adjusted annual multifamily permits averaged 459,000 units while multifamily starts averaged 390,000 units.
With the higher annual rates over the past few months, total residential permitting exceeded 1.3 million units in seven of the last 12 months and have exceeded 1.4 million units for three consecutive months. Total residential starts averaged 1.3 million units in the past 12 months, while single-family starts averaged 894,000 units. Single-family starts finally topped the one-million mark for the first time since July 2007. Annual multifamily completions also surged for the month and year, jumping 19.4% from November and 26.1% for the year.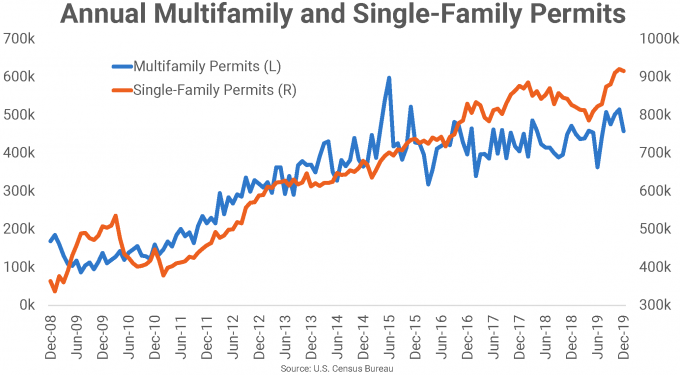 Regionally, multifamily permits surged 39.1% in the Northeast (+22,000 units) and more than doubled in the Midwest (+43,000 units). Conversely, permits fell by about 25% in the South (-57,000 units) and about 12.4% in the West (-22,000 units).
Multifamily starts were up in all regions of the country, with significant increases in the West (+182.7%) and Midwest (+151.4%), while the South (+33.0%) and Northeast (+41.0%) experienced solid, though less drastic, gains. Completions were primarily up in the small Northeast region (+246.9%) and in the Midwest (+39.3%), and nearly stagnant in the South (-3.1%) and West (-0.3%).
At the metro level, nine of last month's top 10 permitting metros remained, with two changing places. New York, Houston, Dallas and Seattle held on to the top four spots again in December. Austin, Los Angeles, Washington, DC, Minneapolis-St. Paul, Orlando and Boston all shuffled around slightly to make room for newcomer Phoenix. All top 10 markets permitted more than 9,500 units in 2019.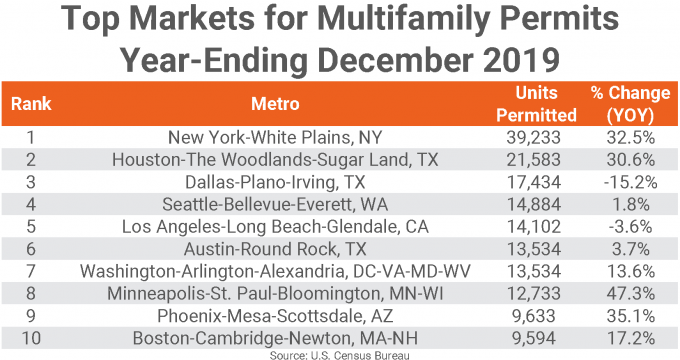 Most of these markets experienced year-over-year gains in annual multifamily permitting. Only construction-heavy Dallas (-3,119 units) and Los Angeles (-522 units) saw permitting slow. The rest of the top 10 markets saw a range of modest bumps – like in Seattle and Austin, both gaining about 375 units over 2018 – and more substantial surges – like in Houston and Minneapolis, which both saw more than 4,000 additional permitted units in 2019. Other markets that saw significant increases in annual multifamily permitting in 2019 were Tampa (+5,538), Fort Worth (+3,438), San Antonio (+3,109), Salt Lake City (+2,778) and Nashville (+2,758).
A few small markets saw a surge in permitting. Lakeland-Winter Haven, FL went from no permits in 2018 to 1,880 units approved in 2019. Bridgeport-Stamford-Norwalk, CT grew from 292 units to 1,641 units. Palm Bay-Melbourne-Titusville, FL grew from 376 units to 1,716 units. Midland-Odessa, TX, which has been relatively quiet for development for the last few years, is again stirring with 1,035 multifamily units permitted in 2019.
Slowing by at least 1,500 units were Atlanta, Orlando, San Jose, Miami, Baltimore and San Francisco. Milwaukee's annual total through December fell from 2,071 in 2018 to 664 units in 2019. Smaller markets with sharp falloffs in permitting include Raleigh/Durham (-1,316), Tacoma-Lakewood, WA (-1,259), Jacksonville, FL (-1,136), and Boulder, CO (-1,107).
The annual total of multifamily permits issued in the top 10 metros – 166,264 units – was 14.8% greater than the 144,858 issued in the previous 12 months. The total number of permits issued in the top 10 metros was almost equal to the number of permits issued for the #11 through #38 ranked metros.
The list of top individual permitting places (cities, towns, boroughs, and unincorporated counties) generally include the principal city of some of the most active metro areas, including many familiar names from the list of top markets above. The city of Houston, the city of Austin and Unincorporated Harris County (Houston) retained the top three spots. Charlotte's Mecklenburg County and the city of Chicago round out the top five. The city of Washington slipped two spots to #7, and Phoenix climbed into the top 10 permitting places list as it did the top 10 metro list.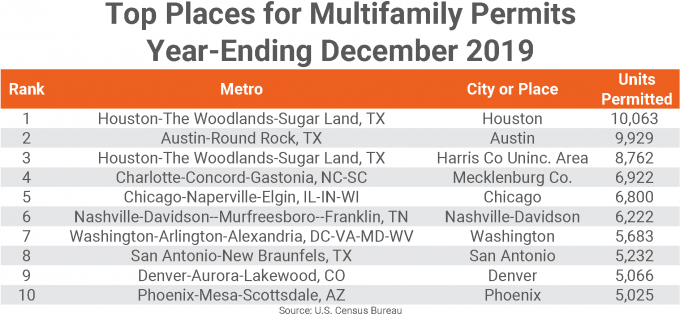 Notably, Charlotte, Chicago, Nashville, San Antonio and Denver did not see their metro areas make the top 10 list for permits by metro. Consistently placing in the top three for metro-level permitting, New York and Dallas had no permit issuing places in the top 10 as their apartment development patterns are spread out.