The Nation's Apartment Market Bargains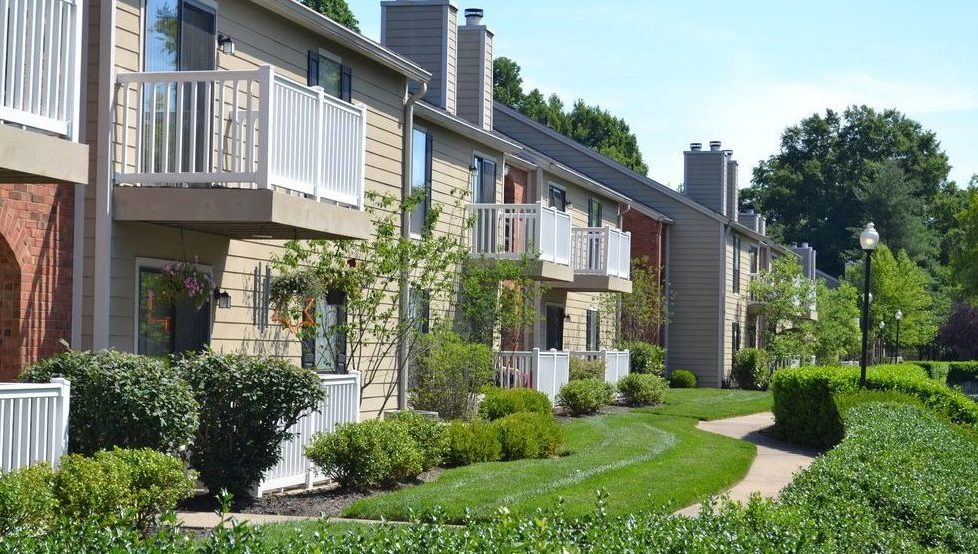 While apartment rents are climbing at a fast pace throughout the U.S., there are spots where pricing does not break the bank for the typical household living in a professionally managed property.
Not surprisingly, virtually all of these "bargain" rental markets are located in the middle of the country.
Three Clear Winners
Among the nation's 150 largest metros, Fayetteville, AR, takes the top spot on RealPage's ranking of bargain markets, edging just ahead of Oklahoma City, OK, and Little Rock, AR.
Effective asking rents in Fayetteville average $840 per month, and incomes for households leasing units so far in 2021 point to about 19% of income being spent on rent in most cases. Today's annual rent growth pace is substantial at 8.5%, but that hike is still under the U.S. norm.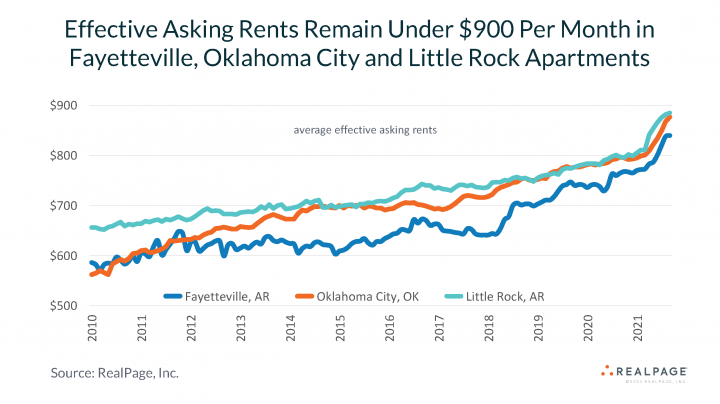 Compared to the building activity seen in other markets discussed here, Fayetteville's near-term inventory growth of 5% (1,894 units underway in a place with just over 25,000 existing units) is aggressive, and those additions suggest a cap on immediate rent growth potential.
Monthly rents average $877 in Oklahoma City and $885 in Little Rock, while typical rent-to-income ratios appear to run at 19% to 20%. Ongoing growth in effective asking rents hits just under the 10% mark in Oklahoma City and around 8% in Little Rock.
Solid Affordability Scores
Apartments also are affordable for much of the local populace in Midland/Odessa, TX, Youngstown, OH, El Paso, TX, Tulsa, OK and Toledo, OH.
Within this group, Youngstown has by far the lowest rents, just $716 on average, but incomes also are lowest across the cluster of markets, yielding a rent-to-income ratio of just under 22%.
Similar rent-to-income levels register for the other markets in this group, with average monthly rents coming in at $851 in Tulsa, $860 in Toledo, $917 in El Paso and $998 in Midland/Odessa.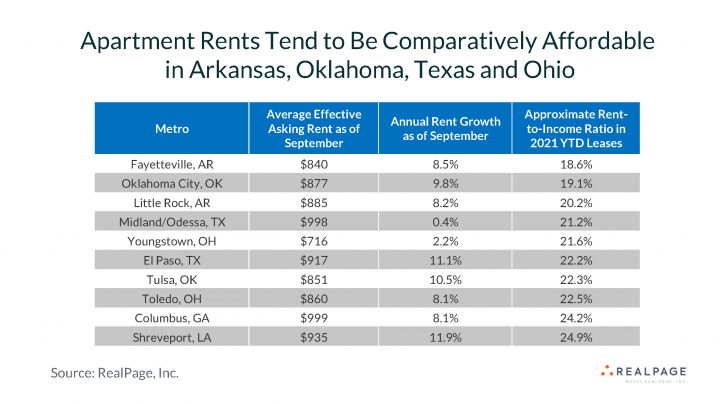 Midland/Odessa is experiencing significant construction. Ongoing building totals 1,284 units, pointing to 4.9% near-term inventory additions. While substantial construction tends to hold back rent growth, keep in mind that oil prices and drilling activity can lead to wild swings in West Texas apartment rents.
Completing the List
Columbus, GA, and Shreveport, LA, sneak in to grab the last couple of spots on RealPage's list of apartment market bargains.
In Columbus, effective asking rents average $999 per month, with rates climbing at a pace of just over 8% annually. The typical rent-to-income ratio for 2021 reaches just over 24%.
Standard rents of $935 monthly in Shreveport are climbing at an annual rate of nearly 12%. Earnings for households signing new leases in 2021 point to about 25% of income typically spent on rent.
Honorable Mention
With rent-to-income ratios of 26% to 29%, additional low rent metros that just missed the cut for making the bargain market list were Dayton, OH, McAllen/Brownsville and Lubbock, TX, Lexington, KY and Lincoln, NE.
About the Stats
A trio of key measures came into play in compiling this list. First, the metros had to have a reasonably low average monthly rent, with $1,000 selected as the specific cutoff point for consideration. Second, annual growth in effective asking rents had to be under the national norm (12% as of September). Third, household incomes for those signing leases so far in calendar 2021 had to be high enough to suggest a typical rent-to-income ratio below 30%.