National Permits Drop as Metro Approvals Cool in November 2016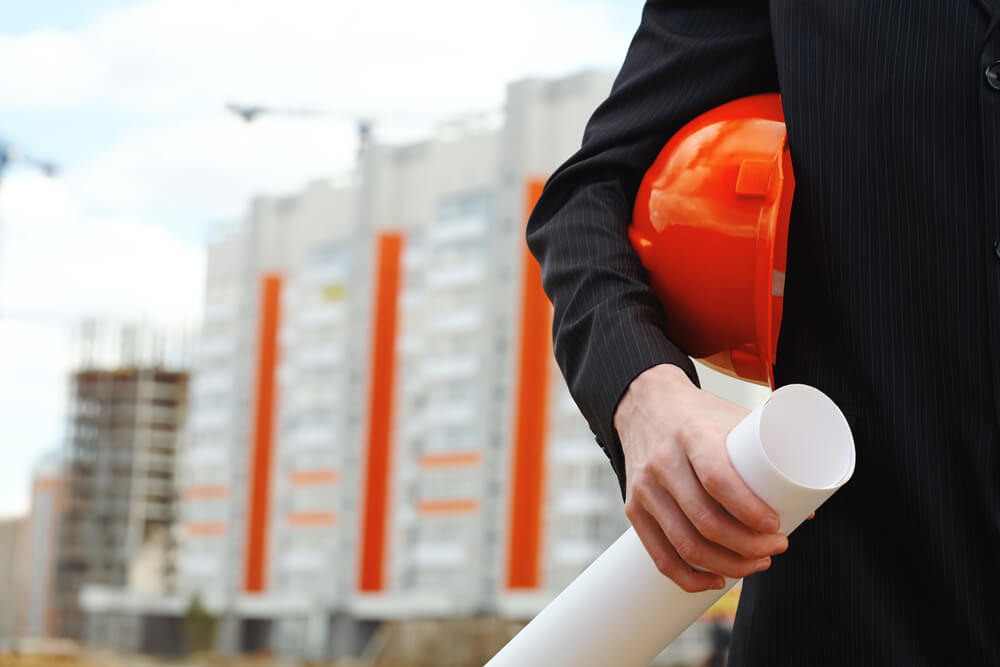 A continued cooling of permitting activity across several major metros translated into a drop-off in national authorization volumes during November 2016.
During that month, total multifamily permitting activity fell 14.5% from October 2016 and 19.8% from a year prior, according to preliminary data from the U.S Census Bureau. A total of 31,300 multifamily units were approved for construction by local governments across the country in November, bringing the year-to-date figure to 370,100 units. That year-to-date count reflects a -10.1% change year-over-year.
For a second consecutive month, Dallas/Fort Worth secured the top spot for multifamily permitting activity, signaling continued developer interest at a time when near-record levels of product are coming online. Preliminary data from MPF Research shows a respective 42,560 and 8,936 units were under construction in Dallas and Fort Worth during 4th quarter 2016. More than 70% of those in-progress units are expected to complete within a year.
New York trailed closely behind Dallas/Fort Worth, climbing from October 2016's #7 placement to #2. Still, the city joined Miami and Los Angeles in recording negative year-over-year changes.
Meanwhile, San Francisco, Phoenix and Minneapolis/St. Paul were introduced to the monthly standings, pushing Atlanta, Tampa and Chicago from the leaderboard. Chicago, formerly ranked #3, experienced a drop of more than 70% in year-over-year authorizations for November 2016.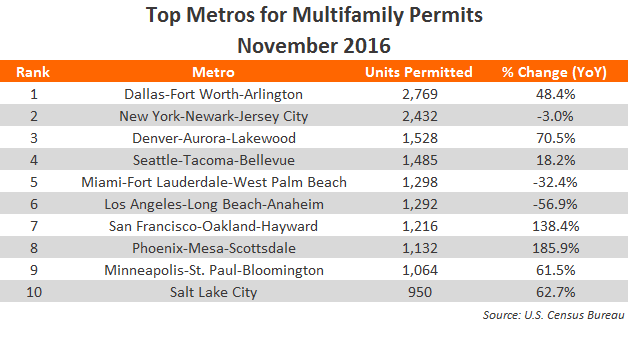 The year-to-date leaderboard was expectedly quiet, carrying recurring players from the previous month and presenting only a minor reshuffling of Denver, Chicago and Houston. Houston's sustained status as a permit leader is notable, given the metro's energy dependency.
Houston was among six year-to-date leaders to log negative year-over-year changes, though the market's stark 53.1% decline was rivaled only by New York. New York's 60% hit on year-over-year measures was anticipated, as the disparity is largely an effect of developers rushing to obtain permits ahead of tax incentive 421-a's expiration in June 2015. The artificial inflation is expected to continue to result in year-over-year declines through December 2016.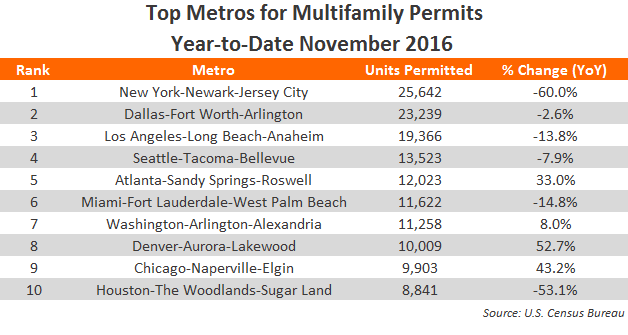 A separate Census report shows a total of 344,300 multifamily units started construction through November 2016. That figure represents a 4.1% dip from the first 11 months of 2015.