Multifamily Starts Surge in March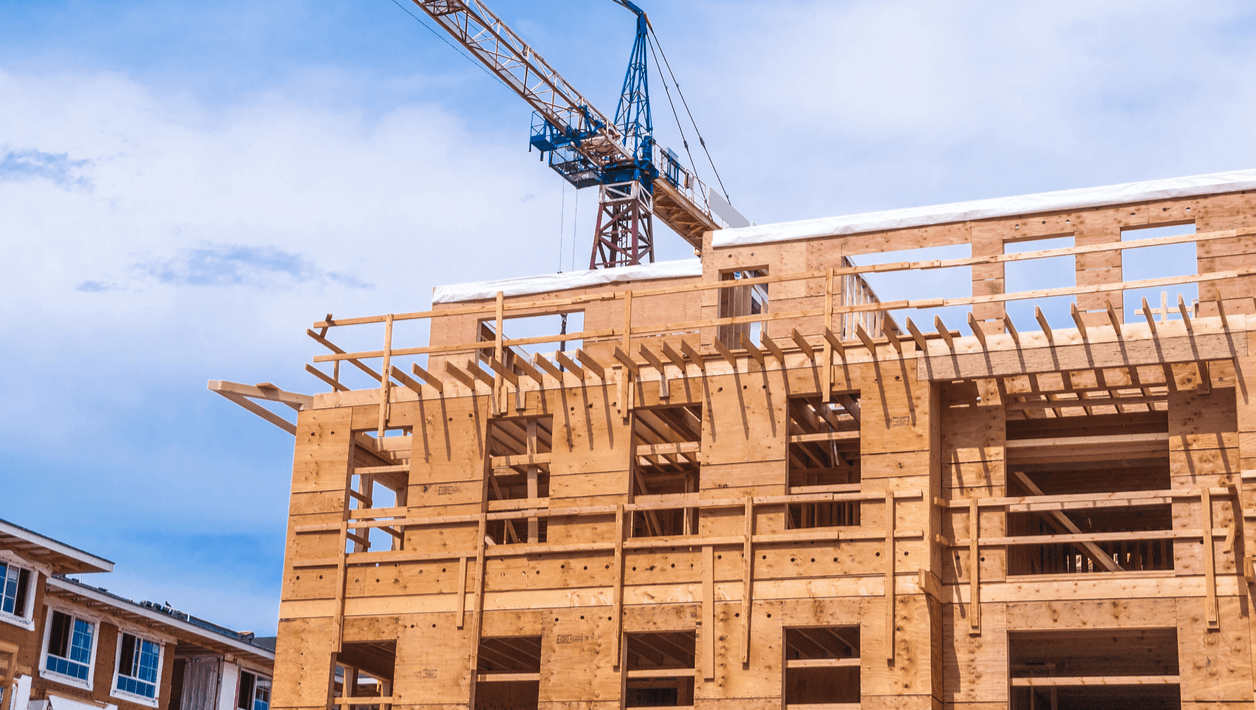 Annual multifamily starts jumped by nearly a third in March compared to last month, after a weather-related lull in February.
Multifamily starts increased 30% from February, landing at 477,000 units, up 26.9% from last year, according to the U.S. Census Bureau's monthly Building Permits Survey and Survey of Construction.
Multifamily permitting was down 3.6% from last month but up 19.2% from March 2020 to 508,000 units.
Single-family homebuilders resumed their torrid pace of construction, starting 1.2 million homes on a seasonally adjusted annual rate (SAAR). That was 15.3% higher than the annual rate in February and 40.7% greater than the rate from last March. The increase in the annual rate for the forward-looking building permits for single-family homes was up  only 4.6% compared to last month but 35.6% higher than the pace from March 2020. The rate of single-family building permits was at 1.2 million units in the year-ending March, a pace the market has hit in three of the last four months.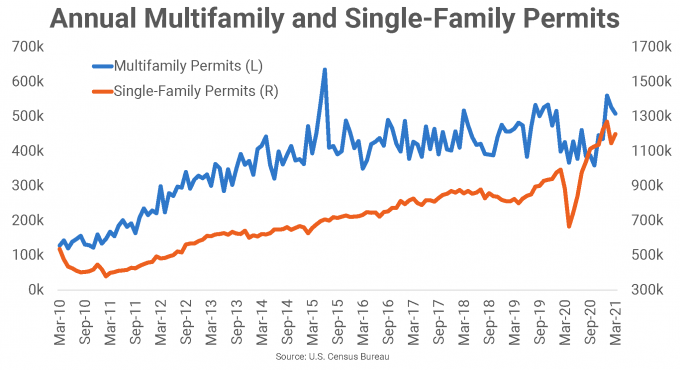 Together, total residential permits (including plexes) totaled 1.8 million units in March, up 2.7% from February and up 30.2% from last year's pace. Total residential starts rose 19.4% from February to 1.7 million units and were up 37% for the year. Annual total residential starts are at their highest level in 15 years.
The annual rate for multifamily completions increased 58.1% on a month-over-month basis to 476,000 units in March, while single-family completions were up 5.3% to 1.1 million units from February. Multifamily completions were up 30.4% from last March, while single-family completions increased 21.2% for the year.

Annual multifamily permitting was up in all four regions year-over-year, with a jump of 47.8% in the Northeast (to 67,000 units) and 24.8% in the Midwest (to 64,000 units). The South region increased 20% from last year's pace to 238,000 units, while the West region experienced a moderate increase of 5.9% to 138,000 units. Compared to the previous month, only the South had an increase in their annual permitting rate (1.3%), while the Midwest was flat (no pun intended), and the West saw a 3.5% decrease from February. In the small Northeast region, multifamily permitting was down 20.2% from last month's annual rate.
Regional annual multifamily starts were mixed across regions compared to March 2020. Roughly 86,000 units were started in the small Northeast region in the past year, which was nearly four times the volume that started a year ago, or an increase of 278%. Meanwhile, the Midwest and West regions had increases of 55.7% and 37.1%, rising to 65,000 and 97,000 units, respectively. The South region had a decrease in annual multifamily permits of 4.9% from last March to 229,000 units, but the annual rate in the South topped 200,000 units for second time this year.
At the metro level, all the top 10 permitting markets in March returned to the list from February, but several changed places. New York continues to lead the nation in permitting with about 33,000 units permitted but has slowed from a pace of almost 40,000 units from one year ago. Austin and Houston ranked #2 and #3 again but while Austin increased annual permitting to 20,500 units (up 3,760 units or 22% from last year), Houston is going the opposite direction with permitting slowing by about 7,600 units or by 33.4% to an annual rate of 15,150 units.
Washington, DC moved into the #4 spot with 13,594 multifamily units permitted, displacing Phoenix which tumbled to the #10 spot this month with 12,311 permitted units – down 730 units (-5.6%). Seattle retained its #5 spot in March with 13,445 units permitted but still saw a decline of 1,143 units from last year, down nearly 8%.
Dallas moved up from #9 in February to #6 in March with almost 12,700 units permitted but also had a decline in annual permitting of more than 4,000 units, a 24% decrease. Minneapolis-St. Paul returned at the #7 spot with 12,577 multifamily units permitted, virtually unchanged from last year.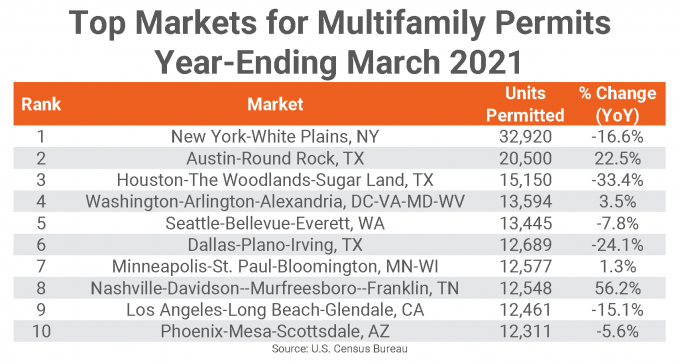 Meanwhile, Nashville moved up two spots this month to land at #8 on the list with 12,548 units permitted, up more than 4,500 units or 56.2% from last March. Los Angeles slipped one spot to #9 with 12,461 units permitted, declining 15.1% or by about 2,200 units from March 2020. While several of the top 10 markets had decreases in annual multifamily permitting compared to last year, they were able to move up the list this month because of increases in the past few months.
As mentioned, six of the top 10 permitting places had decreases in annual permits compared to one year ago with cutbacks ranging from 730 units (Phoenix) to almost 7,600 units (Houston).
Significant slowing in annual multifamily permitting also occurred in Chicago (-5,166 units), Fort Worth (-4,613 units), Portland, OR (-4,275 units), Atlanta (-3,339 units), Cape Coral-Fort Myers, FL (-2,783), and Fort Lauderdale (-2,716 units).
The only annual increases in multifamily permitting among the top 10 were in Nashville (+4,514 units), Austin (+3,761 units), Washington, DC (+456 units), and Minneapolis-St. Paul (+166 units).
Other markets that saw significant increases in multifamily permitting in the year-ending March were Philadelphia (+3,282 units), Columbus, OH (+1,747 units), San Diego (+1,697 units), Denver (+1,577 units), and Greenville/Spartanburg, SC (+1,562 units).
Six of the top 10 markets had more annual multifamily permits than the previous month, with Nashville experiencing a 16.9% increase from February's annual rate, and the remainder increasing about 7% or less. Houston's annual permit total fell 18.3% from last month's figure or almost 3,400 units. The other decreasing top 10 markets had much smaller declines.
The annual total of multifamily permits issued in the top 10 metros – 158,195 units – was 7.8% less than the 171,540 issued in the previous 12 months. The total number of permits issued in the top 10 metros was almost equal to the number of permits issued for the #11 through #42 ranked metros.
All but one of last month's top 10 permit-issuing places returned to this month's list with several changing places. The list of top individual permitting places (cities, towns, boroughs, and unincorporated counties) generally include the principal city of some of the most active metro areas.
The city of Austin retained the #1 spot for permitting places and the Bronx borough returned at #8 but the remaining seven returning permitting places moved around slightly. The city-county of Nashville-Davidson increased annual permitting to move up this month's list to #2 with an additional 1,800 units permitted compared to February, which is not surprising, given the metro's performance of late.
The city of Los Angeles came in at #3 on the list with almost the same number of units permitted as last month (about 9,500 units) but the city of Houston had a decline of more than 2,000 units permitted from February to 7,324 units, dropping the city to #4 this month. In fact, Unincorporated Harris County fell off the top 10 permitting place list this month, replaced by Mecklenburg County (Charlotte), which permitted 4,684 units for the year, an increase of 504 units.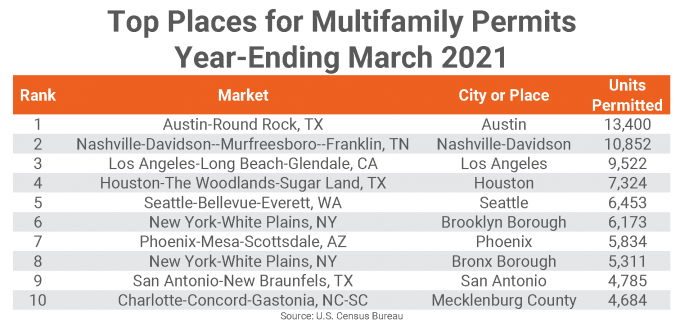 In addition to the increase in Austin of about 750 units, other places that had moderate increases in annual multifamily permitting compared to February (of about 100 to 200 units) were the city of Seattle and the borough of Brooklyn. Logging declines in annual permitting but still making the top 10 list (in addition to the cities of Los Angeles and Houston) were the cities of Phoenix and San Antonio and the Bronx borough.