Multifamily and Single-Family Starts Take a Dive in March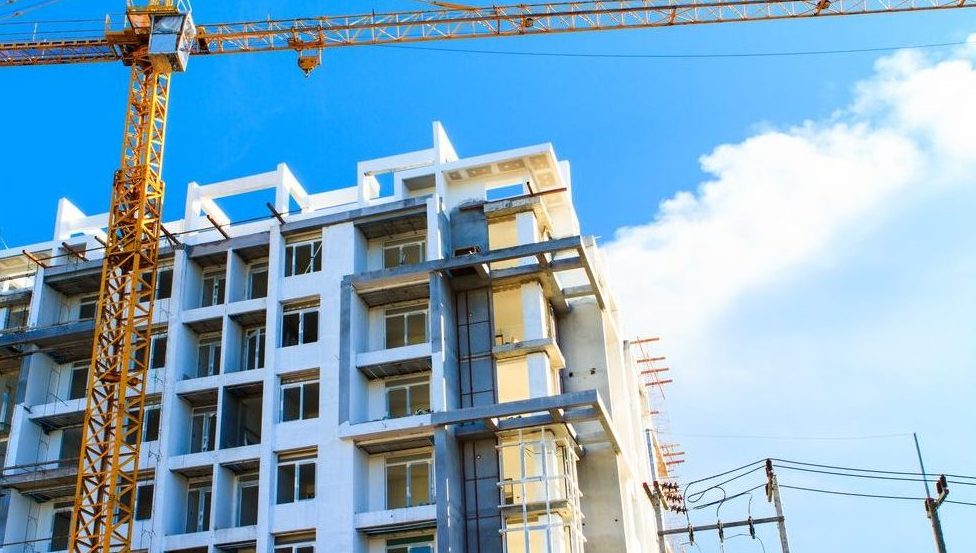 The number of multifamily and single-family housing units starting construction took a steep dive in March, as the COVID-19 pandemic started to deflate the U.S. economy.
Multifamily starts fell to 347,000 units on a seasonally adjusted annual basis in March, a decline of 32% from the February result, and down 3.9% from the March 2019 showing.
Starts of multifamily units, which is typically more volatile than permits, have averaged close to 378,000 units annually since 2015, but have increased more recently, averaging at 429,000 units in the past 12 months and 500,000 units for the past four months. The recent decrease took annual starts to the lowest figure the market has seen since July 2019.
Meanwhile, annual multifamily permits ticked up to 423,000 units in March, up 5.2% from February, but down 3.6% since March 2019. The monthly uptick in permits is likely due to permits being filed earlier in the month, before the nationwide construction slowdown affected the market. Annual multifamily permitting has averaged 434,000 units since 2015 but has averaged 460,000 units over the past 12 months.
Like the sharp dip in annual multifamily starts, single-family starts also saw a sudden drop, falling to 856,000 units in March. Single-family starts were down by 17.5% from February's showing, but up 2.8% from March 2019.
Permits for single-family units also fell sharply in March. Permits were issued for 884,000 single-family homes in the past year, dropping 12% since February. This was the largest change in annual single-family permits from the previous month since 2008. Still, permits were up 8.7% over the previous year.
The steeper decline in single-family starts over permits in March is likely due to reported increases in custom home cancellations late in the month, while building permits – like in multifamily projects – were already processed.
The seasonally adjusted annual rate for total residential building permits across the U.S. was down 6.8% from February, while starts were down 22.3% from last month. However, compared to March of 2019, total permits and starts were both up – by 5% and 1.4%, respectively.
Total residential permitting and starts are certain to slow in the coming months despite the continuing need for housing and exemptions from work restrictions for construction.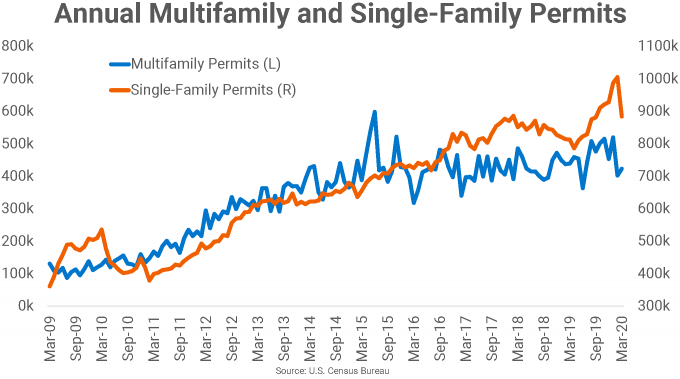 On an annual basis, multifamily building permits were up in the West (125,000 units) and South (192,000 units) regions, as they saw a 6.4% and 2.4% increase, respectively, from last March. The Midwest region dropped 22.9% this month to 56,000 units and the smaller Northeast region fell 18.3% to 52,000 units in March. The results were similar compared to last month, with a slight increase from February in the West and South and a decline in the Midwest and Northeast. All four regions are currently below their respective 12-month averages.
Multifamily starts were likewise up in only two regions. This time, increases were seen in the Midwest (up 48.7% to 43,000 units) and South (up 35.7% to 236,000 units) since March 2019, while declines were recorded in the West (down 59.1% to 55,000 units) and Northeast (down 44.4% to just 14,000 units). All four regions were down from last month, and only the South region's annual total for March was above its 12-month average.
At the market level, some building permit totals for March do not yet reflect the effects of the recent slowdown, as some areas didn't issue Stay-at-Home orders until late in the month. Based on March data, all of last month's top 10 multifamily permitting metros remained the same with four markets changing places. The first two returned in order with New York and Houston retaining last month's top spots. Dallas moved back up, climbing one spot to surpass Austin and return to its perennial spot at #3. The #5 through #7 contenders returned in the same order, with Seattle, Los Angeles, and Washington, DC retaining their spots. Phoenix moved up one spot to #8, displacing Minneapolis-St. Paul to #9 and Chicago returned at #10.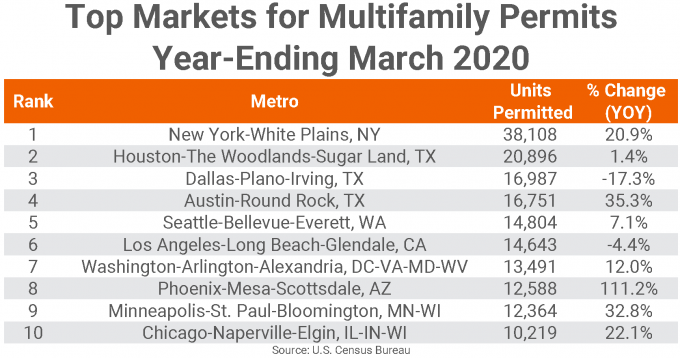 Eight of the top 10 markets experienced increases in annual multifamily permitting from last year, with an average increase of 3,200 more permits than last year. Phoenix saw the greatest increase in annual multifamily permitting of 6,627 units, followed by New York with 6,589 units, Austin with 4,371 units, and Minneapolis-St. Paul with 3,055 more multifamily units permitted than last year. Chicago, Washington, DC and Seattle had moderate gains from March 2019 averaging about 1,400 units, while Houston was virtually unchanged.
The remaining two markets saw decreases in permitting. Dallas permitted 3,555 fewer multifamily units than the preceding 12 months, while Los Angeles' annual rate was down about 700 units from the previous year.
Other markets that saw significant decreases in annual multifamily permitting in the year-ending March were Atlanta (-5,771), San Jose (-2,787), San Francisco (-2,612), Orlando (-2,391), and Boston (-1,852). A few smaller markets also saw permitting decline sharply, including Tacoma (-1,520), Milwaukee (-1,475), Oakland (-1,419), and Kansas City (-1,408).
On the other hand, non-top 10 markets that saw significant increases in annual multifamily permitting include Salt Lake City (+4,057), Tampa (+2,717), West Palm Beach (+2,201), Fort Lauderdale (+1,778), and Anaheim (+1,662). The small market of Lakeland-Winter Haven, FL saw a jump in multifamily permitting as more than 1,800 units were permitted for the year.
The annual total of multifamily permits issued in the top 10 metros – 170,851 units – was 14% greater than the 149,870 permits issued in the previous 12 months. The total number of permits issued in the top 10 metros was almost equal to the number of permits issued for the #11 through #42 ranked metros.
The list of top individual permitting places (cities, towns, boroughs, and unincorporated counties) generally include the principal city of some of the most active metro areas. Much like the top 10 metro list, the top 10 permitting place list includes many of the same 10 cities or permit-issuing place as last month. Austin continues to lead the list, but Los Angeles moved into the #2 spot, displacing Houston to #3. Seattle joined the top five, as did New York's Brooklyn borough. Houston's unincorporated county area, and the cities of Seattle and Chicago ranked #6 to #8. The city of Nashville and Charlotte's Mecklenburg County ranked in the top 10 for permit issuing places despite not making the top 10 for metros.