Multifamily Permitting, Starts Still Drag on Residential Rebound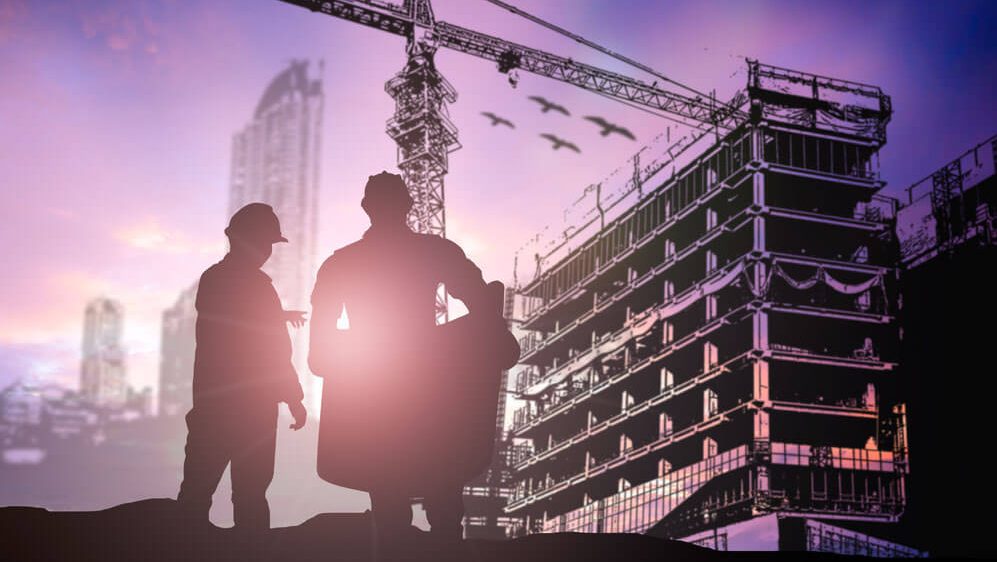 Multifamily permits and starts remain notably below year-ago levels, while the single-family market continues to see sizable growth.
Building permits for multifamily construction came to 390,000 units on a seasonally adjusted annual rate in September. Permits were up a slight 1% from August but down 22.2% from last September. Meanwhile, multifamily starts continued to fall, hitting 295,000 units, 14.7% fewer than the previous month and 17.4% below starts from September 2019.
Despite double-digit declines in multifamily permits and starts, both are on par with the trend seen since 2015, when multifamily permits plateaued close to the current level. The sharp recent declines are more the result of elevated results from last year, when multifamily permits hit more than 500,000 units, and starts reached 450,000 units, which were unsustainable levels. In fact, the average annual total for multifamily permits over the past 12 months comes to the same long-term average going back to 2015 of 440,000 units.
On the other hand, the single-family market is continuing its sharp recovery from the pandemic-induced torpidity, with permits climbing 7.8% from August and 24.3% from last year. Single-family starts also rose sharply – by 8.5% from last month and 22.3% from last September. Both permits and starts for single-family homes topped one million units for the second month in a row.
For the most part, the single-family market had been trending upward rapidly since April 2019, before the pandemic-induced plunge in April 2020. However, the recent bounce back above 1.1 million units permitted and started will likely settle lower closer to 950,000 to one million in the next few months.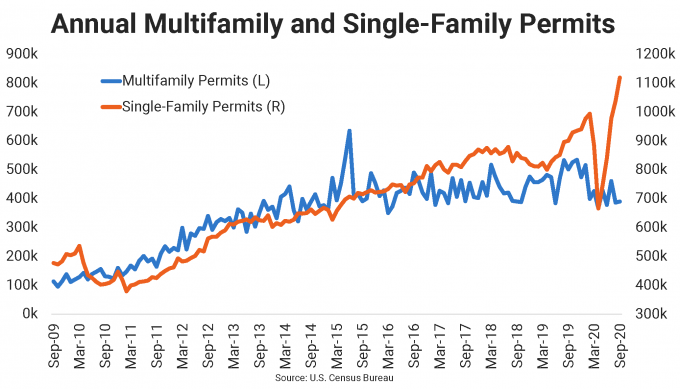 With single-family increasing and multifamily decreasing, total U.S. residential building permits were up moderately from August (5.2%) and last September (8.1%). Total residential starts were up close to 2% for the month but were up 11.1% for the year. With the recent surge in single-family permitting, total residential permits exceeded 1.5 million units for the first time since 2007.

As more economies opened up around the country, multifamily completions shot up by more than 50% from August to 480,000 units, well above the 12-month average of 351,000 units. Single-family completions, however, were up only 2.1% from August's rate, to 921,000 single-unit homes. Both were up from their annual rates from one year ago as well.
Regionally, annual multifamily permitting was down in three regions, with the steepest declines in the West (down 33.8% to 102,000 units) and South (down 25.8% to 170,000 units). The decline in the Northeast (down 6.8% to 69,000 units) was more moderate. The Midwest region saw an increase of about 11% from last year with 49,000 units permitted. The monthly change in annual rates by region were down in only the South and West regions, an average of about -9% between them. The smaller Northeast and Midwest regions saw their rates increase by about a third from last month's annual rate.
Regional annual multifamily starts were down in all but the Northeast region, which saw an increase of 37.8% from last September to 72,000 units. The Midwest (down 24.2% or 29,000 units) and South (down 37.2% or 107,000 units) had the sharpest annual declines, while the West region slipped almost 10% to 87,000 multifamily units started.
At the metro level, nine of the top 10 permitting markets in September returned to the list from August with several markets changing places. New York, Houston, and Austin returned in the first three spots that they have held since April. New York's multifamily permitting increased by almost 8% from last year to lead the nation at more than 37,900 units, while Austin was up more than 50% to 18,667 units. Houston's annual permit level declined slightly from last September to 21,728 units, about 600 units less than the year before.
Los Angeles tumbled down the list from #4 last month to #7 in September, with a decrease in annual multifamily permitting of 932 units to total 12,857 units. Dallas, Phoenix, and Seattle each moved up one spot from August, despite decreases in annual permitting in Dallas and Seattle of 3,287 units and 1,087 units, respectively. Phoenix, however, saw an increase of 5,728 units, or 77.3%, over the annual total from one year ago, reaching a total of 13,136 units permitted.
Minneapolis-St. Paul remained in the #8 spot with a 9.5% increase from last September, as 11,578 multifamily units were permitted. Nashville moved up one spot to #9, displacing Orlando, which fell to #11 this month. Washington, DC moved into the #10 spot with 10,475 units permitted, a 28.1% decrease from last year's annual rate.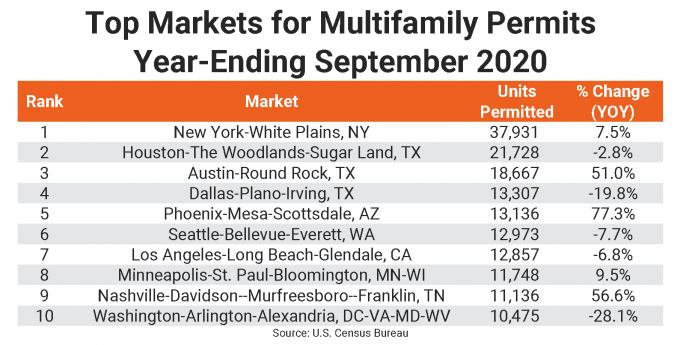 The strongest increases in multifamily permitting among the top 10 markets were in Austin (+6,308 units), Phoenix (+5,728 units), Nashville (+4,023 units), New York (+2,662 units) and Minneapolis-St. Paul (+1,017 units).
Other markets that saw significant year-over-year increases in multifamily permitting in the year-ending September were Sacramento (+2,441), West Palm Beach (+1,970), Cape Coral-Fort Myers (+1,582) and Kansas City (+1,199).
Three of the top 10 markets experienced significant decreases in annual multifamily permitting from last year, with a decline of 4,096 units in Washington, DC, 3,287 units in Dallas and 1,087 units in Seattle.
Significant slowing in annual multifamily permitting occurred in Atlanta (-4,824), San Francisco (-3,597), Charlotte (-2,705), Jacksonville, FL (-2,672), Philadelphia (-2,468), Fort Worth (-2,319), Chicago (-2,207) and Tampa (-2,025).
Half of the top 10 had fewer annual multifamily permits than the previous month, with Los Angeles experiencing a 9.2% drop from August's annual rate, and the remainder declining about 2% to 3%. Austin experienced an 11% spike in permits from last month and the remaining four markets had increases in their annual permitting from last month ranging from 0.5% (New York) to 3.2% (Nashville), averaging 2.2%.
The annual total of multifamily permits issued in the top 10 metros – 163,958 units – was 6.3% greater than the 154,252 permits issued in the previous 12 months. The total number of permits issued in the top 10 metros was almost equal to the number of permits issued for the #11 through #45 ranked metros.
There was virtually no change in the list of top 10 permit-issuing places from August, with all the same names returning and only two changing places. The list of top individual permitting places (cities, towns, boroughs, and unincorporated counties) generally include the principal city of some of the most active metro areas.
The cities of Austin, Houston, and Los Angeles continued to lead the list, although, the city of Los Angeles fell below 10,000 units. Nashville and the borough of Brooklyn permitted around 8,000 to 9,000 multifamily units each, while Houston's Unincorporated Harris County recorded about 6,700 units permitted. The New York borough of Queens and Charlotte's Mecklenburg County were the two permit-issuing places that changed positions from last month.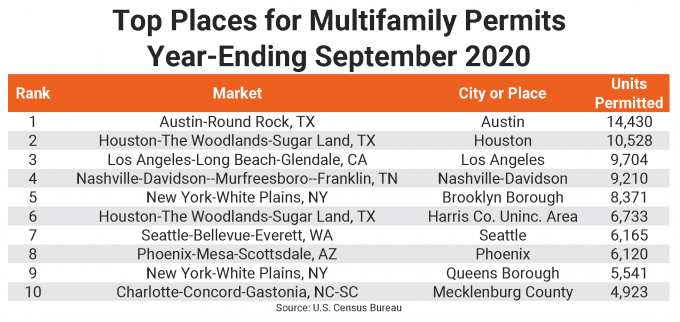 Compared to last month, six of the top 10 permitting places had fewer units permitted for the year – the cities of Houston, Los Angeles, Seattle, Phoenix, Mecklenburg County and the unincorporated Harris County. The city of Austin had the largest uptick in annual multifamily permits from August to September with a 1,378-unit increase.