Multifamily Permits and Starts Jump in October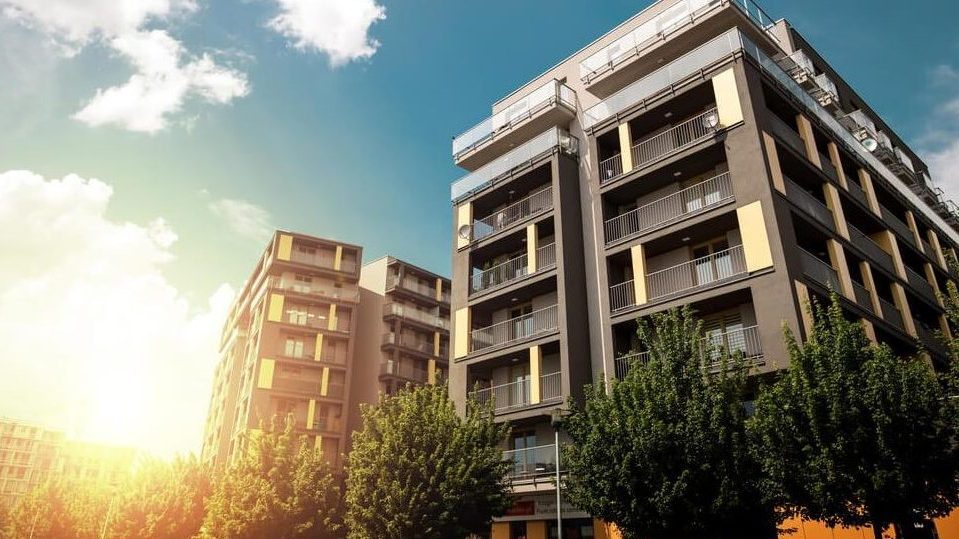 Both multifamily building permits and starts were up in October, following a trend of upward momentum seen since the end of the Great Recession.
The October total for multifamily building permits (on a seasonally adjusted annual rate) jumped 6.5% from September to 528,000 units, according to the U.S. Census Bureau. Permits are up 34% from the annual pace from one year ago. Likewise, the pace for multifamily starts increased 6.8% in October to 470,000 units, an increase of almost 40% from October 2020.
While the annual rate for both multifamily permits and starts tend to move up and down seemingly randomly on a month-to-month basis, they both have been trending upward since the end of the Great Recession. However, multifamily building permits have been trending up slightly faster than starts.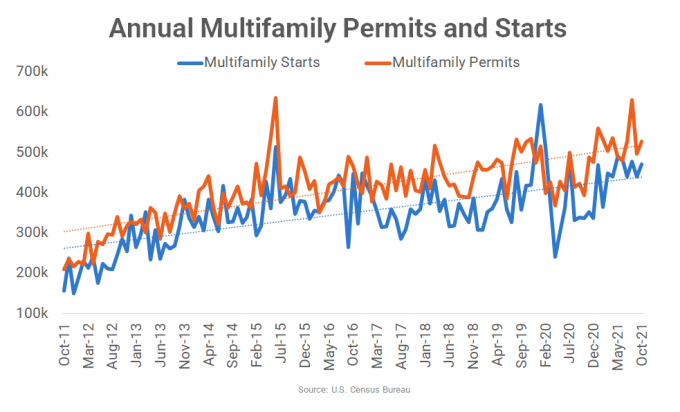 Prior to 2007, the ratio of multifamily permits to total residential permits averaged about 20%. Since then, it has averaged more than 32%, as apartment construction took up the slack in new housing development while the market recovered from the housing bubble bust in the mid-2000s. It has generally kept up that ratio as multifamily rentals have become a strong lifestyle choice for many and single-family affordability remains a concern.
Single-family permits increased 2.7% from September's rate to 1.07 million units but are down 6.3% from last year. Compared to last month, single-family starts were down 3.9% and are 10.6% below last year's pace at 1.04 million units in October. Still, both single-family permits and starts have exceeded one million units consistently since August 2020, a pace both fell below in 2007.
Together, total residential permits were up 4% from September to 1.65 million units and total residential starts were down 0.7% to 1.52 million units. Compared to one year ago, total residential permits were up 3.4% while total starts were almost unchanged at 0.4% growth.
Construction delays pushed multifamily completions down by 31.7% from last year to 302,000 units, while single-family completions were up 3.5% to 929,000 units. Combined total residential completions were down 8.4% from last year at 1.24 million units.

The annual rate for multifamily permitting was up in three of the nation's four Census regions, with the largest annual increase in the West (up 79.3% to 176,000 units). The Midwest's annualized rate increased 45.5% to 89,000 units from last October while the South was up 25.4% to 211,000 units. The small Northeast region decreased 21.3% to 53,000 units. Compared to the previous month, permitting was up in the West (22.3%) and Midwest (14.1%) but down in the South (-3.2%) and Northeast (-7%).
Regional annual multifamily starts were up significantly in the Northeast (+160.8% to 63,000 units) and almost doubled in the Midwest (+93.7% to 99,000 units), while the West region had a strong gain of 37.5% to 128,000 units. The South region increased multifamily starts by 6.5% over last year to 179,000 units. Compared to September's rate, the Midwest (27.7%) and Northeast (15.5%) regions had solid increases in starts, while the South (1.4%) had a much more modest gain. The West saw multifamily starts decline by 1.9% from last month's annual pace.
At the metro level, all of the top 10 permitting markets in October returned to the list from September with the first three in order and several others changing places. New York continues to lead the nation in multifamily permitting with about 32,283 units, almost identical to last month's annual pace but down almost 4,700 units from last year. Austin again ranked #2 with 24,383 units permitted, up almost 6,900 units from last October.
Dallas again ranked #3 with 17,909 units permitted, an increase of almost 7,200 units annually. Seattle replaced Houston at #4 this month with 15,847 units permitted, an increase of almost 25% or 3,137 units from 2020's slower pace. Houston is still seeing multifamily permitting slow despite ranking at #5 this month. Almost 15,000 units were permitted in the year-ending October but that was a decline of 6,324 units from last year.
Los Angeles moved up to the #6 spot in October with 14,928 units permitted, almost the same as Houston and an increase of 2,544 units from the year before. Minneapolis jumped from #10 to #7 with an increase of 2,911 units to total 14,672 units for the year-ending October. Phoenix fell back to the #8 spot despite an increase in permitting of 1,357 units for a total of 14,538 units for the year.
Denver remained in the #9 spot this month with 14,536 units permitted, an increase of 6,574 units over last year, while Washington, DC slipped two spots to #10 with 13,828 units permitted. Still, the nation's capital increased annual multifamily permitting by more than 4,000 units.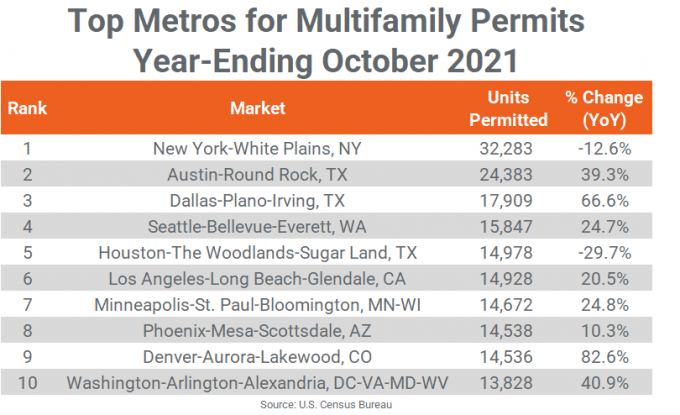 Eight of the top 10 multifamily permitting markets increased their annual totals from the year before and they were generally large increases, ranging from a low of 1,357 units in Phoenix to more than 7,100 additional units in Dallas. Austin's increase of almost 6,900 units was second only to Dallas and was about 300 units more than Denver's solid increase. The remaining top 10 with increasing permitting averaged about 2,800 additional units permitted over last year's totals.
Other markets outside of the top 10 that saw significant year-over-year increases in annual multifamily permitting in the year-ending October were Philadelphia (+5,772 units), Raleigh/Durham (+3,897 units), Charlotte (+3,760 units), Orlando (+3,537 units), and Jacksonville, FL (+3,424 units).
Only two of the top markets saw decreases in the year-ending October 2021. Houston permitted more than 6,300 fewer units than last year and New York's annual permitting fell by 4,666 units. Significant slowing in annual multifamily permitting also occurred in the non-top 10 markets of Cape Coral-Fort Meyers, FL (-2,786 units), San Jose (-2,146 units), Columbus, OH (-1,853 units) and Lubbock, TX (-1,022 units).
Eight of the top 10 markets had more annual multifamily permits than the previous month, with Seattle and Minneapolis jumping about 8.6% from September's annual total. Austin, Dallas, Los Angeles and Denver were up roughly between 4% and 6% from last month, while Phoenix improved only about 2%. Houston and Washington, DC were each down a little more than 2% from last month.
The annual total of multifamily permits issued in the top 10 metros – 177,902 – was about 15% more than the 154,314 issued in the previous 12 months. The total number of permits issued in the top 10 metros was almost equal to the number of permits issued for the #11 through #36 ranked metros.
All of last month's top 10 permit-issuing places returned to this month's list with the first six remaining in the same order. The list of top individual permitting places (cities, towns, boroughs, and unincorporated counties) generally include the principal city of some of the most active metro areas.
The city of Austin returned as the #1 permit-issuing place with 12,859 units, up about 600 units from last month. The city-county of Nashville-Davidson and the city of Los Angeles returned in order, permitting 11,345 units and 11,218 units, respectively. The cities of Seattle, Denver and Houston remained in the #4 through #6 spots but only the city of Seattle increased annual permitting over last month (+1,191 units).
Mecklenburg County (in Charlotte) moved up one spot to #7 with 7,677 units permitted, almost 1,300 units more than last month's total. The boroughs of Brooklyn and the Bronx ranked #8 and #9 in October with close to 6,700 units permitted each, while the city of Phoenix slipped one spot to #10 with 6,481 multifamily units permitted.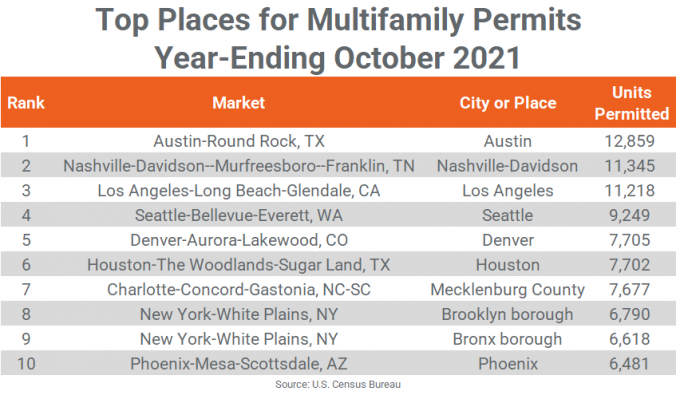 In addition to the cities of Austin and Houston, the cities of Dallas and San Antonio and unincorporated areas of Travis (Austin) and Harris (Houston) counties take six of the top 20 permit-issuing places in October. Florida had three spots in the top 20, while California, North Carolina, and New York each had two. With the exception of Tennessee (Nashville-Davidson), the remaining top 20 multifamily permitting places are in western states (Arizona, Colorado, Utah and Washington).