Multifamily Permits and Starts Jump in June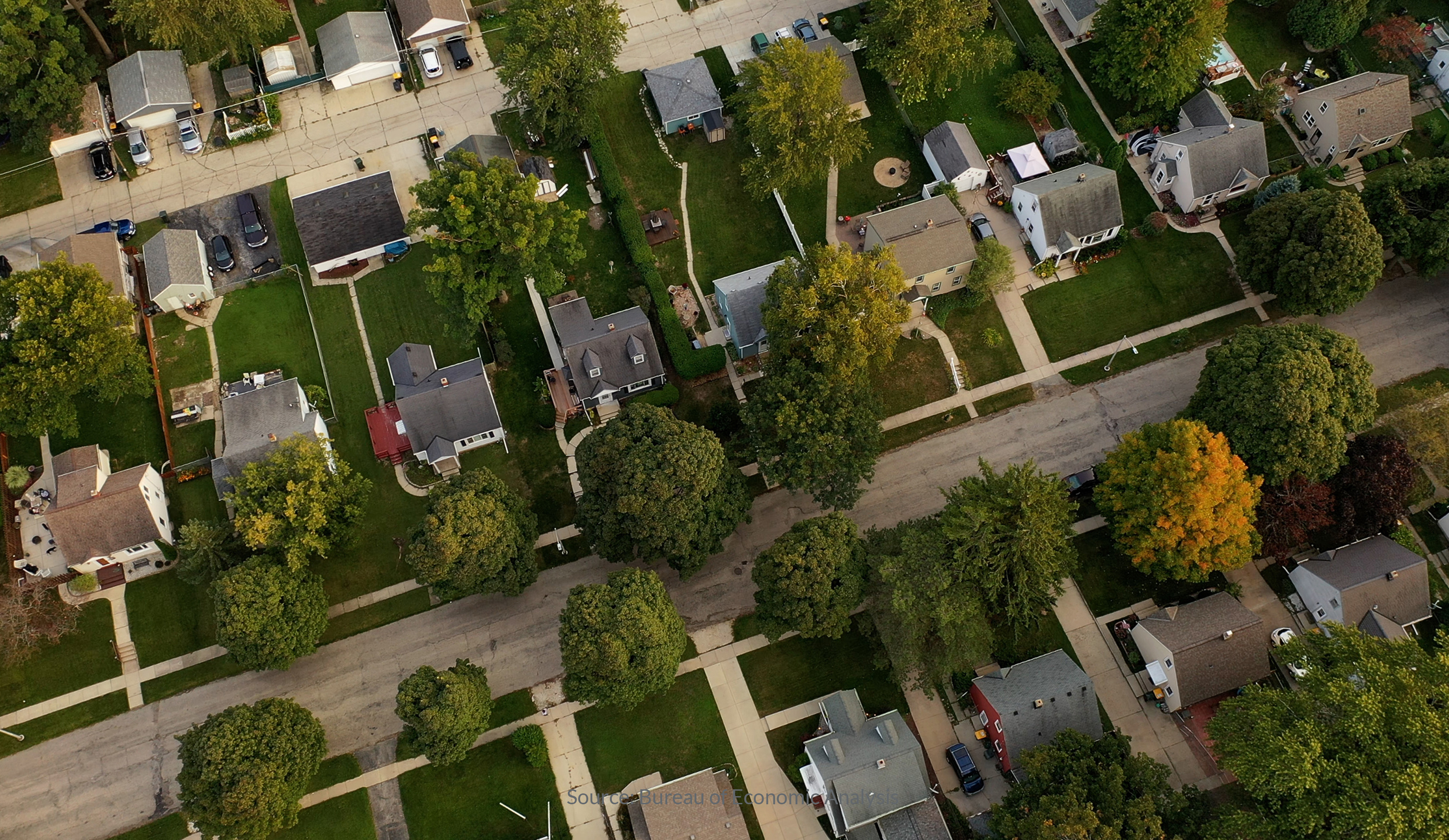 The pace of multifamily permits and starts were both up in June, as demand for housing grows.
The seasonally adjusted annual rate for multifamily building permits increased 13.1% from May's annual rate at 666,000 units permitted, an increase of 27.8% year-over-year. The U.S. Census Bureau's monthly report also indicated that multifamily starts are up 15% from last month and 16.4% from last year, with an annual rate of 568,000 units started.
As multifamily development continues to struggle to meet growing housing demand, the single-family industry continues to cool. Annualized single-family permitting fell 8% from May and 11.4% for the year to 967,000 units, the first time below one million units since July 2020.
Single-family starts are also slowing, dropping 8.1% from May's annual rate to 982,000 units, a decline of 15.7% from June 2021. Rising mortgage rates, coupled with high inflation and other market headwinds are eating into the housing market.
Together, total residential permitting (including the small 2-4-unit plex data) is almost unchanged in June from last month to 1.685 million units and total starts are down 2% from May to 1.559 million units. However, total permits are up slightly (1.4%) from last year's pace while total starts are down 6.3%.
Construction delays are continuing, primarily for multifamily projects, as year-over-year multifamily permits authorized but not started shot up almost 43% from June 2021 to 134,000 units. The number of single-family units authorized but not started has varied little from around 149,000 units over the past year.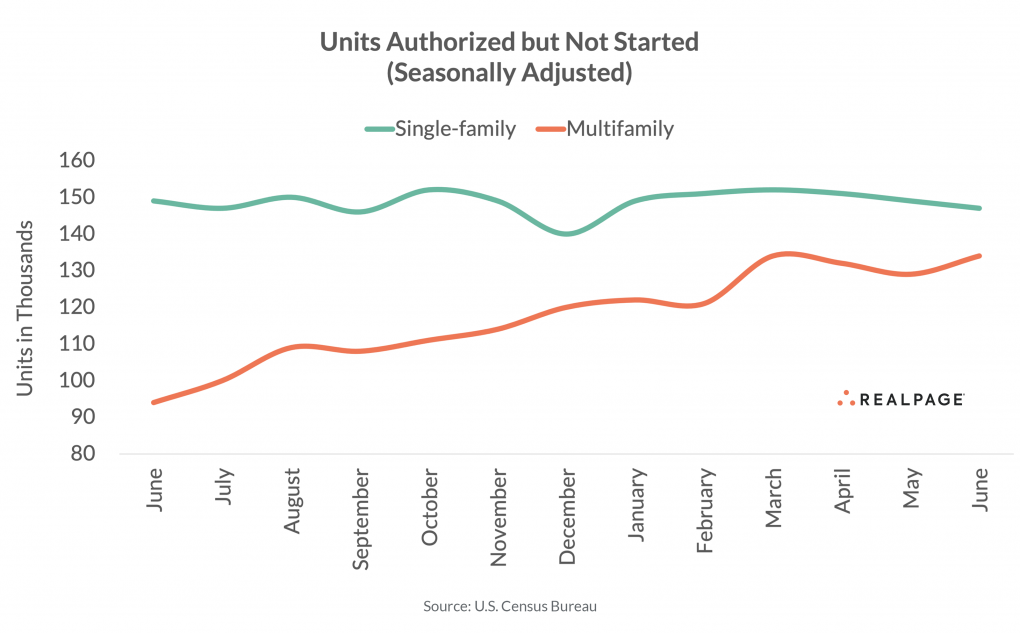 With these persistent construction delays, completions have been affected as well. The annual rate of multifamily completions fell 5.4% from May to 366,000 units and is down 3.7% from last year. Meanwhile, single-family completions (which take a shorter time to build) are down only 4.1% from May to 996,000 units and are actually up 8.5% for the year.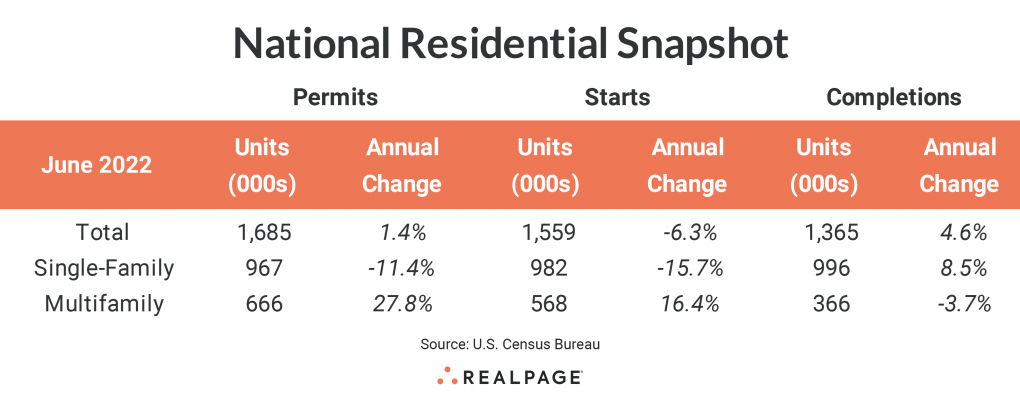 The annual rate for multifamily permitting was up in three of the nation's four Census regions from June 2021, with the largest annual increase in the West region (up 49.5% to 203,000 units). The small Northeast region's annualized rate increased 34.9% to 86,000 units. Meanwhile, the South region increased by 24.1% to 315,000 units, while the Midwest decreased by 8.5% to 62,000 units from last June. Compared to the previous month, permitting was up in the same three regions and down in the Midwest.
Unlike permitting, multifamily starts were up in all four regions, with a big increase in the Northeast (62.1% to 106,000 units) and moderate gains in the West (11.3% to 173,000 units) and South (10.6% to 224,000 units). The Midwest region started just 0.8% more units than the previous year at 66,000 units. Compared to May's rate, starts were up sharply in the West (90.4%) and Northeast (34.3%) but down 7.8% in the South and by a fifth in the Midwest.
At the metro level, all but one of the top 10 permitting markets returned to the June list from May with only three markets remaining in the same spot as most markets changed places. New York continues to lead the nation in multifamily permitting with 40,405 units, about 6,700 units more than last year. The potential expiration of a special tax incentive in New York may be boosting multifamily permitting in the short term in a scenario similar to what occurred in Philadelphia last year.
Austin remained at the #2 spot in June with 25,083 units permitted, followed by Houston in the #3 spot with a total of 21,669 units (moving up two spots). Philadelphia slipped one spot to #4, permitting 20,367 units for the year, while Seattle moved up one spot to #5 with an annual total of 19,660 units.
Dallas fell two spots to #6 with 19,012 units permitted for the year and Denver moved up one spot to #7 with an annual total of 16,647 units for the year-ending June 2022. Minneapolis-St. Paul replaced Denver at #8 with 15,924 multifamily units permitted and Phoenix remained in the #9 spot, permitting a total of 15,736 units. Los Angeles replaced Orlando in the #10 spot, permitting 15,245 units for the year.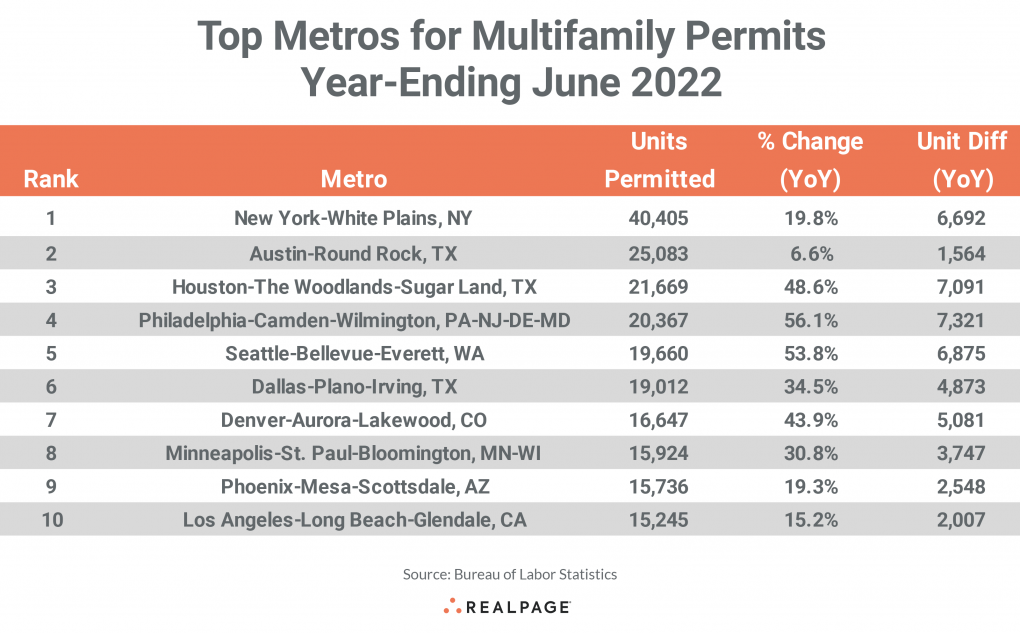 All top 10 multifamily permitting markets increased annual totals from the year before and they were generally large increases, ranging from a low of 1,564 units in Austin to just over 7,300 additional units in Philadelphia. Seven of the top 10 markets increased multifamily permitting by at least 3,000 units over last year's pace.
Other markets outside of the top 10 that saw significant year-over-year increases in annual multifamily permitting in the year-ending June were Atlanta (+9,733 units), Orlando (+5,095 units), Jacksonville (+3,783 units), Charlotte (+3,735 units), Miami (+3,719 units) and Richmond (+3,572 units).
Significant slowing in annual multifamily permitting occurred in Nashville (-4,965 units), Anaheim (-1,841 units), San Jose (-1,740 units), Bridgeport, CT (-833 units) and Lubbock, TX (-698 units).
Eight of the top 10 markets had more annual multifamily permits than the previous month, with an increase of 2,817 units in Houston and 2,096 units in New York leading the pack. Seattle also had a significant monthly increase to the annual total, amounting to more than 1,900 additional units. Denver, Los Angeles, Austin, Minneapolis, and Phoenix had milder gains in their annual permitting totals from May to June.
Philadelphia dropped about 740 units from their annual permitting pace from last month, while Dallas slowed by 1,250 units.
The annual total of multifamily permits issued in the top 10 metros – 209,748 – was about 30% more than the 161,949 issued in the previous 12 months. The total number of permits issued in the top 10 metros was almost equal to the number of permits issued for the #11 through #37 ranked metros.
Below the metro level, nine of last month's top 10 permit-issuing places returned to this month's list with only one remaining in the same spot and several others changing places. The list of top individual permitting places (cities, towns, boroughs, and unincorporated counties) generally include the principal city of some of the most active metro areas.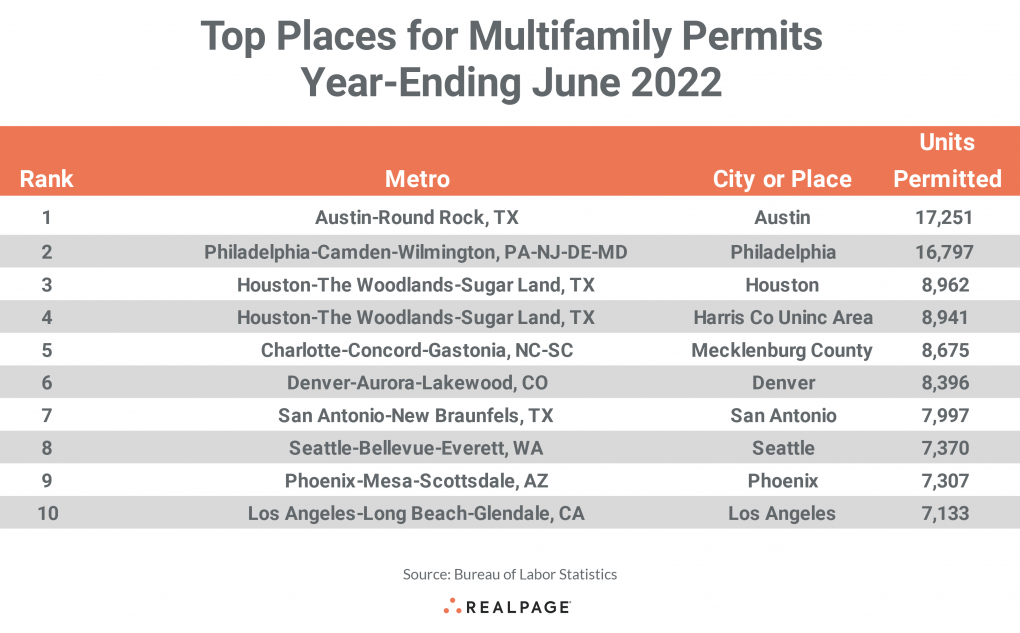 The city of Austin displaced the city of Philadelphia at the top of the list in June with an annual total of 17,251 units, despite Philadelphia's tax abatement policy change causing a flood of permitting late in 2021 that still totaled 16,797 units for the year.
The city of Houston moved up two spots to #3 with 8,962 units permitted in the year-ending June 2022. Right behind it was Unincorporated Harris County (part of the Houston metro) with a total of 8,941 units permitted, a jump of five spots from last month.
Mecklenburg County (Charlotte) fell from #3 to #5 in June, permitting 8,675 units for the year, while the city of Denver remained in the #6 spot, permitting 8,396 units. The city of San Antonio climbed three spots to #7, permitting a total of 7,997 units and the city of Seattle slipped one spot to #8 with an annual total of 7,370 units permitted.
The city of Phoenix moved into the top 10 at #9 with 7,307 multifamily units permitted, while the city of Los Angeles cooled two spots to #10 with 7,133 units permitted for the year.
The next 10 permitting places after the top 10 are geographically diverse with two permit issuing places in Florida (city of Miami and Unincorporated Orange County-Orlando), and one each in Tennessee, Colorado, North Carolina, Georgia, Minnesota, Massachusetts, Ohio, and New York. For the first time in a long time, the city of Dallas did not make the top 20.