Multifamily Permits, Starts Decrease in February Ahead of COVID-19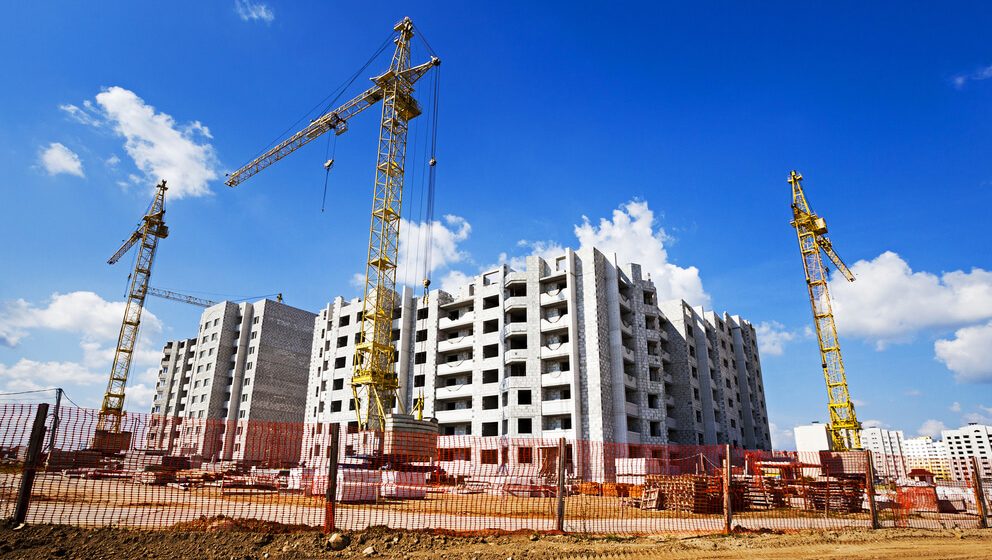 Before the still-developing effects of the COVID-19 pandemic on the U.S. housing market started to become apparent, February saw a decline in both permits and starts for multifamily product.
Multifamily permitting dipped to 415,000 units on a seasonally adjusted annual basis in February, the second-lowest annual rate in 17 months. That number was down 20.2% from January and 5% from February 2019.
Decreased permitting in February perhaps isn't surprising, given the historically high levels seen in recent months. Annual permitting has run closer to a half-million units since August 2019. By comparison, permitting has averaged 434,000 units since 2015, but has averaged 446,000 units over the past 26 months.
Permits will likely continue to decrease gradually in the coming months due to effects of COVID-19. Developers may wait to start construction projects given economic uncertainty and government actions to slow the spread of the virus. So far, however, many local governments have considered construction an essential industry and exempted workers from shelter in place mandates.
In February, construction starts followed permits lower month-over-month, as builders began work on 17% units than in January. Year-over-year, however, starts were up 44.3%. Starts of multifamily units, which is more volatile than permits, have averaged close to 379,000 units annually since 2015, but have followed permits' increases recently, topping 400,000 units in seven of the past 12 months and 500,000 units for the past three months.
Over the past 12 months, seasonally adjusted annual multifamily permits have averaged 462,000 units while multifamily starts have averaged 429,000 units.
On the single-family side of the market, annual single-family permits were up 1.7% from January and were up 23.3% for the year. Single-family starts were up 6.7% for the month to 1,072,000 units, and up 35.4% from last February.
U.S. total residential building permits was down 5.5% from January while starts were down 1.5% from last month. Total permits and starts were both up year-over-year by 13.8% and 39.2%, respectively.
With the higher annual rates over the past few months, total residential permitting levels have exceeded 1.4 million units in six of the previous seven months and exceeded 1.5 million units in January for the first time since March 2007. Total residential starts averaged 1.36 million units in the past 12 months, while single-family starts averaged 920,000 units. Single-family starts topped the one million mark for the past three months.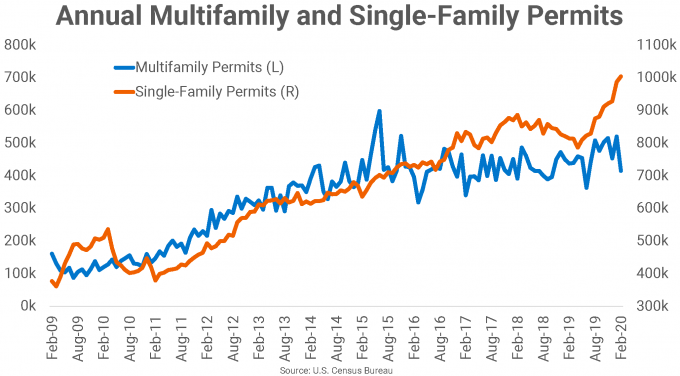 On an annual basis, multifamily building permits were up only in the West, as they saw a 36.2% increase from last February (to 116,000 units). The Midwest region dropped 27.6% this month to 56,000 units and the smaller Northeast region fell 16% to 54,000 units in February. The large South region had a decline in annual multifamily permitting of 10.1% – to 190,000 units – just about 6% below its 12-month average.
Multifamily starts were up in all regions of the country, with significant increases in the West (70.1%, or 132,000 units), South (46%, or 268,000 units), Northeast (21.7%, or 53,000 units), and Midwest (16%, or 54,000 units). Conversely, multifamily completions were down in all regions, with the Midwest, Northeast and South regions down by about half from last year and the West region down by about a quarter.
At the metro level, nine of last month's top 10 permitting metros remained the same with only two others changing places. The first two returned in order with New York and Houston retaining last month's top spots. Austin again moved up the top 10 after jumping two spots last month, climbing one spot to surpass Dallas at #3. This is the first time that Dallas has been out of the top three since 2013. The markets ranked from #5 to #9 returned in the same order. After returning to #10 last month, Orlando slipped back to #11 as Chicago edged out the City Beautiful to round out the top 10.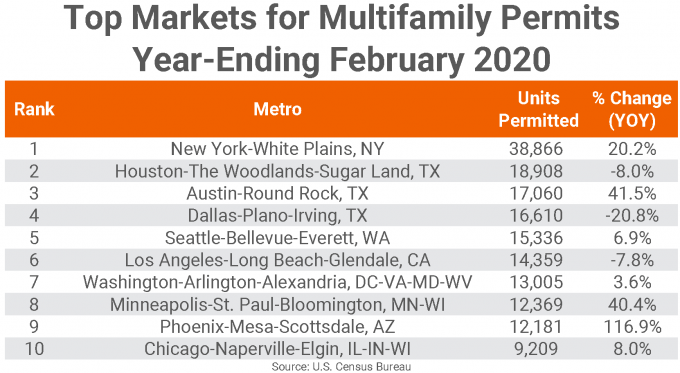 Seven of the top 10 markets experienced increases in annual multifamily permitting from last year, with an average increase of 3,400 more permits than last year. Phoenix saw the greatest increase in annual multifamily permitting of 6,565 units, followed by New York with 6,531 units, Austin with 5,002 units and Minneapolis/St. Paul with 3,559 more multifamily units permitted than last year. Chicago, Washington, DC and Seattle had only modest gains from February 2019.
The remaining three markets saw decreases in permitting of 7.8% to 20.8%. In net units, Dallas permitted 4,359 fewer multifamily units than the preceding 12 months, while Houston was down about 1,640 units from last year and Los Angeles' annual rate was down about 1,200 units from the previous year.
Other markets that saw significant decreases in annual multifamily permitting in the year-ending February were Atlanta (-5,477), Orlando (-3,170), San Jose (-2,820), San Francisco (-2,176), Boston (-1,869) and Baltimore (-1,728). A few small markets saw permitting decline sharply too such as Oakland (-1,490), Tacoma (-1,441), Milwaukee (-1,356) and Boulder (-1,221).
On the other side, non-top 10 markets that had significant increases in annual multifamily permitting include Tampa (3,225), Salt Lake City (2,724), Fort Worth (2,669), Nashville (2,150) and Anaheim (1,918).
The annual total of multifamily permits issued in the top 10 metros – 167,903 – was 10.9% greater than the 151,333 issued in the previous 12 months. The total number of permits issued in the top 10 metros was almost equal to the number of permits issued for the #11 through #30 ranked metros.
The list of top individual permitting places – cities, towns, boroughs and unincorporated counties – generally include the principal city of some of the most active metro areas. Much like the top 10 metro list, the top 10 permitting place list includes many of the same 10 cities or permit-issuing place as last month. Austin and the Houston area continue to lead the list, but the city of Nashville supplanted Charlotte's Mecklenburg County at the #4 spot while the city of Chicago rounded out the top six. The cities of Phoenix and Washington, DC remained at #7 and #8 in February. The city of Minneapolis replaced San Antonio at #9 and the city if Denver remained at #10.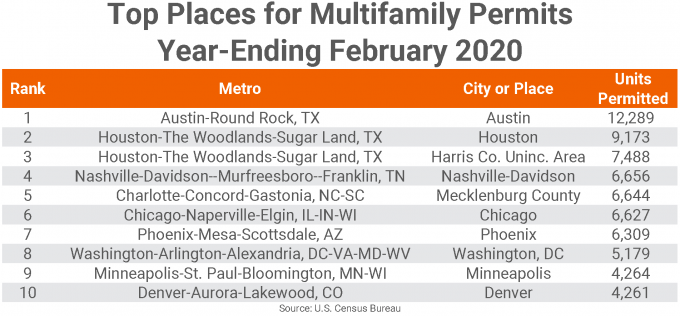 Of the top permit-issuing cities or counties, Charlotte, Nashville and Denver did not have their metro areas make the top 10 list for permits by metro.