Multifamily Permits and Starts Continue to Climb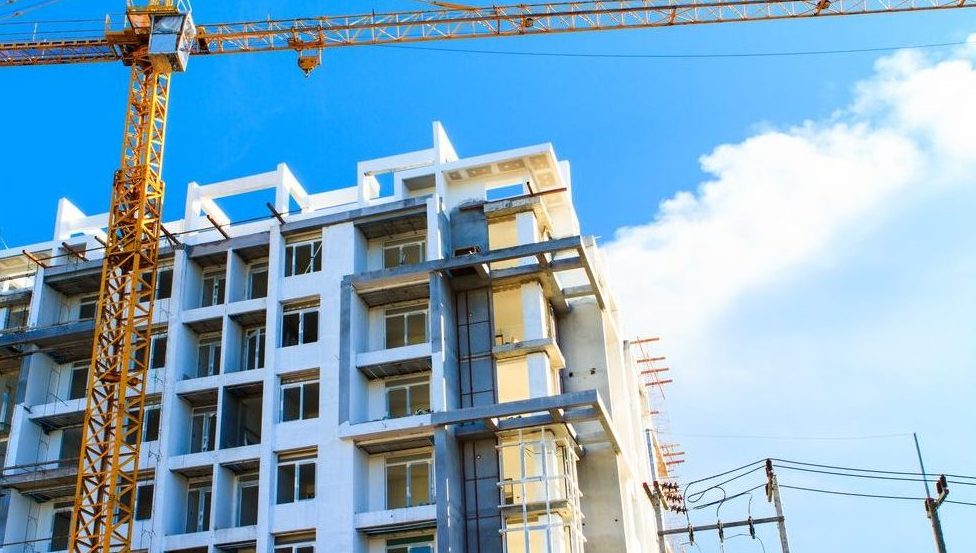 U.S. building permits and housing starts increased for both single-family homes and multifamily developments again in November, according to the latest U.S. Census figures.
Total residential building permits hit a 12-and-a-half-year high at 1.48 million units, ahead of the previous peak of 1.46 million last month. Total residential starts were a strong 1.37 million units, just under August's peak.
Multifamily permits reached 524,000 units in the year-ending November, the most the market has issued since 2015. This volume was 4.4% greater than the October showing and jumped 16.4% over year-ago figures. Annual multifamily permit volumes have averaged at about 500,000 units over the past four months, well over the average of 430,000 units the market has seen since mid-2016.
Starts of multifamily units, which is slightly more volatile than permits, have averaged close to 365,000 units annually over the same period, but have followed recent increases seen in permits, topping 400,000 units three times in the past seven months. Over the past 12 months, multifamily starts have averaged 370,000 units. The seasonally adjusted annual rate (for annual multifamily starts rose by 2.3% since October and was up 4.4% year-over-year.
Single-family permits also hit a peak, with 918,000 units approved in the year-ending November. This was the strongest showing since 2007. Single-family permits were up 0.8% since October and 8.9% year-over-year. In the past five years, annual single-family permits have averaged over 790,000 units. In the five years prior to that, the average was a much lower 527,000 units.
Single-family starts are again approaching the one million mark, with annual starts topping 900,000 homes for the past four months. Single-family starts have grown 2.4% since October and were up 16.7% year-over-year.
Multifamily completions retrenched in the year-ending November, slipping 16% below October volumes and 6.9% below figures from November 2018.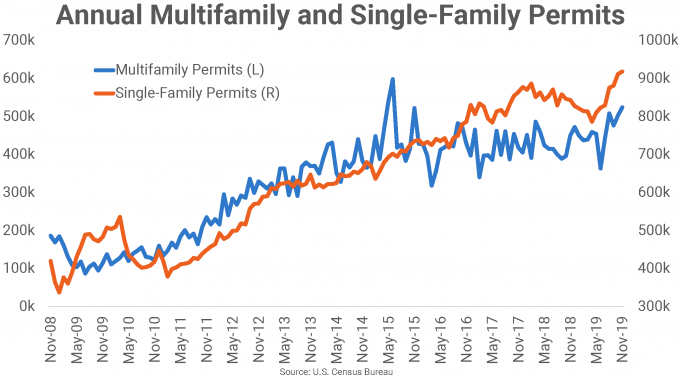 On an annual basis, multifamily building permits were up in all regions of the country, except for the South, which contracted by 3.1% to 211,000 units. Each of the remaining three regions had double-digit increases, but a numerical increase of about 22,000 to 29,000 units from last year's total.
Multifamily starts were down in the Northeast (-16.2%) and essentially flat in the West (+1.0%) regions but were up in the South (+8.3%) and the smaller Midwest (+17.1%). Similarly, multifamily completions were up in the Midwest and South, but down by at least 25% in the Northeast and West.
At the metro level, all but one of last month's top 10 permitting metros remained the same. The top four markets returned in order. New York, Houston and Dallas held onto the top three rankings with about 20,000 to 39,000 units approved, while Seattle permitted about 14,300 units. Austin and Los Angeles took the #5 and #6 spots, with about 14,000 units approved, while Washington, DC permitted a little over 13,000 units. Orlando and Minneapolis-St. Paul switched places again to #8 and #9 with close to 11,000 units permitted, while Boston, with approval of nearly 9,500 units, displaced Charlotte, which slipped to #11. Atlanta, which had been #10 in September and fell to #16 last month, fell further to #20 in November.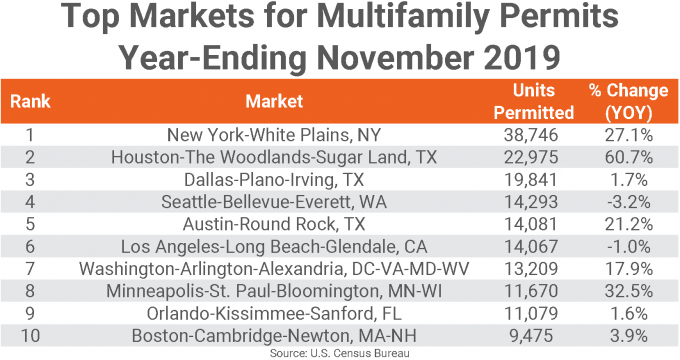 Eight of the top 10 markets experienced increases in annual multifamily permitting from last year, as only Seattle and Los Angeles saw a decline permits (-479 and -137 units, respectively). The remaining top 10 markets saw increases in permitting from 1.6% to a stunning 60.7% (Houston). In net units, Houston and New York permitted more than 8,000 more multifamily units than the preceding 12 months while Washington, DC, Minneapolis-St. Paul, and Austin approved about 2,400 units more than their previous annual totals. Permits in Dallas, Orlando, and Boston were about 300 units higher than last year.
Other markets that saw significant increases in annual multifamily permitting in the year-ending November were Tampa (+4,743), Salt Lake City (+3,374) and San Antonio (+3,271). A few small markets saw a surge in permitting such as Bridgeport-Stamford-Norwalk, CT which went from 195 multifamily units permitted by November 2018 to 1,735 this year. Other big jumps were seen in Lakeland-Winter Haven, FL (0 units to 1,687 units), and Wilmington, NC (473 units to 1,583 units). Significant slowing (-1,500 or more) occurred in Oakland, Raleigh/Durham, Atlanta, and San Diego. Milwaukee's annual total through November fell from 2,053 in 2018 to 663 units in 2019.
The annual total of multifamily permits issued in the top 10 metros – 169,436 units – was 16.9% greater than the 144,918 issued in the previous 12 months. The total number of permits issued in the top 10 metros was almost equal to the number of permits issued for the #11 through #40 ranked metros.
The list of top individual permitting places (cities, towns, boroughs, and unincorporated counties) generally include the principal city of some of the most active metro areas. Much like the top 10 metro list, the top 10 permitting place list includes many of the same 10 cities or permit-issuing place as last month. The city of Houston again led the nation for the year-ending November, with the city of Austin returning at the #2 spot and Unincorporated Harris County (Houston) retaining the #3 spot. Charlotte's Mecklenburg County and the city of Washington again round out the top five. The city of San Antonio switched places with the city of Denver at to the #8 and #10 spots, respectively.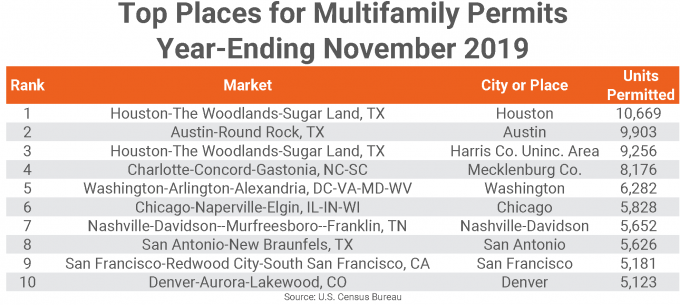 Of the top permit-issuing places (cities or counties), Charlotte, Chicago, San Francisco, Denver, San Antonio and Nashville did not have their metro areas make the top 10 list for permits by metro. Consistently placing in the top three for metro-level permitting, New York and Dallas had no permit issuing places in the top 10 as their apartment development pattern is more spread out among their suburbs.