Multifamily Permits Recover in May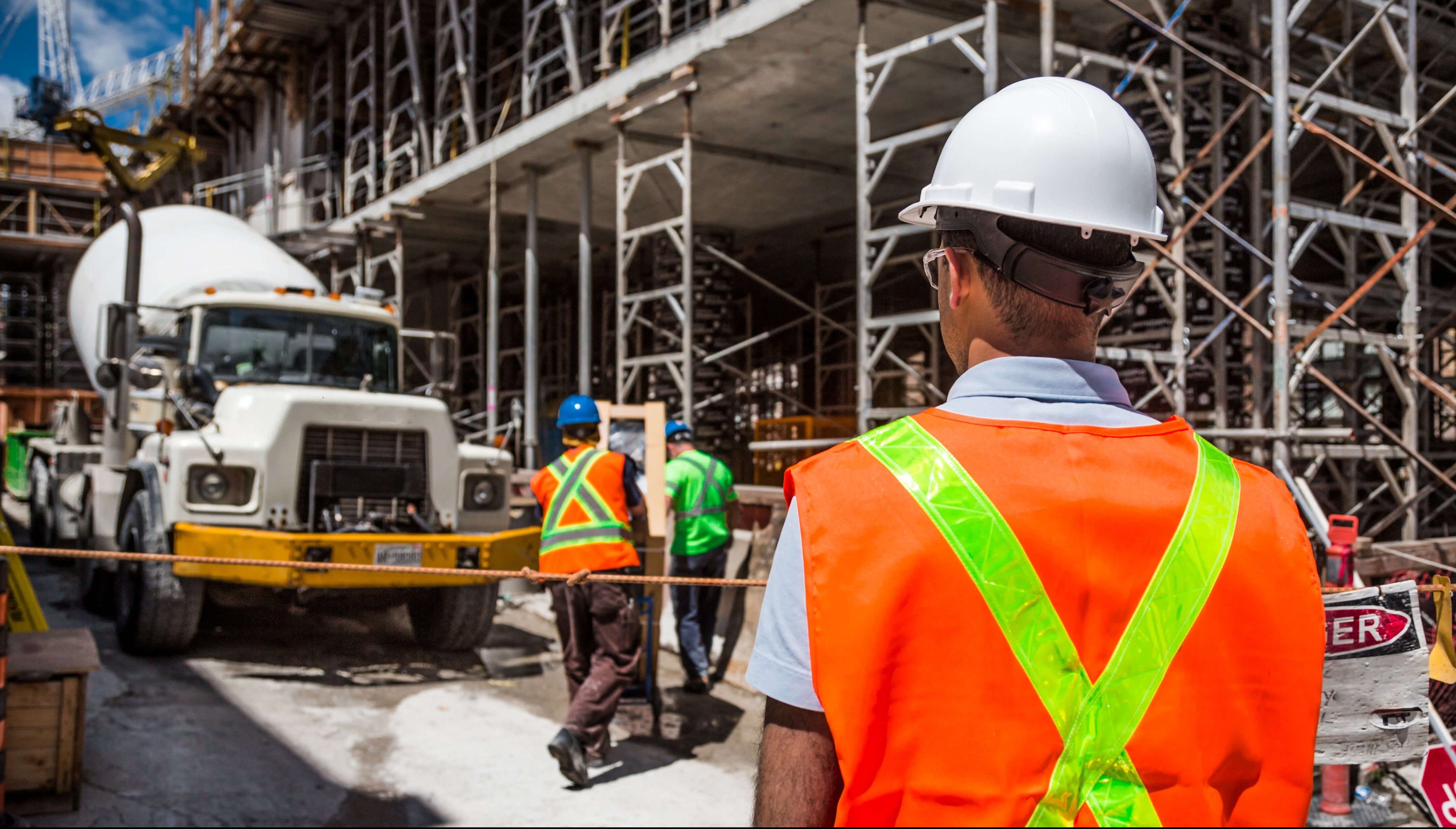 Multifamily permits and starts bumped back up again in May, after taking a tumble in April.
Multifamily permitting totaled 434,000 units on a seasonally adjusted annual basis in May, the best annual rate since January. That number was up 18.3% from the dive the market took in April but was still down 8.4% from last year. By comparison, annual multifamily permitting has averaged about 440,000 units since 2015 but stepped up to average closer to 467,000 units over the past 12 months.
Starts of multifamily units, which are more volatile than permits, were up to 291,000 units in May, registering at about two-thirds the previous 12-month average. That number jumped 16.9% since April but remained 33.1% below the May 2019 figure. Multifamily starts have averaged close to 378,000 units annually since 2015, but, like permits, have escalated to average 420,000 units in the past 12 months.
The variance between annual multifamily permits and starts in the same month is typically about 40,000-50,000 more units permitted than started. In May, the difference was 143,000 units, indicating that the COVID-19 pandemic is slowing the pace of new construction for apartments, though developers are still optimistic of the future.

Single-family permits followed the same pattern, climbing 11.9% in May, but remaining 9.9% below levels from the previous year. At 745,000 units, single-family permits are down from the nearly one-million-unit pace set a few months ago but were about even with the late-2016 showing.
Single-family starts were below economist's estimates and virtually unchanged from April (+0.1%), however, they were down sharply (-17.8%) from May 2019. The annual rate for single-family starts of 675,000 units in May is about where it should be when considering the typical difference of around 74,000 units between single-family permits and starts.
Total residential building permits were up 14.4% from April, while starts were up 4.3% from last month. Starts were a bit softer than expectations, but they generally lag permits overall. Compared to May of 2019, total permits were down by 8.8% while starts fell a more significant 23.2%.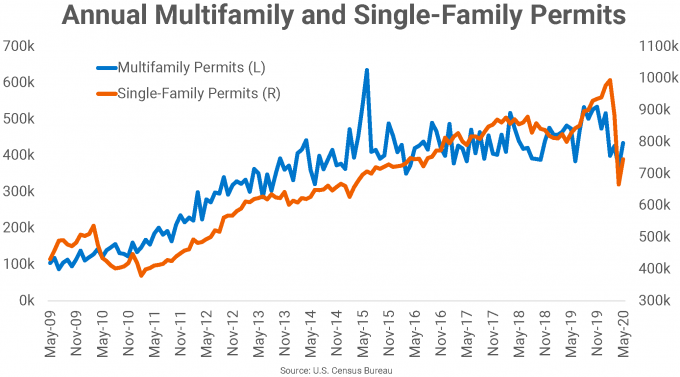 Multifamily permitting was down in two regions compared to one year ago. Approvals in the South were down 6.8% to 218,000 units, while permits in the West fell a sizable 23.4% to 108,000 units. The smaller Northeast region had 17.9% more multifamily permits approved than the year before, totaling 53,000 units, while the Midwest region was virtually unchanged (+1.8%) with 56,000 units permitted. Three of the four regions are permitting at levels head of their 12-month averages. Meanwhile, the West region is right in line with its typical pace.
As with permits, multifamily starts were down in two regions. Starts in both the South (97,000 units) and Northeast (15,000 units) in May were at less than half of what they were a year ago. On the other hand, the West was little changed from one year ago (+1.5%/132,000 units) and the Midwest started 47,000 units in the year-ending May 2020, a 6.8% increase.
At the metro level, multifamily building permit totals for April will not reflect the same amount of change as in the national data series since the metro data is unadjusted. All top 10 permitting markets returned to the list from April and in the same order.
New York, Houston, and Austin retained the top three spots on the list, while Dallas continued to cool slightly but retained its #4 spot. Los Angeles, Seattle, Phoenix, Washington, DC and Minneapolis have all stayed in the #5 through #9 spots since at least January, while Orlando has been in and out of the #10 spot a few times this year.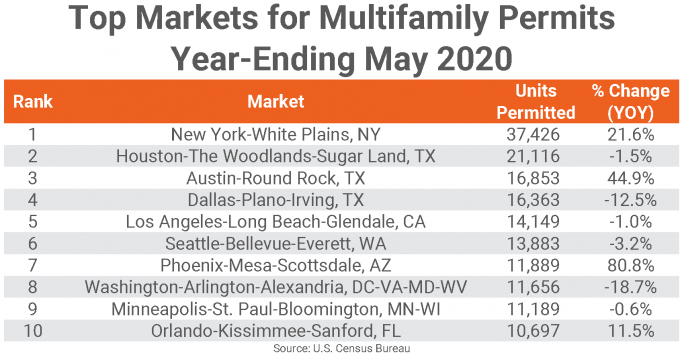 Four of the top 10 markets experienced increases in annual multifamily permitting from last year, with an average increase of 4,600 more permits than last year. New York saw the greatest increase in annual multifamily permitting of 6,637 units, a 22% leap from the May 2019 level. Phoenix and Austin saw increases of more than 5,000 units from last year, with percentage surges of 81% and 45%, respectively. Orlando saw an increase of around 1,100 units.
The remaining six markets saw declines in annual permitting, falling roughly 0.6% to 18.7%. In net units, Dallas and Washington, DC permitted about 2,500 fewer multifamily approvals than the preceding 12 months, while Houston, Los Angeles, Seattle and Orlando's annual rate was down about 250 units from the previous year.
Other markets that saw significant year-over-year decreases in annual multifamily permitting in the year-ending May were Atlanta (-5,274), San Francisco (-3,303), San Jose (-1,803), and Charlotte (-1,754). A few smaller markets saw permitting decline sharply, such as Jacksonville (-1,718), Milwaukee (-1,583), and Greenville/Spartanburg (-1,561).
On the positive side, non-top 10 markets that had significant increases in annual multifamily permitting include Salt Lake City (+3,072), Fort Worth (+2,896), and West Palm Beach (+2,382). The small markets of Fayetteville, AR, Columbus, OH, Boise City, ID, and Cape Coral-Fort Myers, FL each saw increases of more than 1,000 units over the previous year.
Compared to last month, all but three of the top 10 had fewer annual multifamily permits than in April. The exceptions were New York, Seattle, and Orlando, which saw increases averaging roughly 3.7%. Los Angeles and Phoenix saw the steepest decreases in annual multifamily permitting from the previous month, falling an average of about 5.3%.
The annual total of multifamily permits issued in the top 10 metros – 165,221 – was 8.0% greater than the 152,953 issued in the previous 12 months. The total number of permits issued in the top 10 metros was almost equal to the number of permits issued for the #11 through #41 ranked metros.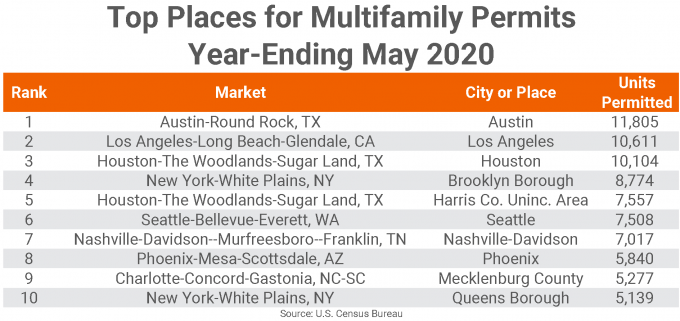 The list of top individual permitting places (cities, towns, boroughs, and unincorporated counties) generally include the principal city of some of the most active metro areas. As with the top 10 metro list, the top 10 permitting place list includes most of the same 10 cities or permit-issuing place as last month. The first nine permit-issuing places on this month's list are the same as last month. The cities of Austin, Los Angeles, and Houston continued to lead the list, followed by the borough of Brooklyn and Unincorporated Harris County that surrounds Houston. The borough of Queens replaced the city of Fort Worth in the #10 slot this month.
Nashville-Davidson and Mecklenburg County (Charlotte) were the only permit-issuing places to make the top 10 places list whose metro areas did not make the top 10 metro list.