Multifamily Permits Rebound in July, but Starts Follow June's Plunge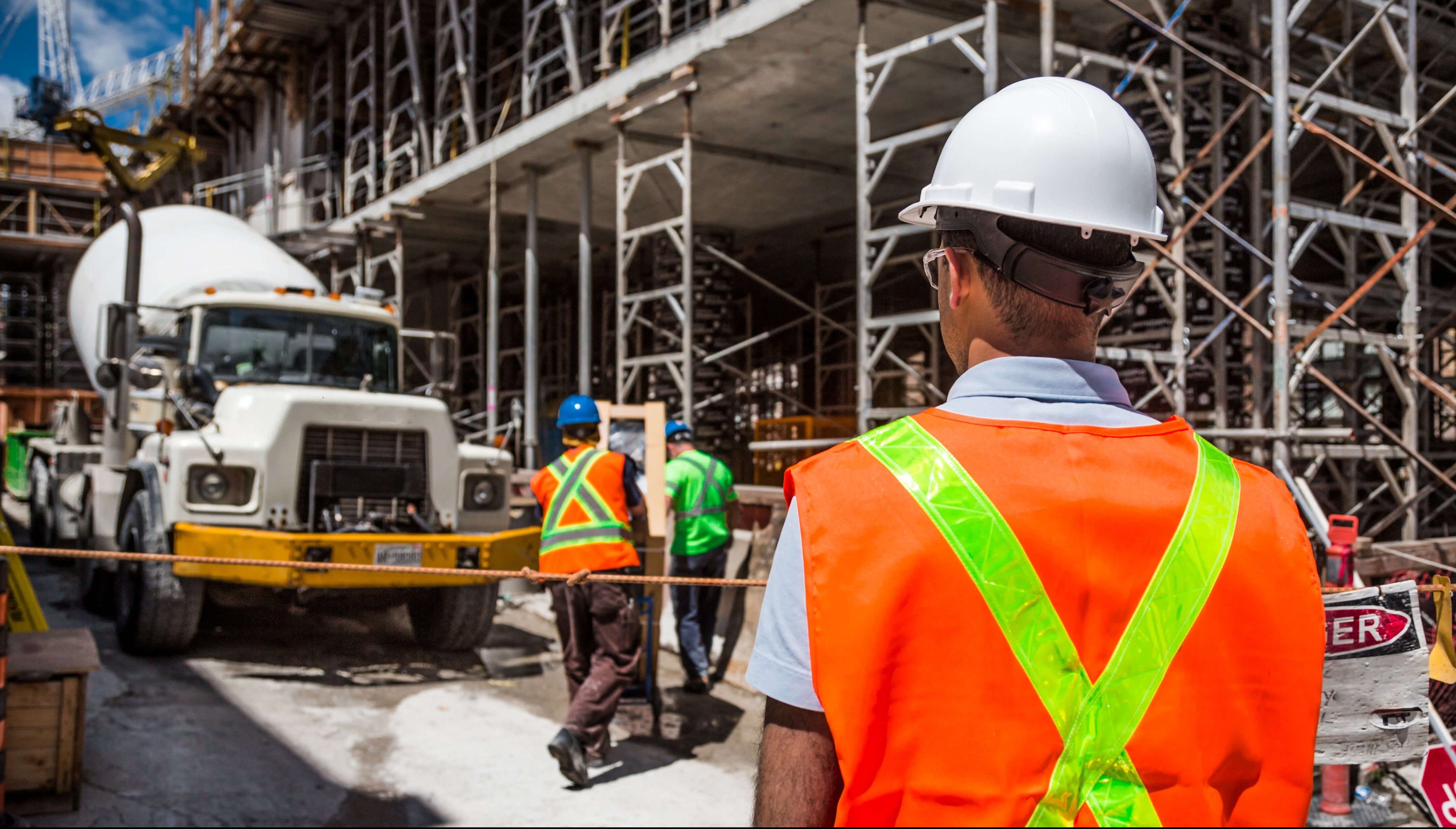 Last month, multifamily permits volumes plunged to a two-year low. This month, construction starts followed.
On a seasonally adjusted basis, construction started on 303,000 multifamily units in the year-ending July, according to the U.S. Census Bureau. That volume was down more than 17% from between June and about 5% from a year ago.
The July annual starts number was a two-year low that followed June's plunge in multifamily permitting. In July, however, multifamily permits rebounded. The 453,000 units permitted in past year was up almost 25% from June and 9.2% from the July 2018 volume.
Some of this variation in permits and starts month to month can be attributed to seasonal adjustment factors as the seasonally unadjusted permitting totals were both about 425,000 units in June and July, while starts were close to 350,000 units in both months. Over the past 12 months, seasonally adjusted annual multifamily permits have averaged 430,000 units while multifamily starts have averaged 355,000 units.
At 838,000 units, July's annual rate for single-family permitting was about even with June's showing but 3.8% lower than the July 2018 figure. The current SAAR is slightly above the 12-month average of 826,000 units. Annual single-family starts totaled 876,000 units in July, up 1.9% from July 2018.
Total residential permitting levels are still averaging between 1.2 million and 1.3 million units, as they have since 1959. Total residential starts averaged 1.2 million units in the past 12 months, while single-family starts averaged 855,000 units. Multifamily starts averaged 321,000 units, up 16.7% from June but down 9.1% from July 2018.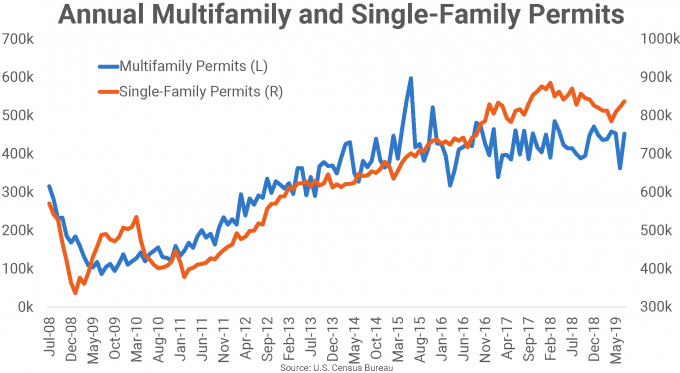 Driving the national year-over-year multifamily permitting upturn of 9.2%, permit volumes were up notably in the West (33.4%) and South (14.9%) regions. Meanwhile, multifamily permitting was down for the year in the Northeast (-23%) and Midwest (-15.2%). Not surprisingly, the volume of permits in the Northeast and Midwest regions fell below their respective 12-month averages in July, while the South and West exceeded their 12-month averages.
Multifamily starts were down in the Northeast region (-9.9%) as well as in the South (-19.5%). Starts were up by 25.3% in the Midwest and by 14.1% in the West. The SAAR for starts in July were above average rates for the preceding 12 months in only the Midwest region. On the other hand, multifamily completions were down sharply in the Northeast (-48.5%) and moderately in the West (-10.7%), and were flat in the South.
At the market level, all last month's top 10 permitting leaders remained the same, with a few changing places. The top three held strong, with New York, Houston and Dallas returning in order. Washington, DC and Seattle switched positions at #4 and #5 while Los Angeles remained at #6. Minneapolis/St. Paul and Austin switched again at #7 and #8, while Atlanta and Chicago returned in the #9 and #10 spot.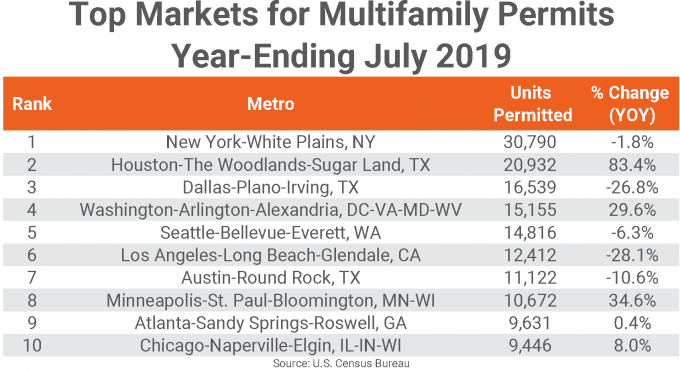 Half of the top 10 markets experienced increases in annual multifamily permitting from last year. Houston, Washington, DC, Minneapolis/St. Paul, Atlanta and Chicago all gained momentum. The five remaining top markets saw declines in permitting from -1.8% to -28.1%.
In net units, Houston permitted more than 9,500 more multifamily units than the preceding 12 months. and permit totals in Washington, DC and Minneapolis/St. Paul jumped by about 3,500 units and 2,700 units. Atlanta and Chicago increased their permitting totals from 40 units to 700 units. The steepest declines among the top 10 occurred in Dallas (-6,044 units), Los Angeles (-4,859 units), Austin (-1,321 units) and Seattle (-1,002 units).
Other markets with at least 1,500 more multifamily permits issued than last year include Salt Lake City, Tampa, San Francisco, Kansas City, San Antonio, Cape Coral-Fort Myers, Richmond, and Jacksonville. Significant slowing of 1,500 or more units occurred in Oakland, San Diego, Raleigh/Durham, Phoenix and Portland.
The annual total of multifamily permits issued in the top 10 metros – 151,515 units – was 1.8% greater than the 148,852 issued in the previous 12 months. The total number of permits issued in the top 10 markets was almost equal to the number of permits issued for the #11 through #36 ranked metros.
The list of top individual permitting places (cities, towns, boroughs, and unincorporated counties) generally include the principal city of some of the most active metro areas. Much like the top 10 market list, the top 10 permitting place list includes the same 10 cities or permit-issuing place as last month. The city of Houston and Unincorporated Harris County led the nation one again for the year-ending July. The city of Austin, Charlotte's Mecklenburg County, and the city of Washington round out the top five.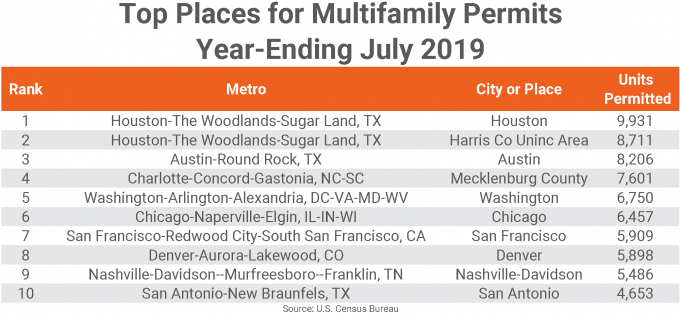 Of the top permit-issuing places, Charlotte, San Francisco, Denver, San Antonio and Nashville did not have their metro areas make the top 10 list for permits by market. Consistently placing in the top three for market-level permitting, New York and Dallas had no permit issuing places in the top 10 as their apartment development pattern is more spread out among their suburbs.