Multifamily Permit Volumes Decline in September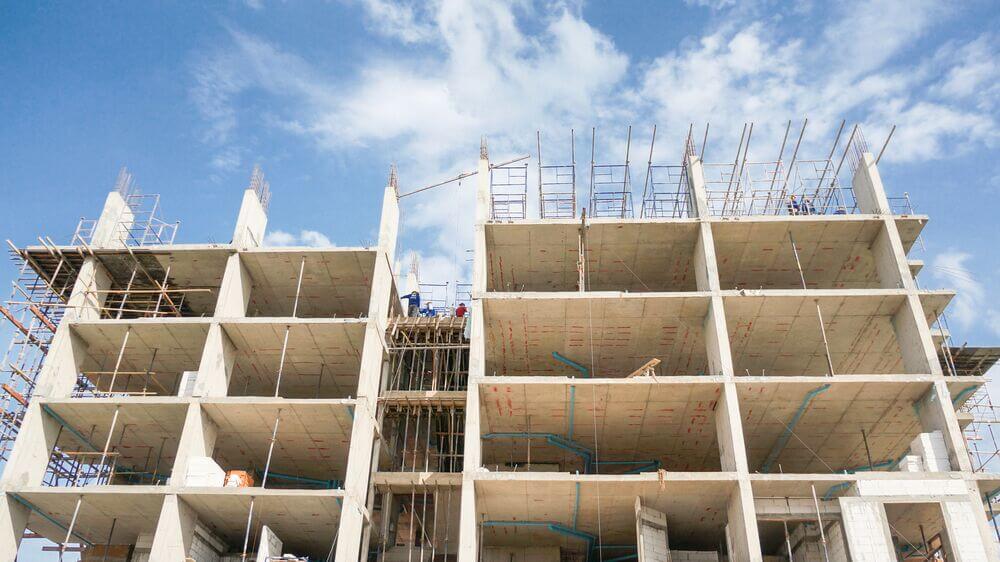 A cooling of multifamily permitting volumes across several major metros translated into a drop-off of national annual authorization totals in September 2017.
According to the U.S. Census Bureau, local governments across the country approved 360,000 units in the year-ending September 2017. That permitting activity, inclusive of the 31,726 units authorized during the month of September, represents a 17.4% decline from August 2017's annual volume and a 25.3% drop from September 2016's annual total.
On the metro-level leaderboard for annual activity, the top 10 remained largely intact from August 2017. Atlanta and Austin swapped spots to settle at #7 and #8, respectively, and Portland replaced Phoenix at #10. Though Phoenix slipped to #12, developer interest remains heightened. The Arizona metro permitted 8,473 units during the 12 months ending in September 2017 and delivered 5,708 new units for the same period. Much of that supply is heading to the right spots – namely neighborhoods on the metro's east side, where demand drivers are strongest.
Six of the top 10 metros issued fewer multifamily permits in the 12 months ending in September 2017 than they did in the preceding 12 months. Atlanta and Washington, DC experienced double-digit percentage declines.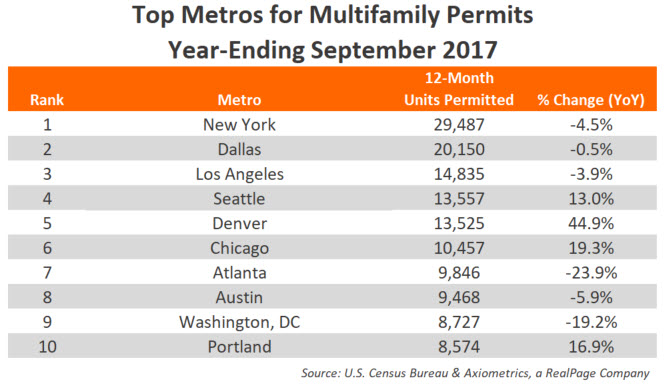 With only four of the top 10 apartment markets reporting increases in annual multifamily permits, the annual total of multifamily permits issued in the top 10 metros – 138,626 – was just 0.6% more than the 137,794 issued in the previous 12 months. The total number of permits issued in the top 10 metros was almost equal to the number of permits issued within the 11th-38th ranked metros. A year ago, permits issued in the top 10 metros almost equaled the 11th-36th ranked markets.
For the month, New York returned to #1, bumping Dallas to #3 and lifting Los Angeles to #2. Some other shifts were less notable, with the top 10 standings presenting a lowered barrier to entry. Charlotte, for instance, rose two spots to #6, though its permitting volume was essentially unchanged from August 2017.
The monthly leaderboard's greatest year-over-year change belonged, again, to Nashville. Permitting 1,189 units, the metro increased multifamily authorizations more than 300% over September 2016. The Tennessee market is experiencing growth at levels not seen since MPF Research began tracking it. In the year-ending 3rd quarter 2017, Nashville expanded stock by 8.0%, or 10,513 units.
Meanwhile, on the lower half of the September 2017 leaderboard, the introduction of Washington, DC and Boston pushed Denver and Fort Worth from the standings.