Multifamily Continues to Fill Housing Shortage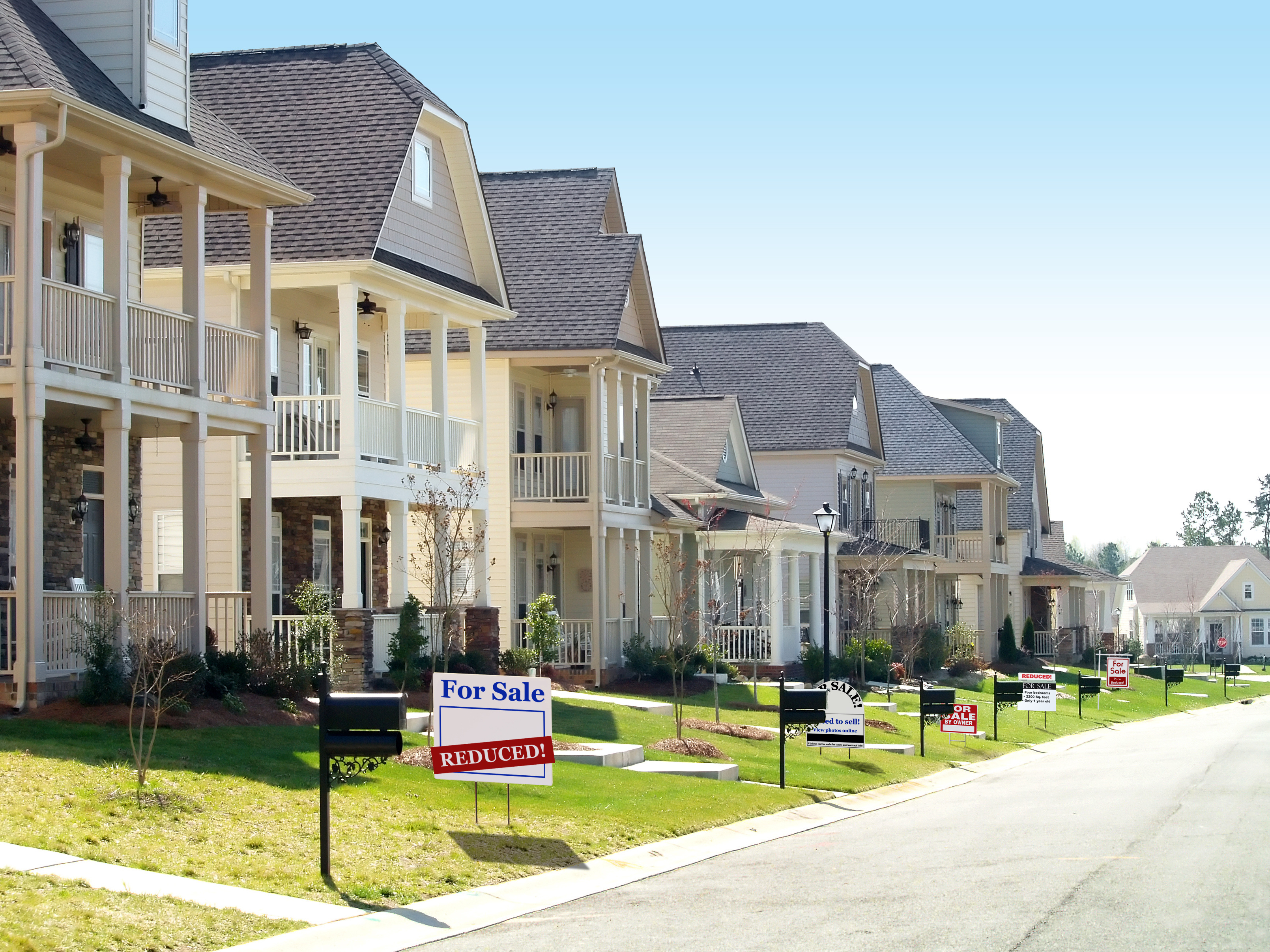 Despite continuing headwinds for multifamily development such as increased labor and material costs, construction delays, and other COVID-related difficulties, the pace of multifamily building permitting and starts has accelerated since the beginning of 2021 when tracking seasonally adjusted annual rates (SAAR). The SAAR is the number of permits or starts expected over the next 12 months based on the monthly seasonally adjusted rate.
The annual pace of multifamily permitting decreased 8.8% in January to 629,000 units from December's revised rate of 690,000 units, according to the U.S. Census Bureau. While December's number was inflated by a tax issue in Philadelphia, January's rate indicates that multifamily permitting is still going strong. Annualized multifamily permitting in January was 12.3% greater than it was in January 2021.
Multifamily starts also slipped a little from December, but the 2.1% decrease in the pace of starts was smaller than the decline in permits. Still, the annual rate of 510,000 multifamily units started in January was 8.7% greater than in the previous year.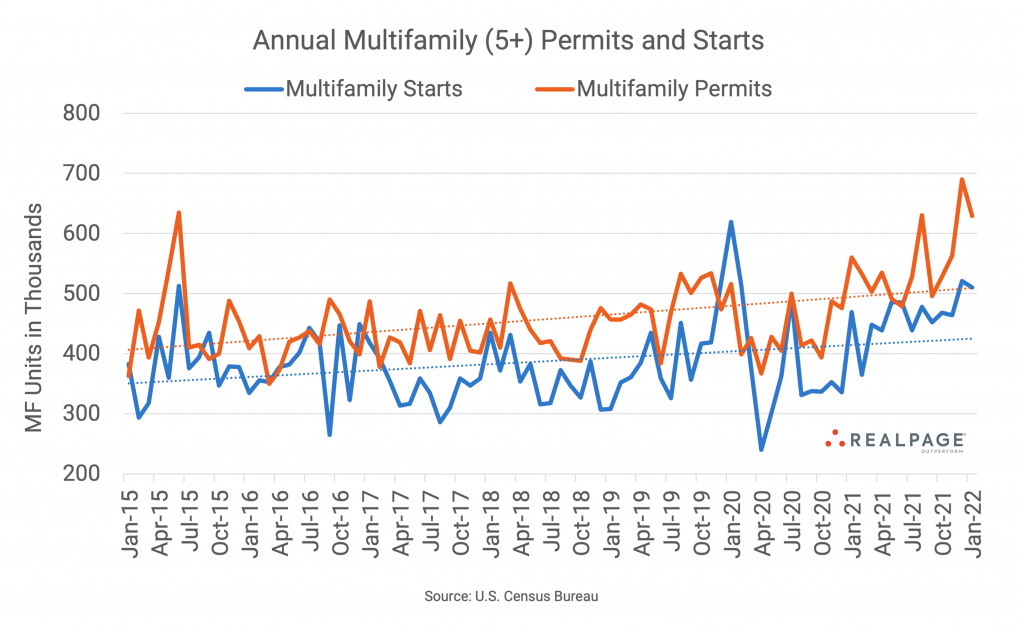 Meanwhile, single-family permitting and starts have stalled from post-pandemic recovery trajectories but remain at sustainable levels. The share of single-family permits to total residential permits was averaging about 80% before the housing bubble of the mid-2000s but averaged about 65% from 2012 to 2019 before jumping to almost 72% at the end of 2020. Since then, it has slipped back below 65% as multifamily development takes a larger share of total housing.
The annual rate for single-family permits in January improved 6.8% from December to 1.205 million homes, down 5% from January 2021. Single-family starts dipped 5.6% from December and were down 2.4% from last January to 1.116 million homes.
Together, total residential permits were almost unchanged from December at 1.899 million units and total residential starts were down 4.1% to 1.638 million units. Compared to one year ago, total residential permits were up just 0.8% while total starts were up the same amount.
Multifamily completions were unchanged from December at 309,000 units while single-family completions of 927,000 units were down 7.3% from last month's annual rate. Multifamily units under construction are up 13.9% from last year with a SAAR of 745,000 units. Units authorized but not started are trending upward with 125,000 units delayed, up 43.7% from January 2021.

The annual rate for multifamily permitting was up in two of the nation's four Census regions from January 2021, with the largest annual increase in the Midwest region (up 56% to 88,000 units). The South region's annualized rate increased 34.4% to 311,000 units. Meanwhile, the Northeast region slowed by a third (down 33.7% to 68,000 units), while the West slipped 4.4% to 163,000 units from last January. Compared to the previous month, permitting fell by two-thirds in the Northeast (-66.7%), and was down 7.9% in the Midwest but jumped 32.7% in the South and was up just 1.6% in the West.
Regional annual multifamily starts were up strongly in the South (+50.2% to 249,000 units), and Midwest (+24% to 53,000 units). The Northeast region slowed by 44.1% to 68,000 units, while the West region had a moderate increase of 0.9% to 140,000 units. Compared to December's SAAR, the Midwest dropped 55%, while the remaining regions increased their annual rates from 4.7% (South) to 36.7% (Northeast).
At the metro level, nine of the top 10 permitting markets returned to the January list from December. New York continues to lead the nation in multifamily permitting with 34,016 units, about 540 units more than last year but about the same amount less than last month.
Philadelphia, due to its tax program-related surge in permitting in December, continued in the #2 spot in January with 25,194 units permitted. That was almost 17,400 units more than the year before. Austin, Dallas, and Seattle returned in order, with Austin's 24,818 units permitted just behind Philadelphia's. Dallas' 19,100 units permitted were two-thirds more than last year's total and Seattle permitted about 42% more units than the previous year with 17,543.
Houston moved up one spot to #6 with 16,321 units permitted in the year-ending January 2022 but was the only top 10 market with a major decrease in permitting – down 2,369 units from last year. Denver slipped one spot to #7 with 15,763 units permitted through January but that was an increase of more than 7,200 units from the year before. Phoenix returned at the #8 spot with 15,489 units permitted, only increasing about 12% from last year, while Nashville moved up a spot to #9 with 14,862 units permitted for the year, an annual increase of 37%.
Los Angeles fell out of the top 10, replaced by Washington, DC, which moved back to the #10 spot after a one-month absence, permitting 13,887 units for the year, almost 25% more than last year.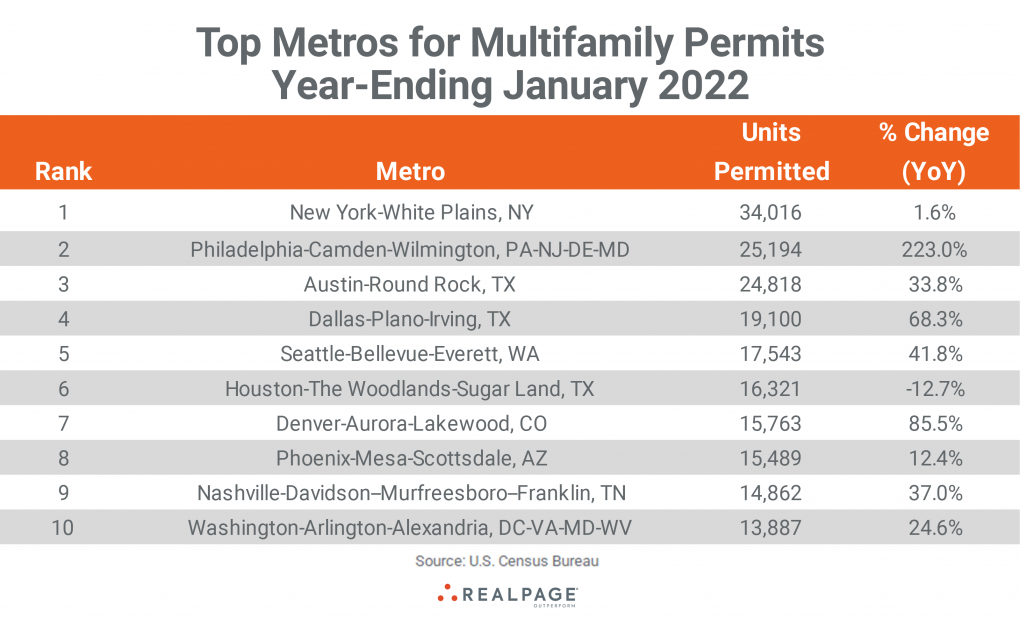 Nine of the top 10 multifamily permitting markets increased annual totals from the year before and saw generally large increases (with the exception of New York), ranging from a low of 1,714 units in Phoenix to almost 17,400 additional units in Philadelphia. Six of the top 10 markets increased multifamily permitting by at least 4,000 units over last year's pace.
Other markets outside of the top 10 that saw significant year-over-year increases in annual multifamily permitting in the year-ending January were Atlanta (+5,068 units), Raleigh/Durham (+4,265 units), Orlando (+4,030 units), Jacksonville, FL (+3,545 units), Charlotte (+3,427 units), Fort Worth (+3,368 units), and North Port-Sarasota-Bradenton, FL (+3,082 units).
Only one of the top markets saw decreases in the year-ending January 2021. As mentioned, Houston permitted 2,369 fewer units than last year. Significant slowing in annual multifamily permitting also occurred in the non-top 10 markets of Lubbock, TX (-1,802 units), San Jose (-1,547 units), and San Diego (-1,099 units).
Half of the top 10 markets had more annual multifamily permits than the previous month, with Nashville up 6.2% from December's annual total. Despite decreasing from last year, Houston saw an increase in annual permitting in January of 3.8% from last month, while Dallas improved 3.4%. The remaining two top 10 markets averaged 1.3% increases for the month. Philadelphia, Austin, and Denver permitted from 2.5% to 4.7% fewer units than last month's annual totals.
The annual total of multifamily permits issued in the top 10 metros in January – 196,993 – was about 35% more than the 146,516 issued in the previous 12 months. The total number of permits issued in the top 10 metros was almost equal to the number of permits issued for the #11 through #38 ranked metros.
Below the metro level, all of last month's top 10 permit-issuing places returned to this month's list with the six remaining in the same order. The list of top individual permitting places (cities, towns, boroughs, and unincorporated counties) generally include the principal city of some of the most active metro areas.
The city of Philadelphia remained at the top of the list in January with an annual total of 21,574 units as the aforementioned tax abatement policy change caused a flood of permitting in 2021.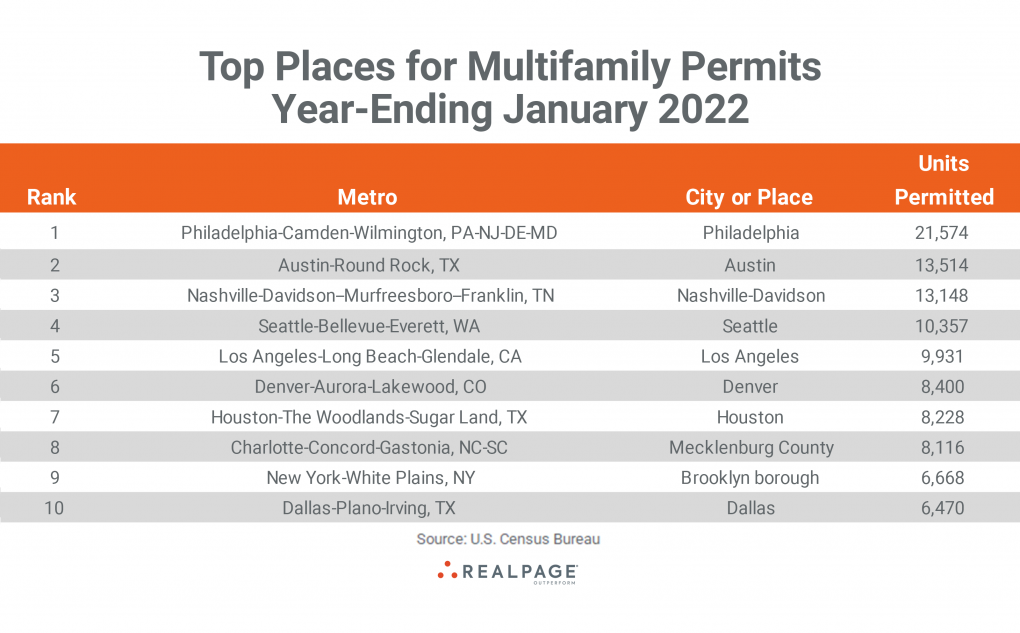 The city of Austin returned as the #2 permit-issuing place, with an annual total of 13,514 units, down about 720 units from last month. The city-county of Nashville-Davidson returned at #3 with 13,148 units permitted, about 900 more than December. The cities of Seattle and Los Angeles switched places at #4 and #5 with 10,357and 9,931 units permitted, respectively, but both were down slightly from the month before.
The cities of Denver and Houston and Mecklenburg County (Charlotte) remained in the #6 through #8 spots but only the city of Houston and Mecklenburg County had significant increases in their annual permitting over December (+662 units and +872 units).
New York's Brooklyn borough moved up one spot, displacing the city of Dallas to the #10 spot. While each permitting place declined slightly from their annual totals in December, both permitted roughly 6,500 units for the year-ending January 2022.