Multifamily Construction Climbs in March as Single-Family Stalls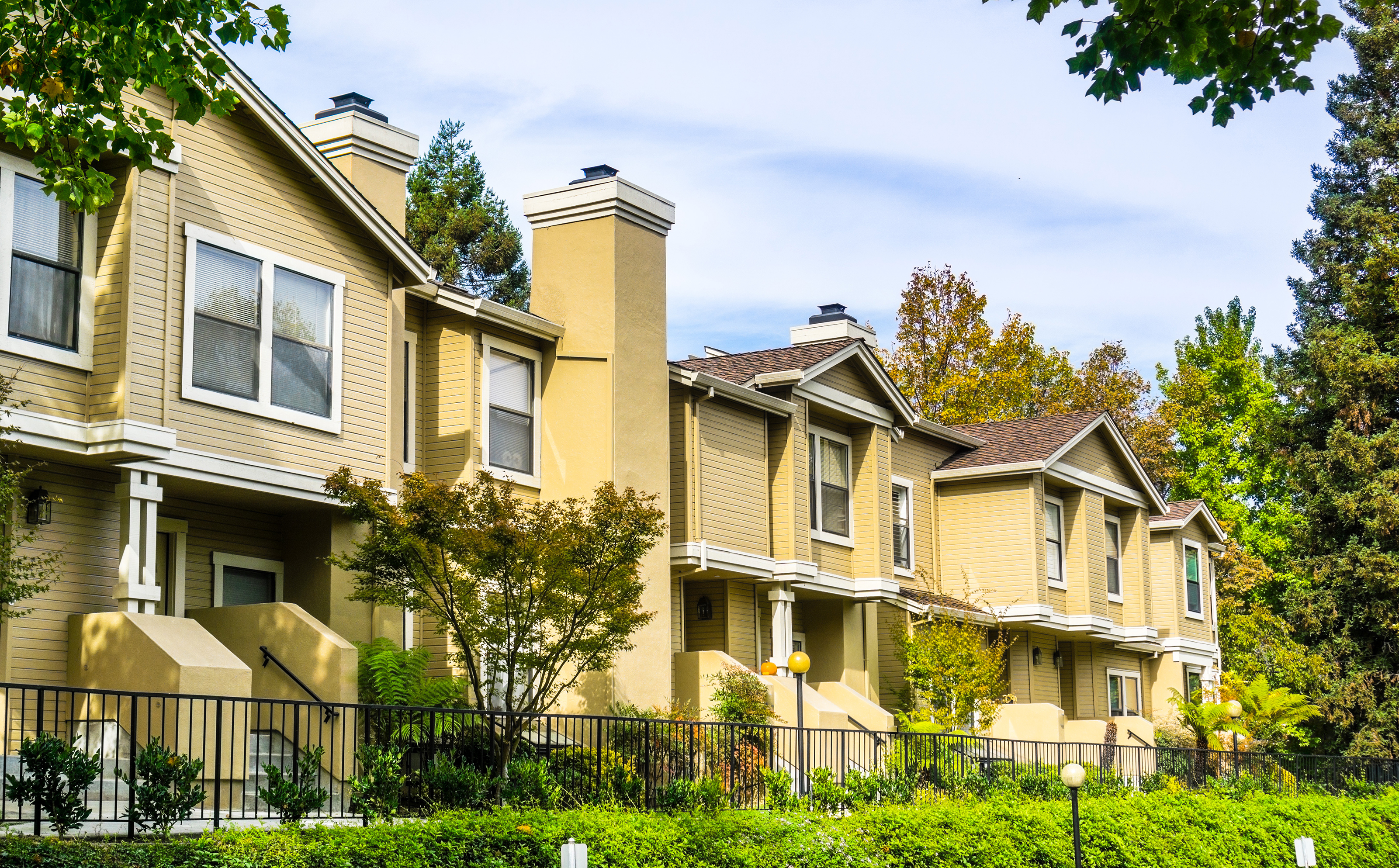 Multifamily building permits and starts were both up sharply in March compared to February, despite slight upward revisions to previous data.
According to the U.S. Census Bureau, the annual pace of multifamily permitting increased 10.9% to 672,000 units from February's revised rate of 606,000 units. Permits are up 33.6% from the annual rate from one year ago.
Annualized multifamily starts were up 7.5% from last month and 28.1% from last year, with 574,000 units started. Both multifamily permits and starts have been on an upward trajectory since the end of the pandemic lockdowns.
Conversely, both single-family permitting and starts were down from the previous month and year. The annual rate of single-family permits slipped 4.8% from February and 3.9% from last March to 1.147 million homes.
Annualized single-family starts declined 1.7% from February and 4.4% from March 2021 to 1.2 million homes. Rising mortgage rates added to climbing home prices and limited inventory appears to be hampering the market.
Together (and including the small 2-4-units segment), total residential permitting eked out a 0.4% improvement from last month to 1.873 million units, up 6.7% from last year. Total residential starts also ticked up slightly from last month (0.3%) to 1.793 million units, a gain of 3.9% from last March's annual rate.
When looking at annual multifamily and single-family building permits since 2012, the COVID-19 pandemic dip and rebound for single-family is evident, as is the strong upward trend in multifamily permitting. Prior to COVID, annualized multifamily permitting averaged about 400,000 units but shifted to average 510,000 units annually afterward. With household formation increasing post-pandemic, and the single-family market unable to keep up, the onus has been on multifamily developers and investors to fill the housing gap.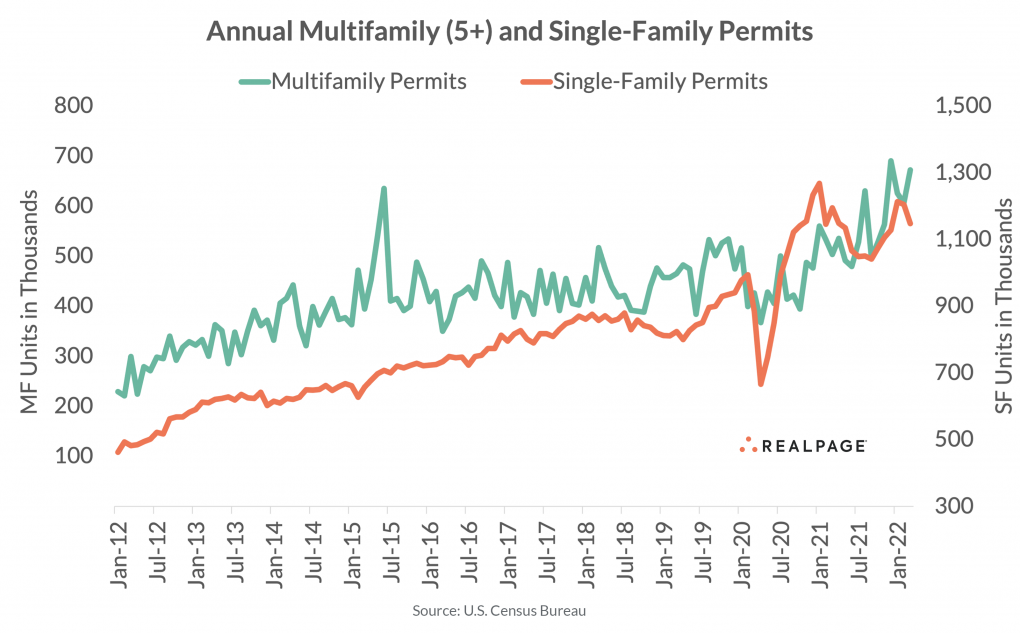 Just as with permits and starts, single-family completions are down for the month and year. One million single-family units were completed through March 2022, down 6.4% from February and 3.3% below last March. Multifamily completions were up just 1% from last month to 292,000 units but are 36.1% lower than last year.
Construction and permitting delays have swelled the number of both single- and multifamily units currently under construction by more than 20% each from one year ago and the number of units authorized but not yet started construction are up by almost 15% for single-family homes and by about 31% for multifamily projects.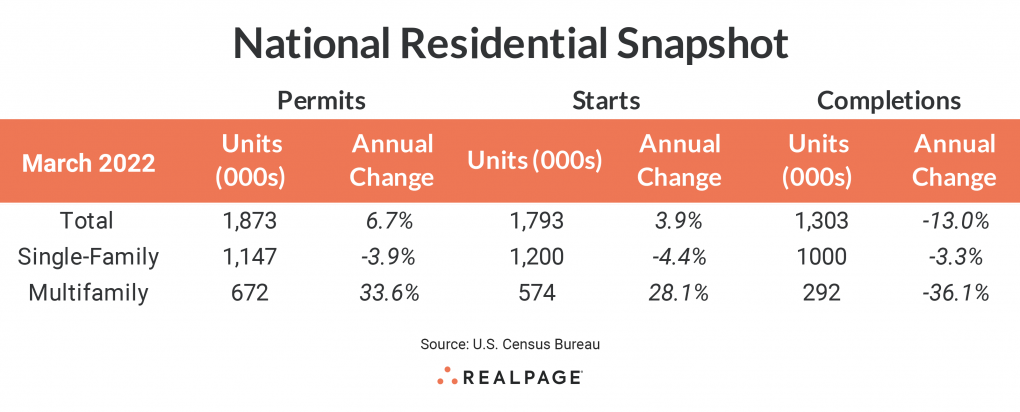 The annual rate for multifamily permitting was up in all the nation's four Census regions from March 2021, with the largest annual increase in the Northeast region (up 83.2% to 115,000 units). The Midwest region's annualized rate increased 58.9% to 103,000 units. Meanwhile, the West region increased by 25.1% to 180,000 units, while the South increase by 18.5% from last March to 276,000 units. Compared to the previous month, permitting fell by just 1.1% in the West but was up 35.5% in the Northeast, 18.5% in the Midwest, and 8.7% in the South region.
Philadelphia's recent surge in multifamily permitting last December is hitting the starts stats now as the Northeast region saw a jump in annualized starts of 247.7% or 224,000 units in March. The West region had an increase in multifamily starts of 22.8% to 133,000 units, while the South was down by a quarter from last year to 157,000 units started. The Midwest region had a 9.5% decrease in multifamily starts to 59,000 units. Compared to February's pace, the Northeast surged 288.3% and the West was up 42.1%, while the Midwest declined by 19.7% and the South was down 49.1%.
At the metro level, eight of the top 10 permitting markets returned to the March list from February, and several changed places. New York is still the leader in multifamily permitting with 38,384 units, more than 5,300 units greater than last year, with much of that gain in the past month alone.
Austin moved into the #2 spot in March with 23,056 units permitted, displacing Philadelphia into the #3 spot with a still-impressive total of 22,792 units. Dallas returned in the #4 spot with 19,828 units permitted, about the same as last month's annual figure.
Houston also retained its spot from February at #5 with 18,686 units permitted for the year, about 3,500 units more than last year and 1,600 more than last month. Denver and Seattle both permitted around 17,200 new units, retaining the #6 and #7 spots. Phoenix remained at #8 with 15,805 multifamily units permitted, almost 3,500 more than last year and about 1,100 more than last month.
Last month's #9 and #10 (Nashville and Los Angeles) fell out of the top 10 in March, replaced by Minneapolis-St. Paul and Orlando. Minneapolis permitted a total of 13,697 units in the year-ending March but was only about 1,000 units greater than last year. Orlando permitted almost 5,700 additional units over last year to reach an annual total of 13,519 units in March.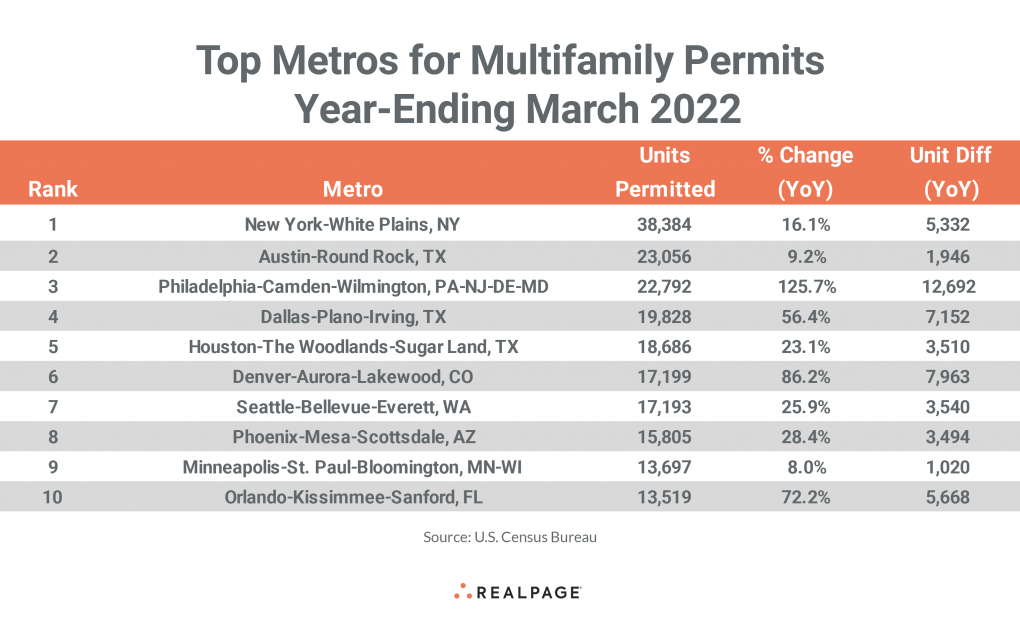 All the top 10 multifamily permitting markets increased their annual totals from the year before and they were generally large increases, ranging from a low of 1,020 units in Minneapolis to almost 12,700 additional units in Philadelphia. Seven of the top 10 markets increased multifamily permitting by at least 3,500 units over last year's pace.
Other markets outside of the top 10 that saw significant year-over-year increases in annual multifamily permitting in the year-ending March were Atlanta (+8,354 units), Salt Lake City (+3,840 units), Miami (+3,616 units), Boston (+3,017 units), North Port-Sarasota-Bradenton, FL (+2,974 units), and Charlotte (+2,930 units).
Significant slowing in annual multifamily permitting occurred in Anaheim (-2,883 units), San Diego (-1,539 units), Lubbock, TX (-1,392 units), Baltimore (-1,143 units), San Jose (-995 units), and Columbus, OH (-900 units).
Nine of the top 10 markets had more annual multifamily permits than the previous month, with the aforementioned New York's monthly gain of 4,323 units or 12.7% from February's annual total leading the pack. Houston had a more than 9% increase from last month, while Phoenix, Minneapolis, and Orlando jumped about 6% to 7% from February, adding 800 to 1,100 units to their annual permitting. The other top 10 markets gaining from last month were up from 0.4% to 37%, or a few hundred units. Philadelphia was the only top market to retrench from last month, dropping about 1,300 units from last month, falling 5.5%.
The annual total of multifamily permits issued in the top 10 metros – 200,159 – was about 35% more than the 147,842 issued in the previous 12 months. The total number of permits issued in the top 10 metros was almost equal to the number of permits issued for the #11 through #37 ranked metros.
Below the metro level, the first eight of last month's top 10 permit-issuing places returned to this month's list with the four remaining in the same order. The list of top individual permitting places (cities, towns, boroughs, and unincorporated counties) generally include the principal city of some of the most active metro areas.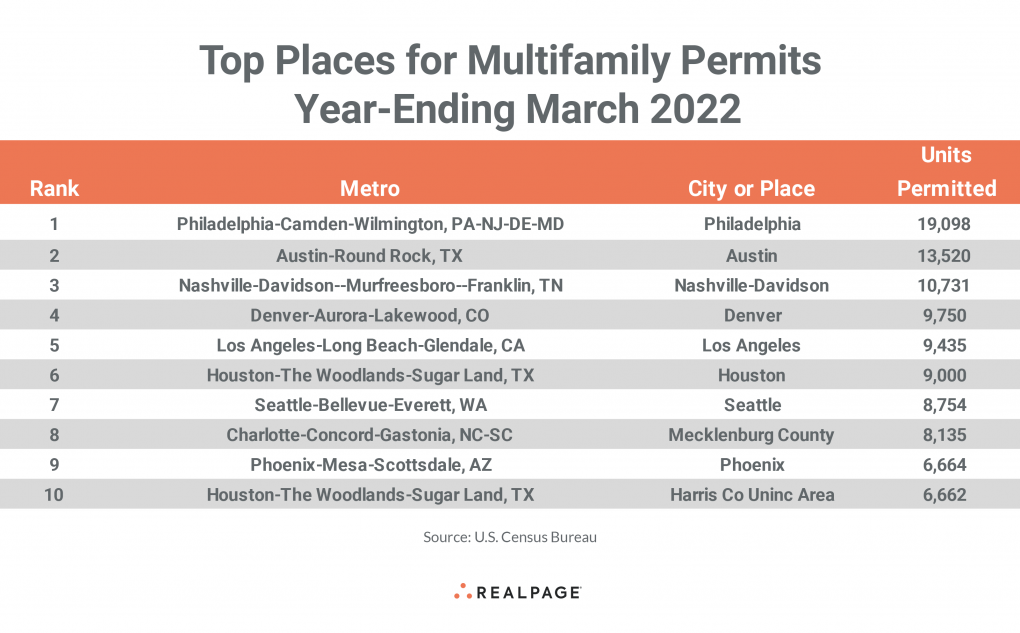 The city of Philadelphia remained at the top of the list in March with an annual total of 19,098 units as the city's tax abatement policy change caused a flood of permitting.
The city of Austin returned as the #2 permit-issuing place, with 13,520 units, up about 670 units from last month. The city-county of Nashville-Davidson returned at #3 with 10,731 units permitted, about 1,900 less than last month. The city of Denver moved up two spots from last month to #4 with 9,750 units permitted, an increase of 462 from February.
The city of Los Angeles slipped a spot to #5 with 9,435 units permitted, more than 1,000 units less than the market's previous total. Houston moved up one spot to #6 with exactly 9,000 units permitted and Seattle settled into the #7 spot, permitting 8,754 units for the year.
Mecklenburg County (Charlotte) returned at #8 with 8,135 units permitted, down about 270 units from last month. The city of Phoenix and Unincorporated Harris County (Houston) moved into the #9 and #10 spots in March with about 6,660 units permitted each, knocking the borough of Brooklyn and the city of Miami out of the top 10.