Most Students Showed Up to Off-Campus Housing, With Some Exceptions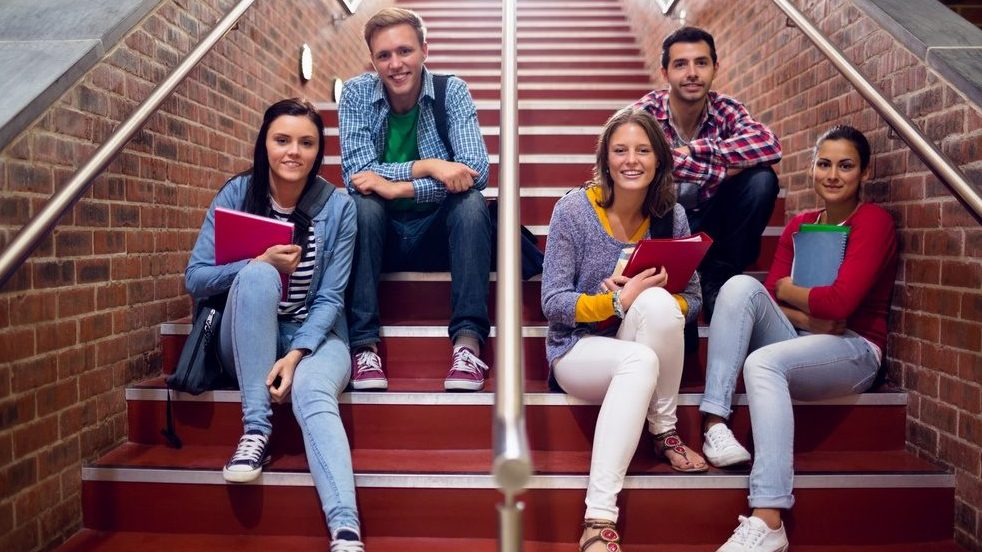 With COVID-19 altering the college experience for the 2020-21 school year, and several universities offering virtual learning options, a lingering question throughout the leasing season was, will students who preleased apartments actually show up in August?
The answer appears to be largely "yes."
On-site occupancy of student housing properties in September essentially matched August's pre-lease rate of 87.5% across the core 175 schools tracked by RealPage. Though the prelease rate was below last year's, it generally provided an accurate indication of how full student housing properties would be in September, a reassuring development considering the uncertainty brought on by COVID-19.
However, it wasn't the case at all schools. Though many schools showed negligible differences, about 15% of schools tracked by RealPage showed meaningful differences between August's pre-lease rate and September's on-site occupancy. At most of the schools with differing rates, occupancy was actually an improvement over the pre-lease rate, thanks to some last-minute leasing activity.
About 20 schools got this much-needed final leasing push in September, resulting in occupancy that topped the pre-leasing rate by 5% or more. Unsurprisingly, many of these schools were late in announcing on-campus learning plans, leaving many students in wait-and-see mode until late in the leasing season.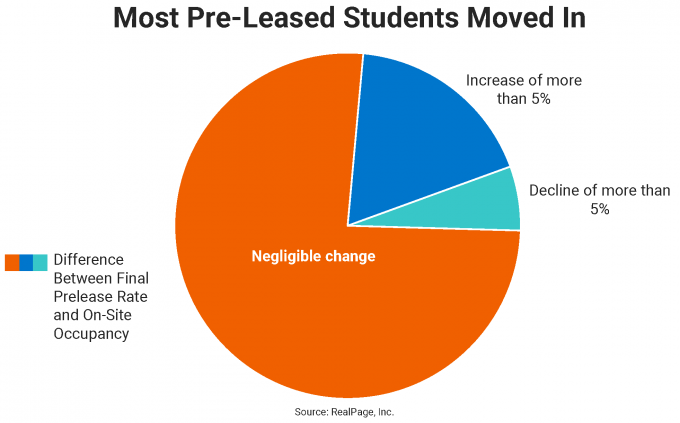 Schools that got a last-minute leasing boost include many California schools, such as California State University – Sacramento, California State University – Chico, University of California – Riverside and University of California – Berkeley. These are universities where a heavy emphasis on virtual classes left many students waiting to decide if they'd bother to live near campus for minimal in-person offerings.
Alternatively, about a half-dozen schools saw significantly fewer students show up to occupy the beds they had leased earlier in the season. These schools, unfortunately, tended to have COVID-19 outbreaks as soon as they opened, causing many students to head back home or never show up to campus for virtual learning.
Florida International University, for example, saw nearly 20% fewer students show up in September to occupy rooms than had leased them earlier in the season. In the late summer, the school saw a surge in coronavirus cases, according to a New York Times tracker. That also happened at the University of Kentucky, which saw a little more than 5% drop-off in students showing up to occupy leased units.
At most schools, the differences between August's pre-lease and September's occupancy are negligible. However, that doesn't necessarily mean that the leasing season went more smoothly at these campuses. About 20% of properties nationwide reported an increase in traffic due to nearby dorms closings for quarantine or self-isolation for exposed students, according to a RealPage survey. About a third of surveyed properties had students skip move-in day due to the pandemic.
Some properties experienced both an increase in traffic and a delay in move-ins, while others experienced neither.