Most Major Markets Continue Slow Economic Recovery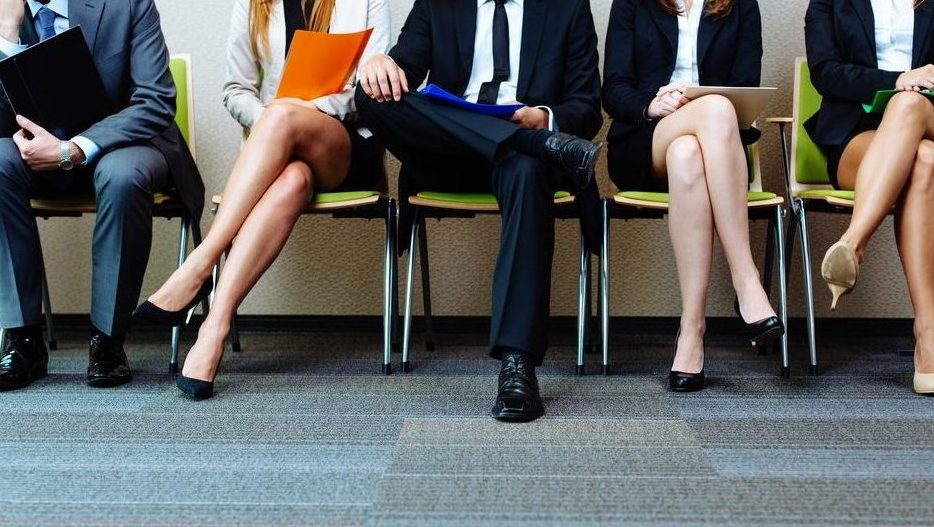 Posted September 23, 2020
Most major markets continued to regain some previously lost jobs in August, but annual employment losses remain deep.
In the past few months, several states and cities re-imposed tighter restrictions on businesses and residents due to increased COVID-19 infection rates, but there has still been some economic recovery in many of the nation's top metropolitan areas.
The list of markets with the steepest annual job losses during the current recession was virtually unchanged from last month. According to the Bureau of Labor Statistics (BLS), New York is still atop the list of steepest declines with about 883,000 jobs lost in the year-ending August 2020. Though steep, that is at least an improvement from the bottom point of 1.4 million jobs lost in the year-ending April.
Los Angeles and Chicago again ranked as bottom performers. However, while Chicago recouped almost 30,000 jobs between July and August, Los Angeles lost an additional 19,000 jobs compared to last month. In fact, Los Angeles and the Bay Area both experienced intensified annual job losses compared to last month, but monthly comparisons are more complicated, as the BLS data is not seasonally adjusted.
Boston's annual job loss improved in August, but the annual decline remained significant, with nearly 300,000 positions lost. Philadelphia, Washington, DC, and Detroit logged annual losses of about 200,000 to 230,000 jobs as of August. The average improvement from the previous month for these metros was about 27,000 jobs each, though the mitigation in the nation's capital was the most notable.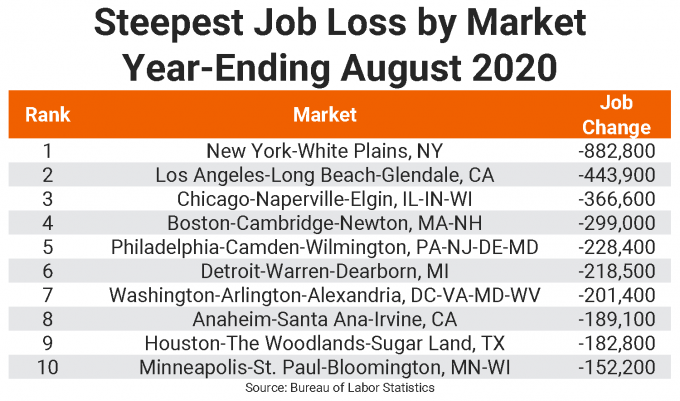 Anaheim, Houston and Minneapolis again rounded out the list of the nation's steepest job losses, but declines softened by about 15,000 jobs in each market. Aside from New York, the greatest improved employment situations were seen in Washington, DC and Boston, where more than 40,000 jobs were regained.
A total of 113 of the RealPage 150 markets had fewer jobs lost in the year-ending August than in July, four less than last month. More strict economic and business controls as the virus spreads are hindering a broader recovery. In addition to Los Angeles and the Bay Area, several Florida markets had slightly steeper annual employment losses in August compared to July, with Fort Lauderdale, Orlando, Tampa, and Jacksonville bearing the brunt.
With most markets recovering slowly, 22 of the largest 150 apartment markets lost at least 100,000 jobs in August's report compared to 23 markets with similar losses last month, and 49 markets in April. Twenty-five markets lost between 50,000 and 99,999 jobs – the same as last month. Combined, the jobs lost in the 10 worst markets accounted for 30% of the total losses for the U.S. The next 10 markets for job losses accounted for another 12.9% of total job loss.
After leading for two months, New York no longer tops the list for steepest job loss as a percentage of total employment for August 2020. According to the BLS, New York and Las Vegas were the returning major markets on the list, although Oakland joined as well this month.
The range of percentage job losses continues to improve each month with a difference of about 20 to 30 basis points (bps) from the lowest to highest on this month's list. Last month's list had percentage losses ranging from 12.2% to 14.2%, while the markets on August's list range from losses of 11.7% to 14%, as the economy continues to show signs of slow improvement.
Although a small market, Hawaii's Urban Honolulu leads this month's list with a 14% decrease in employment from last year as the Aloha state's strict quarantine restrictions and remote accessibility continue to stymie recovery.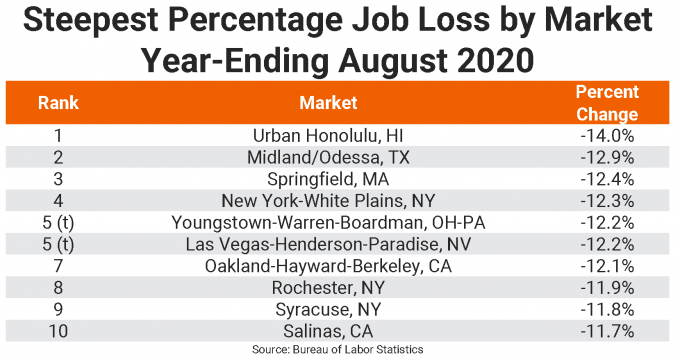 As has been the case throughout the current recession, most of the markets that have been the least affected by the lockdowns and economic turmoil have been small markets that are generally anchored by large universities or government employment centers. The largest markets with milder job losses include Chattanooga, TN (-1.5%), Austin (-2.7%), Indianapolis (-2.8%), Dallas (-3.1%), and Salt Lake City, UT (-3.2%).