Most California Apartment Operators Already Comply with Impending Rent Controls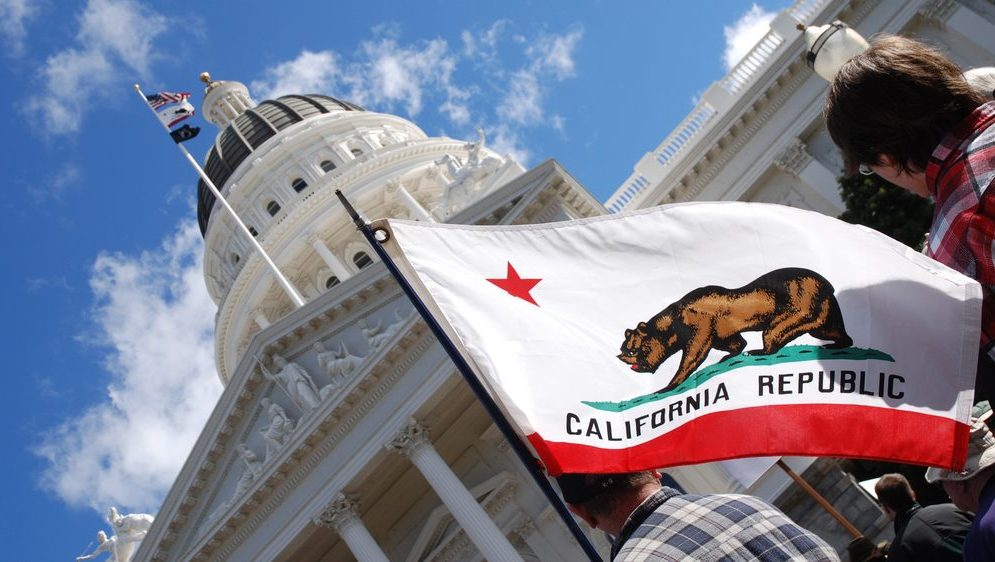 California lawmakers last week approved rent control legislation that limits price increases on existing renter households in the state. While regulations of this kind are never to benefit the apartment industry, parameters of the law don't appear to create an immediate – or lasting – problem for most California operators.
Assembly Bill 1482 will limit apartment rent increases to 5% annually on top of local inflation rates. These restrictions apply only to renewal leases in market-rate rental units older than 10 years. Additionally, these statewide regulations will endure for three years, beginning in 2020 and expiring in 2023. California's AB 1482 is similar to Oregon's statewide rent control law, Senate Bill 608, which was passed in February.
Though most of California's 16 largest markets recorded renewal price increases ahead of the national average of 4.6% in 3rd quarter 2019, only one market – Bakersfield – boosted rates ahead of what would have been the cap if rent control had been in effect this quarter. With inflation in California averaging 2.5%, the cap would have been 7.5%.
Bakersfield, just northwest of Los Angeles, boosted renewal rates by 7.7% in 3rd quarter. This is the only California market where operators might have to pull back on pricing to comply with the new regulations. However, renewal rates tend to be erratic here, and the market itself is relatively small at just 25,500 existing units. California's 16 largest metropolitan areas include 2.9 million apartments.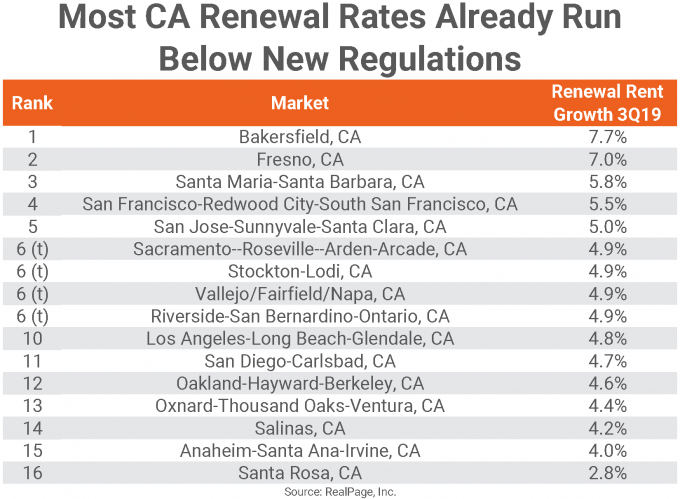 In Fresno, just northwest of Bakersfield, renewal rates averaged about 5% in the past five years, which would fall well below the new regulations. In 3rd quarter, annual renewal pricing was a bit higher at 7%, which still runs below the new cutoff.
The remaining California markets recorded renewal rent increases between about 3% and 6% in 3rd quarter, which run below – often far below –new regulation. In other words, legislation likely won't feel especially restrictive to operators in these markets.
Some cities have already enacted localized legislation limiting rent increases on existing renter households. In November 2018, California voters rejected a proposition that would have expanded local government authority to set rent controls.
Statewide regulations won't override existing local laws but, in some cases, will cover units not covered in the local cap. In San Francisco, for example, price control is more extreme, with renewal increases limited to 2.6% through 2020. Meanwhile, in Los Angeles, rent control is already in place for units built prior to 1978. The statewide regulation will apply to units built between 1978 and 2009.
California's new legislation doesn't seem likely to affect most operator behavior. However, that could change if lawmakers decide to renew the law with a reduced allowable increase.
AB 1482 adds other regulations to the rental housing industry in California. However, these shouldn't result in much impact on the state's apartment market. First, operators can only raise rents for individual households once yearly, which is already typical given that the vast majority of leases are longer than six months. Second, operators are now required to have "just cause" in order to terminate a lease, such as failure to pay rent. Most professional management companies already adhere to this regulation.