Most-Active Markets See Permit Volumes Increase in November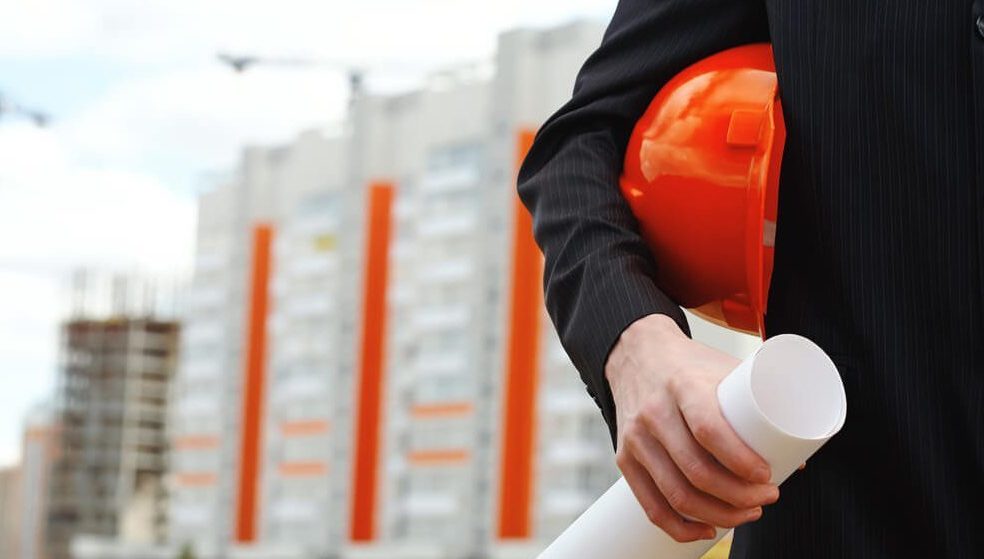 The number of U.S. apartment units being permitted for construction is easing. However, the most active markets for permits register accelerating activity, running counter to the downward trend in national permits.
According to the U.S. Census Bureau, local governments across the country approved 395,000 units in the year-ending November 2017. That permitting activity, inclusive of the 31,949 units authorized during the month of November, represents a 8.8% drop from October 2017's annual volume and a 7.7% decline from November 2016's annual total.
On the metro-level leaderboard for annual activity, the first eight of the top 10 metros remained the same as they did in the previous five months, and the first four remained in order. Washington, DC moved up two spots for the second consecutive month to #5, pushing Denver and Austin down one spot each to #6 and #7, respectively.
Of the top 10 metros, only Atlanta issued fewer multifamily permits in the 12 months ending in November 2017 than it did in the preceding 12 months. Atlanta's rate was down almost 4,000 units – a decline of more than 30%. Meanwhile, multifamily permits in Portland, Washington, DC, Seattle and Dallas increased by more than 10% for the year ending November. Chicago, Austin, New York and Los Angeles each increased by more than 2%.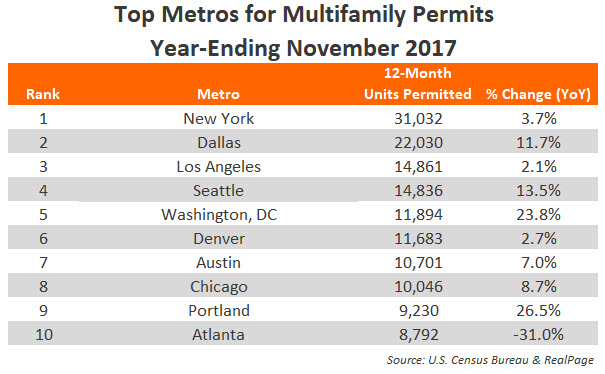 With almost all of the top 10 apartment markets reporting increases in annual multifamily permits, the annual total of multifamily permits issued in the top 10 metros – 145,105 – was 5.5% greater than the 137,546 issued in the previous 12 months. The total number of permits issued in the top 10 metros was almost equal to the number of permits issued within the 11th-42nd ranked metros. A year ago, permits issued in the top 10 metros almost equaled the 11th-35th ranked markets.
For the month, New York returned to #1, as Dallas fell seven spots to #8. The Texas market permitted 984 units in November 2017 – less than a third of the two-year high volume recorded in October 2017, and the metro's lowest monthly tally since July 2017. Charlotte experienced a similar tumble, dropping five spots to #10.
The monthly leaderboard's greatest year-over-year change belonged to Washington, DC. Permitting 1,428 units, the nation's capital saw a notable spike over November 2016's 157-unit volume.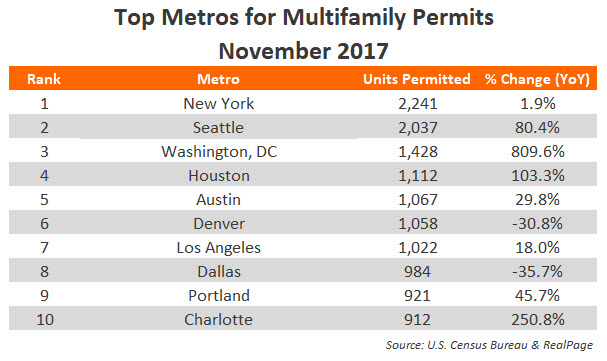 Meanwhile, the introduction of Denver, Houston and Portland pushed Chicago, San Jose and Tampa Bay from the standings.