With Mixed Metro Numbers, U.S. Permit Volumes Fall in February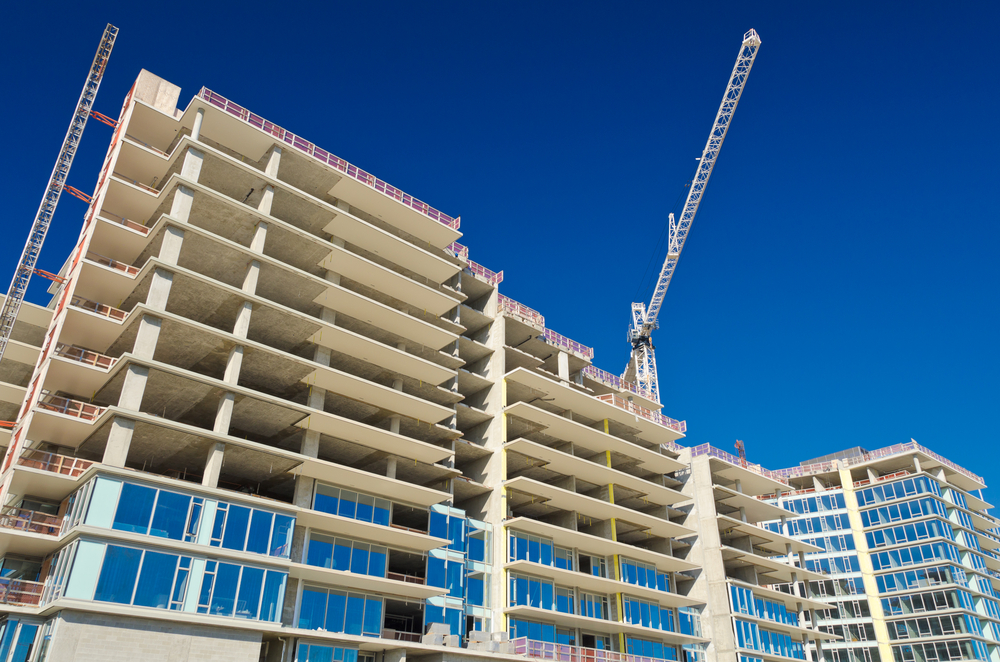 Mixed momentum for metro-by-metro authorization levels translated into a dip for national numbers.
During February 2017, total U.S. multifamily permitting activity fell 25.8% from January 2017 and 18.9% from a year prior, according to preliminary data from the U.S. Census Bureau. A total of 23,600 multifamily units were approved for construction by local governments across the country in February, bringing the year-to-date figure to 55,400 units. That year-to-date count reflects a 2.5% decline year-over-year.
For the month, Dallas/Fort Worth ranked #1 for permitted units, registering a near-65% increase in authorizations year-over-year. An expanding workforce continues to reinforce demand drivers and developer confidence in the region. In the year-ending January 2017, the combined North Texas market added 135,400 jobs across multiple industries.
Meanwhile, Charlotte experienced the monthly leaderboard's greatest year-over-year change. Emboldened by solid absorption in the current economic cycle, the market saw multifamily authorizations soar 531.1% above February 2016 figures. The surge in planned development parallels elevated volumes of oncoming supply. At the end of 1st quarter 2017, 12,675 units were under construction, with more than 75% expected to complete within a year.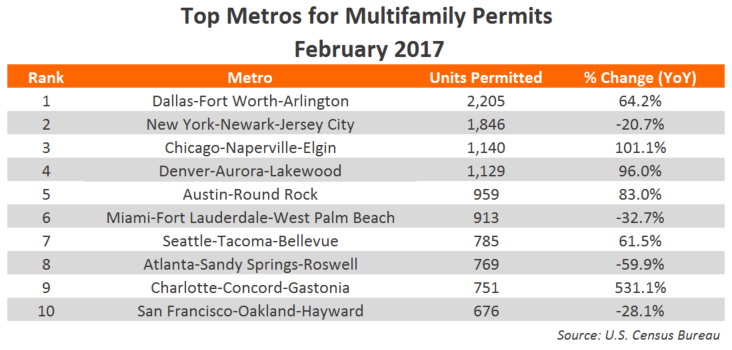 Seattle's inventory growth is similarly aggressive. In 2016, multifamily completions in the market doubled the long-term norm. Year-to-date, Seattle has permitted nearly 2,000 units, a 54.4% increase over the same measure in February 2016. Still, Seattle's established presence on the permits leaderboard is interesting, given 2016 construction starts in the market slowed 30% from 2015 figures.
Meanwhile, Los Angeles, typically a top-three contender in the year-to-date rankings, landed at #8. The metro has experienced sluggish permitting activity in the New Year.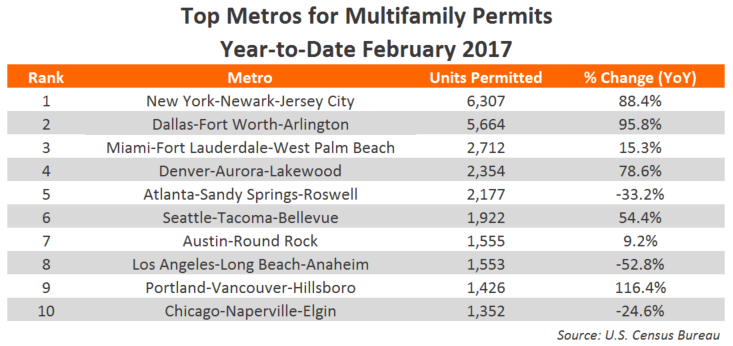 A separate Census report shows a total 56,400 multifamily units started construction through February 2017. That figure represents a 17.3% increase from the first two months of 2016.