Minneapolis-St. Paul Apartment Occupancy Could be at Risk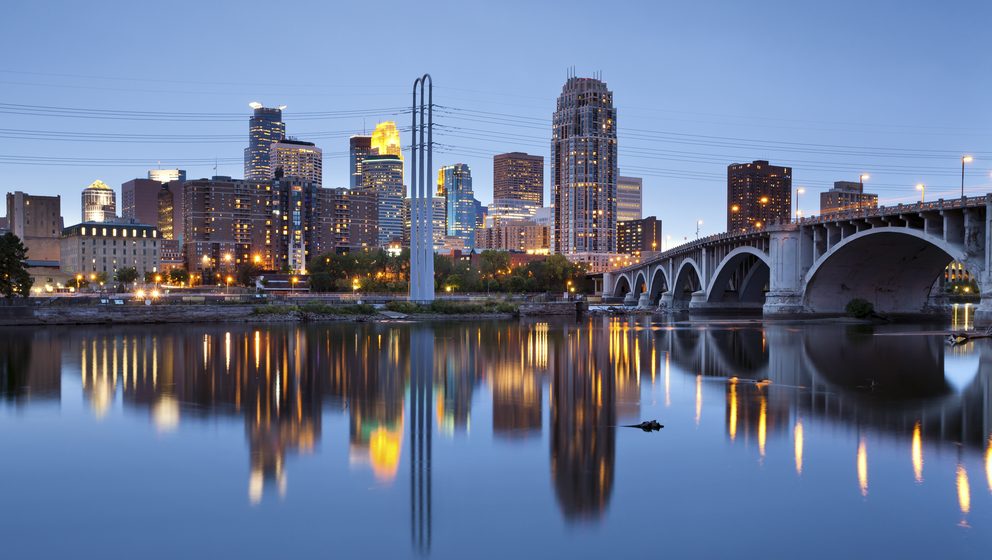 Characteristically a national leader for occupancy, Minneapolis-St. Paul's apartment market is facing some near-term challenges as deliveries heat up and the local economy cools down.
Nationwide, typical occupancy leaders consist of coastal markets like New York, the Bay Area, Miami, Boston. Minneapolis is the only Midwest market to join those ranks. Since this economic cycle began in early 2010, Minneapolis apartment occupancy has averaged at 96.5%, just a few ticks behind the New York norm of 96.8%. Miami ranks a bit below Minneapolis, with an average rate of 96.3%, while the Bay Area and Boston logged norms between 96% and 96.2%.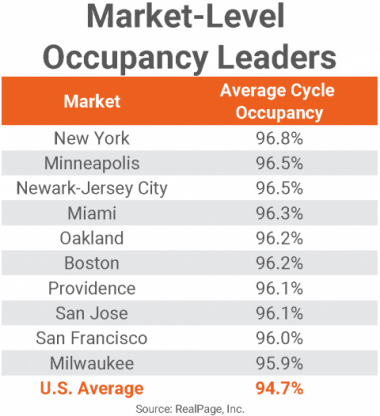 As of 3rd quarter, Minneapolis occupancy stood at 97%, topping the U.S. norm of 96.3%. Minneapolis has held an occupancy premium of about 180 basis points (bps) over the national performance throughout the entirety of the cycle.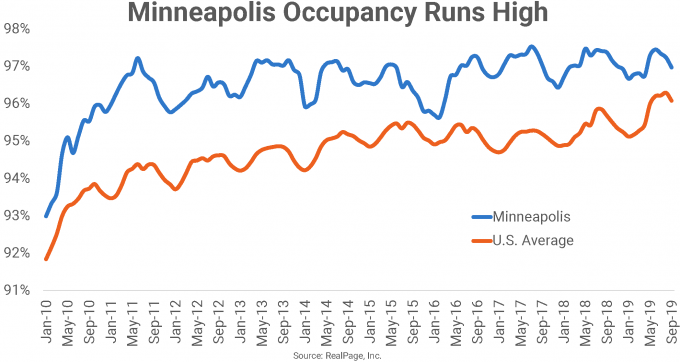 But tight occupancy in Minneapolis could be a challenge to sustain, given the forthcoming surge in scheduled completions and the recently stalled economic growth.
About 7,700 units are scheduled to come online in Minneapolis in 2020. Another 5,400 units are underway with a 2021 completion date. By comparison, Minneapolis has received an average of 4,000 units each year since 2013, a figure which stands about 70% above the market's historically normal levels.
For perspective, ongoing construction in Minneapolis roughly matches near-term deliveries in Chicago, which is more than twice the size of the Minnesota market.
The Minneapolis supply wave may continue after the upcoming spike. As of August 2019, annual multifamily permit approvals were up 25% year-over-year, meaning a lot more product is at the starting gate.
Typically, in markets where occupancy as tight as it is in Minneapolis-St. Paul, new supply can be a welcome addition. That's probably the case in the Twin Cities, except the timing of this supply wave presents a significant challenge. These increased delivery volumes come as job growth in the metro has slowed to essentially nothing.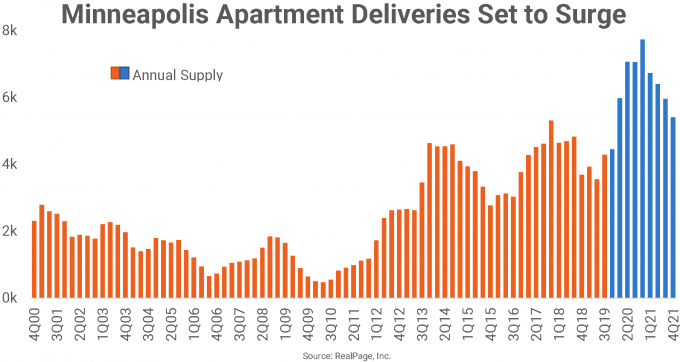 After averaging job growth of close to 30,000 annually throughout much of this economic cycle, hiring has come to a halt in recent months. Among employment categories, growth continues in the Construction and the Leisure and Hospitality segments, but growth has disappeared in most other categories. The Government and Education and Health Services sectors, meanwhile, have cut their employment bases.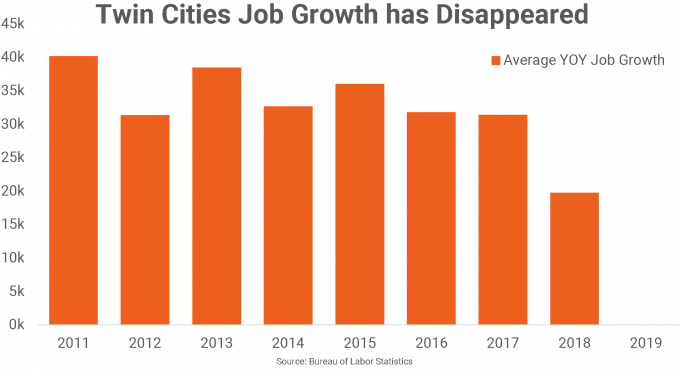 While it wouldn't be surprising to see an upward revision of these job change figures from the Bureau of Labor Statistics (BLS) in the near term, Minneapolis is facing a limited number of available workers for hire. Unemployment fell to 2.9% in August, according to the BLS. That was well under the most recent local peak of 8.3% in March 2010 and a bit behind the national 50-year low of 3.5%.
How might all of the new supply impact apartment market performance in Minneapolis-St. Paul? RealPage experts discuss the outlook the RealPage Asset Optimization webcast Up Close and Local: Minneapolis-St. Paul Market Update.