Migrating Renters Snap Up Beach Town Apartments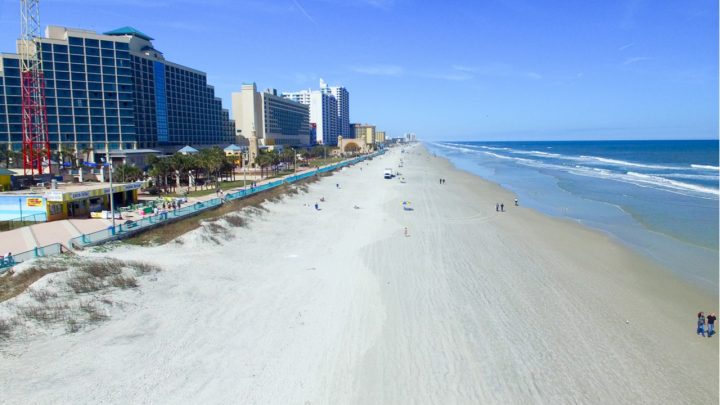 The rise of remote work over the past year has allowed many office workers to relocate, and a specific type of apartment market seems to have benefited from this change: beach towns.
Among the core 150 markets tracked by RealPage, the list of areas with the most significant growth in occupied apartment units between April 2020 and April 2021 reads like a list of vacation hot spots.
Wilmington, NC saw its number of occupied apartments increase by 12% in the past year, followed by a 10.3% boost in Savannah, GA. Growth was between roughly 8% and 9% in Florida's Cape Coral-Fort Myers and Deltona-Daytona Beach-Ormond Beach, as well as in Charleston-North Charleston and Boise City, which is the only market on this list which is not a beach town in the Southeast.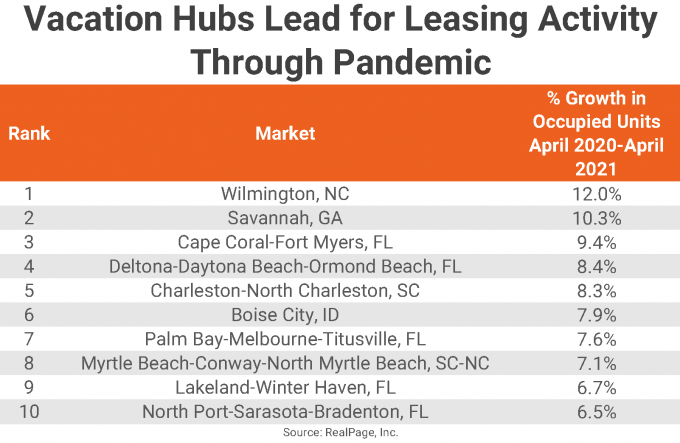 Registering an increase of occupied units of 6.5% to 7.6% were three more small Florida locales: Palm Bay-Melbourne-Titusville, Lakeland-Winter Haven and North Port-Sarasota-Bradenton, as well as Myrtle Beach-Conway-North Myrtle Beach, which sits on the border of the Carolinas. All of these markets have been spared the more severe job cuts seen in other hospitality-based economies and major coastal markets – impressive, considering that beach towns have relatively large tourism sectors, an economic segment hit hard in the past year. As of March, each of the nation's top 10 markets for growth in occupied units had only about 4% or less left to go before full employment recovery. In fact, in Lakeland-Winter Haven and Boise City, total employment has already rebounded to pre-pandemic levels.
With only one exception – Myrtle Beach-Conway-North Myrtle Beach, where apartment construction has remained modest – these markets have also experienced elevated new supply in the last couple years. New properties with heightened amenities have likely contributed to the overall appeal for new residents moving into a market.
With more people being vaccinated against COVID-19, offices across the nation have announced return-to-work dates for personnel, although some businesses have announced permanent work-from-home plans. It will be interesting to see how many of these employees choose to continue to live – and work – in beach towns once normalcy returns.