Midland/Odessa Apartment Dynamics Shift With the Energy Market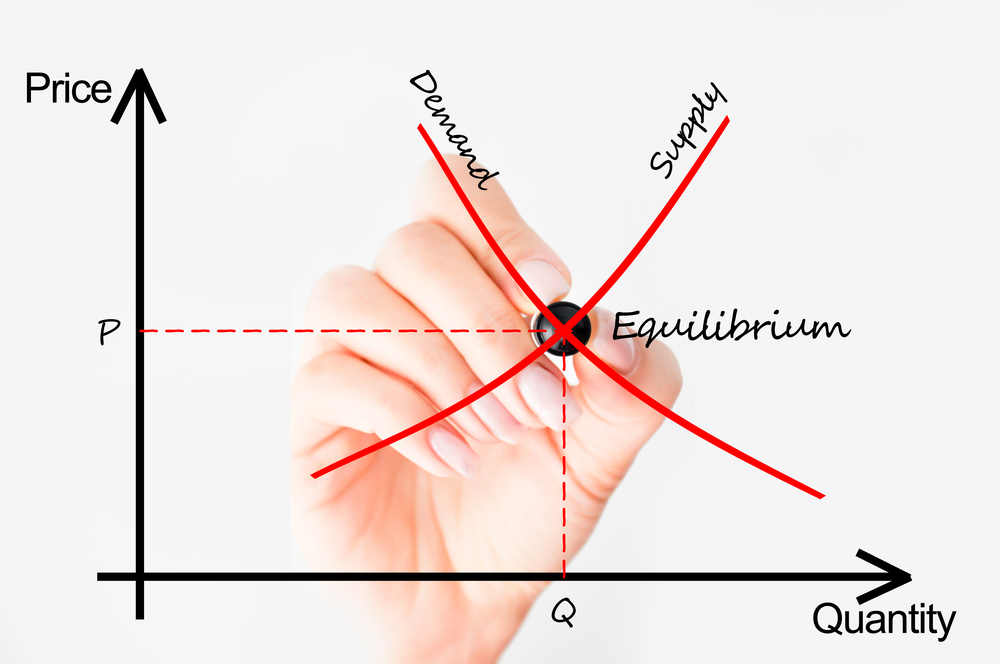 "Don't put your eggs all in one basket." My grandmother shared that pearl of wisdom as a simple reminder to think through my decisions, and subtlety telling me to not break all of her eggs. Years later, though I'm not making trips to the hen house anymore, the concept of diversification and risk management is still a good rule of thumb, especially in examining real estate investments. The energy-dependent Midland-Odessa apartment market underscores that concept.
Volatility in apartment fundamentals across sister cities Midland and Odessa stems largely from the area's dependency on energy-focused industries. With the boom-bust nature of oil and gas, some Midland-Odessa apartment participants are facing the fickle balance between risk and reward. Once among the nation's top performers, this West Texas apartment market has seen performance slow drastically as demand has dried up but deliveries have continued. Analysis of performance data is where the picture become stark, especially in the different pricing patterns for new and renewal leases.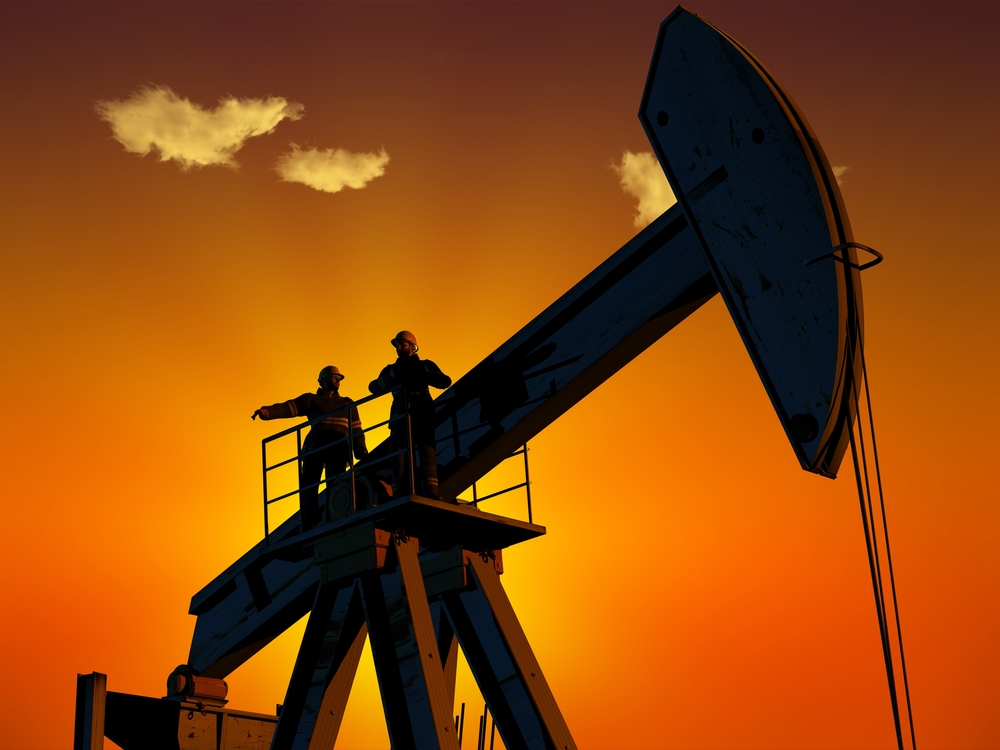 Build-out of oil and gas infrastructure facilitated relocation of labor to Midland-Odessa and other energy hotspots. At the same time, apartment developers provided more than 1,050 units between the sister cities in the 13 quarters ending in 1st quarter 2014, preceding the peak in oil prices. As oil prices moved towards, then past, $100 per barrel, new completions struggled to keep pace with demand for roughly 1,340 units. That imbalance made lease-up little trouble. Occupancy in Midland-Odessa tightened to an average of 97.7% over that boom phase, peaking at 99.2% in 2012. In response to the influx of demand, average asking rents jumped to $1,204 in 1st quarter 2014, up roughly 43% from early 2011. Such performance pushed annual revenue growth to double digits in nine of those 13 quarters. Annual revenue change averaged more than 15% over that boom phase, peaking at 27.6% in 2012.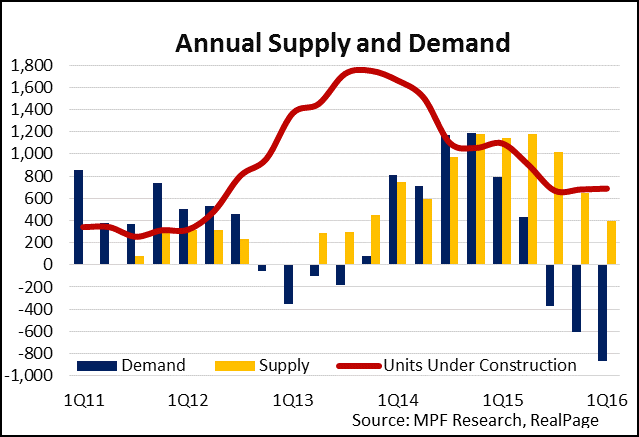 The bust phase, the 21 months ending March 2016, saw net job loss of roughly 9,000 positions, with the Mining, Logging and Construction employment base contracting 80%, according to figures from the Department of Labor. Over that time frame, net apartment demand swung into negative territory as nearly 1,540 new units that came online. The impact to occupancy was a 7.5 percentage point decline, which left the rate at 89.9% in 1st quarter 2016. Not surprisingly, the wave new product has struggled to lease up, leading apartment operators to increasingly leverage concessions, weighing on rents and revenue potential.
In response to those market conditions, apartment operators drastically reduced their asking rents for new leases. The year-over-year change in asking rents registered in negative territory in each of the four quarters ending 1st quarter 2016. Annual change bottomed at -29.8% in 4th quarter 2015. However, RealPage lease-transaction data show executed rents for new leases fell even faster, dropping 32.9% in the year-ending 1st quarter 2016, to an average of $837.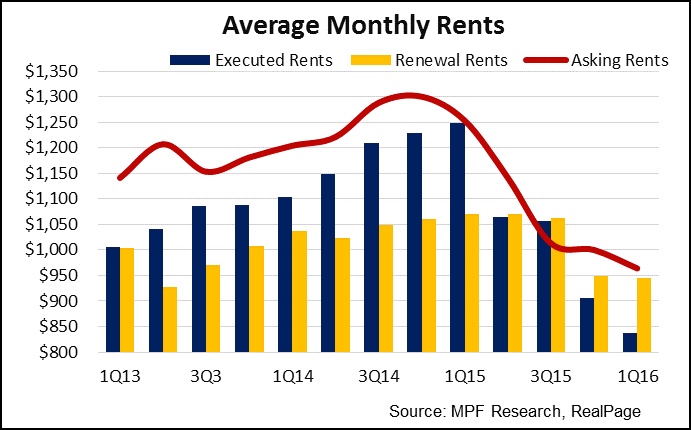 Though new lease rent change plunged, lease-transaction data show rents for renewed leases only fell an average of 5.4% over that time. The combined impact shifted the components of revenue away from new leases to renewal leases for the first time this cycle. That dynamic is expected to continue until energy markets normalize.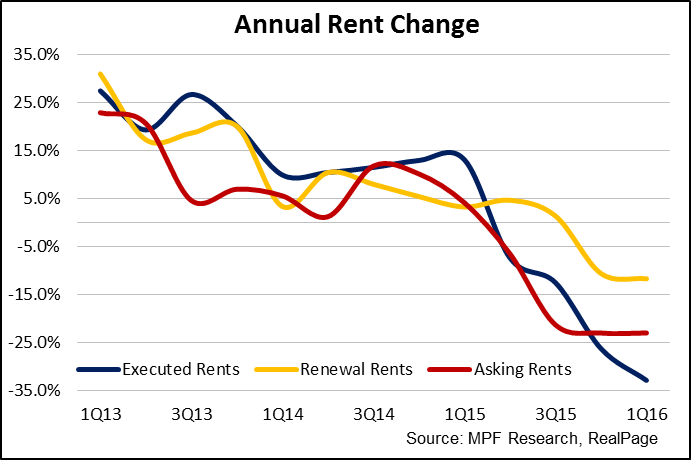 The need for housing, by necessity, will fluctuate with the movement of people and labor. The core concern for economically concentrated locales such as Midland and Odessa is not just understanding how they evolve with other industries, but also the composition of the rent roll. Despite the benefits of diversification being well-understood, the boom-bust cycle still resulted in roller coaster like rents and valuation changes. As such, the near-term horizon still appears unfavorable for current owners and operators as the energy market is still in question. However, an understanding of the core attributes of the economy and its implication on the rent roll is imperative for long-term survival. If paired with the know-how and skill needed to operate in Midland-Odessa's volatile economic landscape, there is opportunity for those with the right risk tolerance and time horizon to reap the rewards of a diversified rent roll.