Mid-Sized Metros Drive Permit Authorizations in December 2016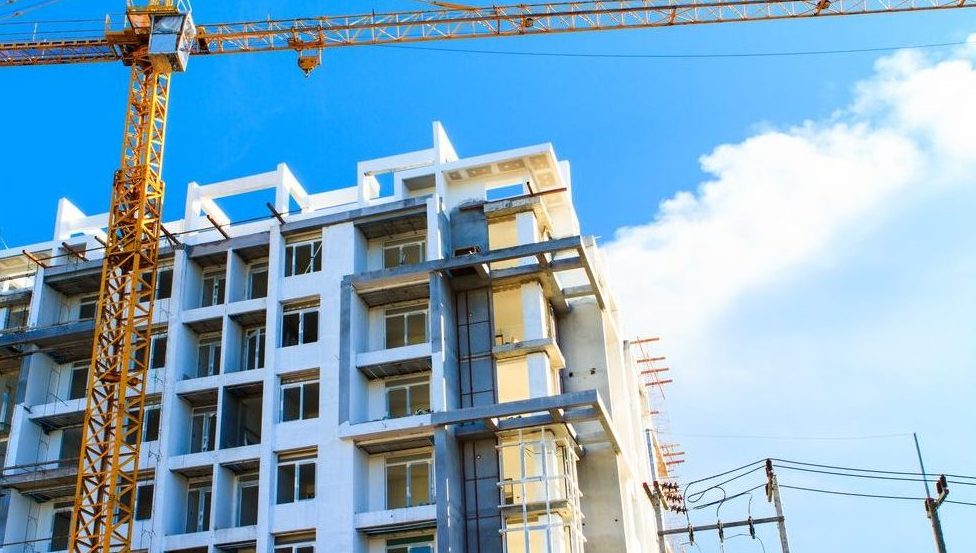 As permitting momentum slows for several major metros, mid-sized markets continue to power national authorization levels.
During December 2016, total multifamily permitting activity rose 0.6% from November 2016 and fell 25.1% from a year prior, according to preliminary data from the U.S. Census Bureau. A total of 32,600 multifamily units were approved for construction by local governments across the country in December, bringing 2016's authorization total to 407,200 units. That year-to-date count reflects a -10.4% change year-over-year.
New York, with an authorization tally approaching 3,800 units, climbed to the top spot from November 2016's runner-up placement. The Big Apple's rise replaced Dallas/Fort Worth, which uncharacteristically settled at #4 and registered -22.4% year-over-year change for December 2016. Still, the North Texas hub remains a development center. Data from MPF Research shows 49,684 units were under construction in Dallas/Fort Worth at the conclusion of 2016. That activity level is more than double the 10-year average.
Meanwhile, Orlando, Atlanta and Las Vegas were introduced to the monthly standings, pushing Denver, Miami and Salt Lake City from the leaderboard. Orlando managed to secure the #2 spot with an impressive 2,427 permitted units. Despite the cycle's elevated completion volumes, the metro's story remains sunny. In 4th quarter 2016, Orlando's performance was represented by a diverse local job market, an annual rent rate change of 5.4% and a tight occupancy rate of 96.7%.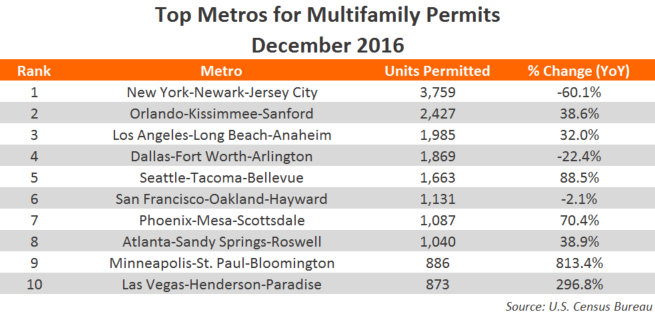 The year-to-date leaderboard mirrored recent activity, carrying recurring players from the previous month – with the exception of Houston. The energy-reliant market was replaced by San Francisco-Oakland-Hayward, which registered a 24.1% spike in year-over-year permitting volumes. Houston and San Francisco's battle for the #10 slot is interesting, given the two metros are among a short list of major markets to implement rent cuts on an annual basis in each of the past two quarters.
For the third consecutive month, the top four year-to-date leaders logged negative year-over-year changes, suggesting normalization of apartment construction activity in the nation's largest markets. New York's near-60% hit on year-over-year measures was expected and is primarily a result of developers rushing to obtain permits ahead of tax incentive 421-a's expiration in June 2015.
A separate Census report shows a total of 373,800 multifamily units started construction during 2016. That figure represents a 3.1% dip from 2015 starts.