Memphis Apartment Operators Push Rents as Occupancy Tightens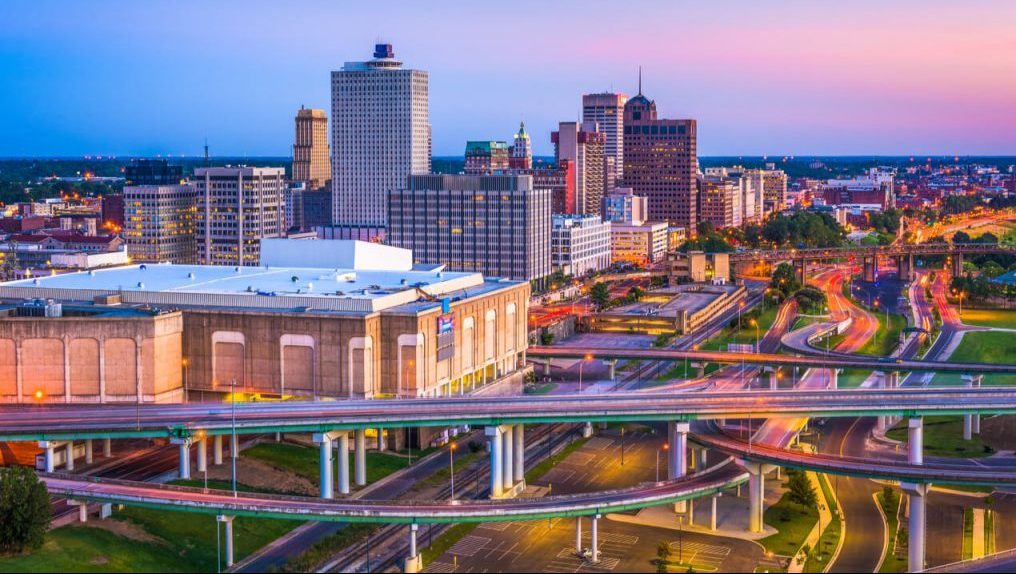 Memphis' apartment market has generally been a steady performer in the current cycle. But in the most recent quarter, rent performance picked up.
Apartment operators in Memphis raised rents 3.6% year-over-year in 3rd quarter 2018, tying Greensboro/Winston-Salem, Houston and Los Angeles for the 12th best performance among major markets nationally. That increase was Memphis' largest since 2016, a year which brought unusually strong rent performance for the market. Through the current cycle, annual rent growth has averaged 2.2%.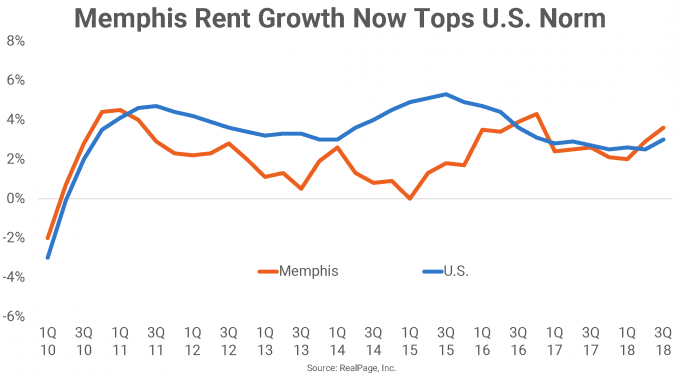 Improved rent performance comes as occupancy in the market has tightened significantly. The 95.0% rate recorded in 3rd quarter 2018 was the highest in nearly 20 years. Occupancy strength has been centered in upper-tier submarkets and product segments. Class A and B units logged rates around 96% in 3rd quarter 2018, about 200 basis points ahead of the Class C segment. Likewise, upper-tier submarkets of Downtown Memphis and Germantown/Collierville recorded occupancy of 96.0% and 96.7%, respectively.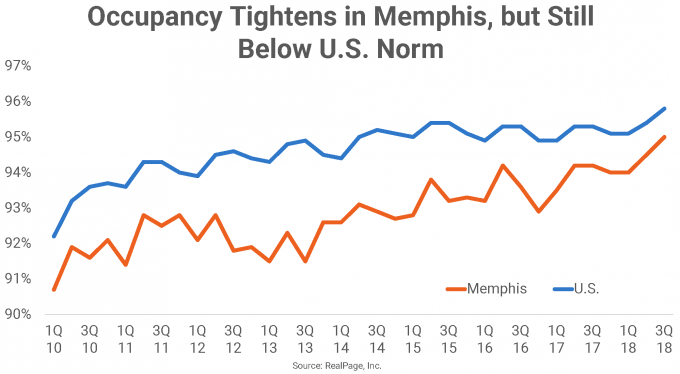 For rent growth, the standout segments were Germantown/Collierville and Class A units, both of which saw rents rise roughly 6% in the past year.
Overall, Memphis is a market that hasn't seen the elevated new supply levels that has cooled rent growth in many other major markets recently. In fact, Memphis' inventory expanded roughly 1% or less over the past decade – so the market hasn't needed a lot of demand to fill up apartments. That's good, since Memphis' apartment market lacks long-term demand drivers seen in most other major markets in the southeast.
Memphis' economy is anchored by the slow-growth industries of transportation and shipping. There is also little economic diversity, which has kept job growth levels modest throughout much of the current cycle. However, after a year of subpar job change performances, Memphis started added jobs at a more pronounced level in 2018. Job growth picked up to 2.2% in the year-ending August 2018, with the metro adding roughly 14,200 jobs. That was one of Memphis' best performances in two years.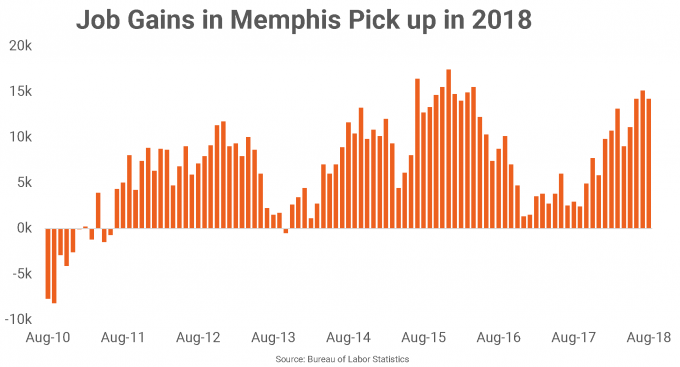 Memphis continues to see disparities in performance among product and submarket tiers, with Class C product and lower-tier submarkets being the consistent laggards. Upper-tier submarkets with attractive demand drivers have been the standouts. Germantown/Collierville, Cordova/Bartlett and Downtown Memphis are the metro's hubs for employment and upper-income residents.