Memphis' Apartment Market Remains a Steady Performer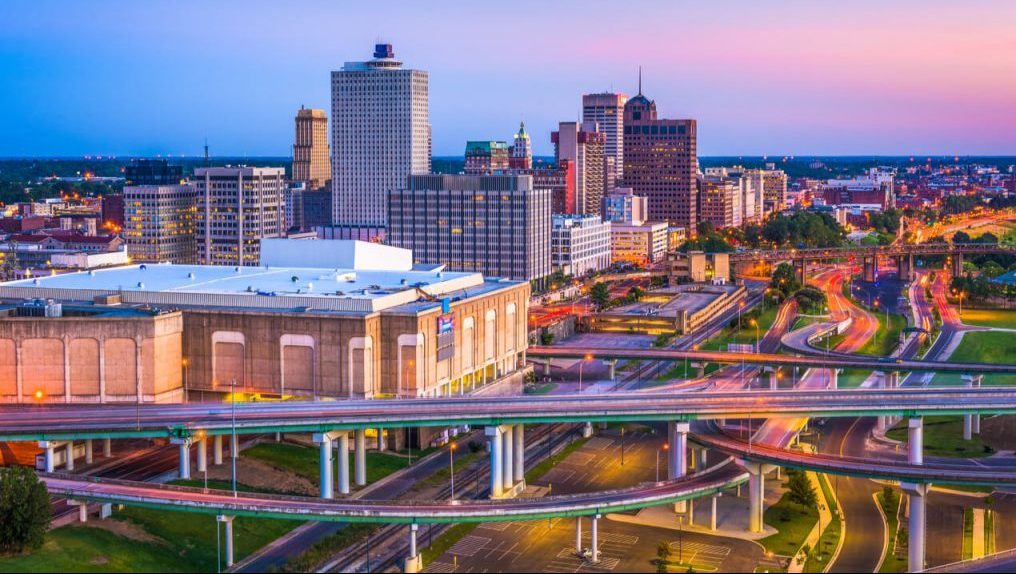 Memphis' apartment market has been a generally steady performer throughout the current economic cycle. Moderate rent growth and limited new supply should extend that trend through 2018.
In 2017, the Tennessee metro increased rents 2.3%, slightly above the 2.1% average annual rate dating to early 2010. That increase was on par with the national average (2.6%).
Memphis' overall rent performances are usually tied to performances among product at the top end of the market. In 2017, top-end Class A units recorded rent growth of just 2.2%. That middling performance follows healthier increases that bolstered the metro's rent growth levels in 2016.
Moderation in the Class A segment coincides with increased supply volumes. Memphis received 1,112 new units in 2017 – a high number compared to historical patterns but a relatively small share of existing stock. Inventory expansion measured just 1.1% in the past year.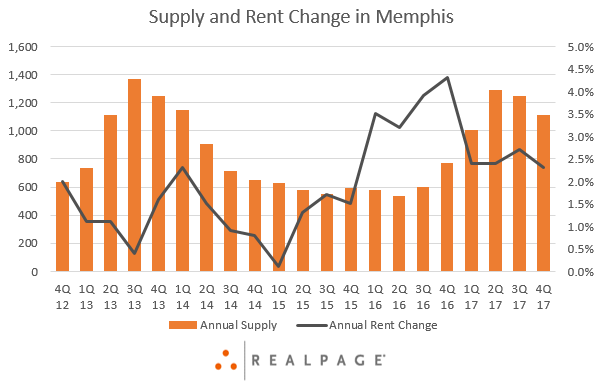 While top-end units generally influence rent growth in Memphis, the large block of lower-tier units hold back the metro's occupancy rates. Vacancies are numerous in the Class C product segment, which has averaged occupancy of just 87.6% in this cycle. In 4th quarter 2017, occupancy showed some improvement, landing at 91.3%. Still, that rate trailed both upper- and middle-tier product by at least 3 percentage points.
The Memphis market was 93.1% full at the end of 2017, the second-lowest occupancy rate among the 50 largest U.S. markets.
A pattern similar to that in product segments exists among submarkets, as upper-end submarkets bolster the metro's overall performance. The Germantown/Collierville suburban pocket is an outperformer for both rent growth and occupancy despite being a spot where new supply consistently comes on stream.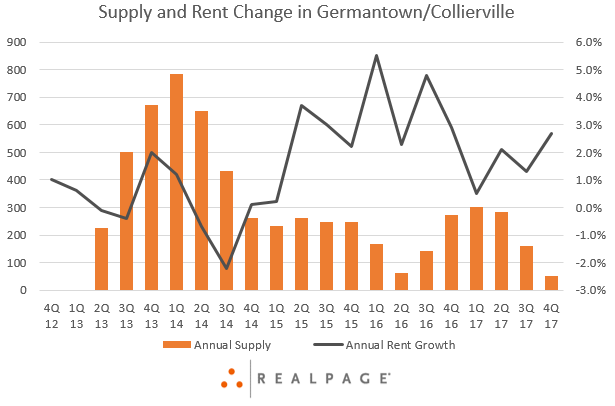 Though completion volumes fell in Germantown/Collierville in 2017, there were roughly 800 units under way at the end of 2017. That represents about 80% of the metro's total construction volume.
Going forward, the Memphis apartment market should to see more of the same. Fundamentals in the market overall remain soft, outside of Germantown/Collierville. Without a clear catalyst, Memphis should remain a low-occupancy, mediocre rent growth market in 2018.