In Most Markets, Renewals Outpace New-Lease Rent Growth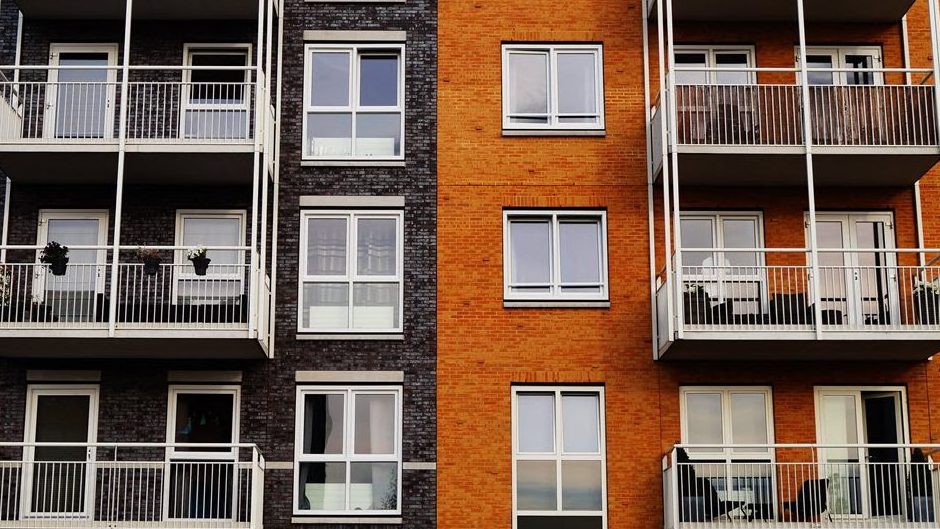 Among the nation's largest 50 markets, new-lease rent growth is holding solid at just above 3%. Rent growth for renewal leases, however, is even stronger as more and more apartment residents choose to stay in their current units once their leases expire.
It's common for renewal rent growth to outpace new-lease rent growth in the U.S. apartment market. As of 1st quarter 2019, price increases for those who renewed their expiring leases rang in at 4.6%, well ahead of the 3.3% annual price increase in new-resident leases.
About 53.2% of U.S. apartment renters with expiring leases in the year-ending 1st quarter 2019 chose to renew, an all-time high. Renewal rent growth in the nation's apartment market has remained relatively stable over the past eight years, averaging at 4.7%, with price positioning rarely wavering too far from that point.
New-lease rent growth, on the other hand, has seen more variance. Averaging 3.7% over the past eight years, new-lease rent growth dipped as low as 2.5% in 2018 and reached as high as 5.3% in 2015. It's been very rare for new-lease rent growth to top renewal pricing in the past two decades. The last time that occurred was briefly in 2015, when new-lease rent growth hit its high point, and renewal rent growth was close behind at 5.1%.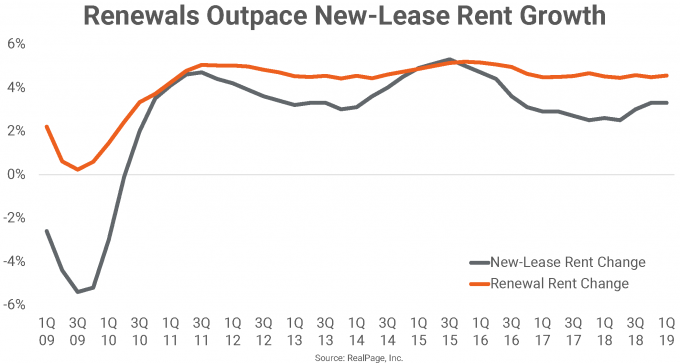 Among the 50 largest apartment markets, all but eight are registering renewal pricing increases that outpace new-lease rent growth. A handful of markets are showing this trend in extremes because of a nation-leading performance on the renewal side, while others are on this list mainly due to underperformance on the new-lease rent growth side.
In Virginia Beach, both scenarios were true. Virginia Beach logged renewal rent growth of 5.9%, while new lease rent growth was 360 basis points (bps) behind at just 2.3%. While this was among the nation's top three renewal pricing performances, new-lease rent growth in Virginia Beach is among the worst in the country – a spot the market has hung onto for a while now, with new-lease price increases averaging at just 1% during the post-recession years. The sluggish economy in Virginia Beach is heavily dependent on military spending, and the metro took a hit early in the cycle with federal government's base realignment program. A sizable base of single-family homes also poses notable competition for rental units.
Raleigh/Durham, Nashville and Boston also ranked among the nation's renewal rent growth leaders in 1st quarter, though new-lease rent growth in these high-development areas was not quite as low as in Virginia Beach.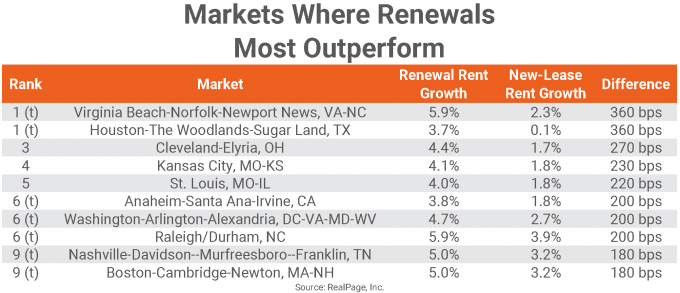 The remaining markets with a sizable gap between renewal rent growth and new-lease rent growth were those that were lacking on the new-lease pricing side. In Houston, renewal rent growth wasn't all that impressive at 3.7%. But it was significantly higher the 0.1% annual growth in new-lease rents, which was the worst showing among the top 50 markets in 1st quarter. Houston saw price increases for new renters surge in late 2017, as displaced residents turned to apartments for alternative housing after Hurricane Harvey, creating significant apartment demand. Now, however, most of those residents have transitioned back into their permanent homes, creating some short-term imbalances in the apartment market.
Cleveland, Kansas City, St. Louis and Anaheim are all recording renewal rent growth around the 4% mark, while new-lease pricing was just below 2%.
Washington, DC just missed the national top 10 for renewal rent growth, with price hikes on expiring leases just below 5%. At 2.7%, rent growth for new leases was just shy of the national average.
Where is New-Lease Pricing Growing Faster?
Among the eight markets that did not register renewal rent growth ahead of new-lease growth in 1st quarter 2019, one saw those growth rates match exactly. Riverside logged price increases among new leases and renewal leases at 4.9%. In the remaining seven markets, new-lease rent growth pulled ahead of renewal growth by 40 bps to 170 bps.
Not surprisingly, all seven of these markets ranked among the top 10 performers for new-lease rent growth in 1st quarter, but four of them also ranked among the national leaders for renewal rent growth.
Phoenix and Las Vegas were the top two markets in the nation for price increases for both new leases and renewals. Las Vegas recorded the nation's strongest showing in 1st quarter, with renewal rent growth at 6.5%, the biggest increase this market has seen in at least a decade. New-lease price hikes are also at a decade peak (8%), but this late-recovery market took a while to get rent growth started again after the recession. In total, prices have grown only 27% this cycle, ranking among the lowest upturns across the largest 50 markets and keeping effective rental rates relatively affordable on a national scale.

Phoenix led the nation for new-lease rent growth in early 2019, with an upturn of 8.1% annually, despite heavy volumes of new supply logged during the current cycle. Renewal rent growth was well behind at 6.4%. While that was a strong gain on a national level, the peak for this market came in 2006, when renewal rent growth peaked at 10%.
Atlanta and Greensboro/Winston-Salem also logged nation-leading performances in both new-lease rent growth and renewal rent growth, though at a slightly slower pace.
Providence, Sacramento and Memphis were national leaders for new-lease rent growth, but renewal price increases were a bit lower at 3.5% to 4.7%.