Market Momentum Survey is Split on Retention in Atlanta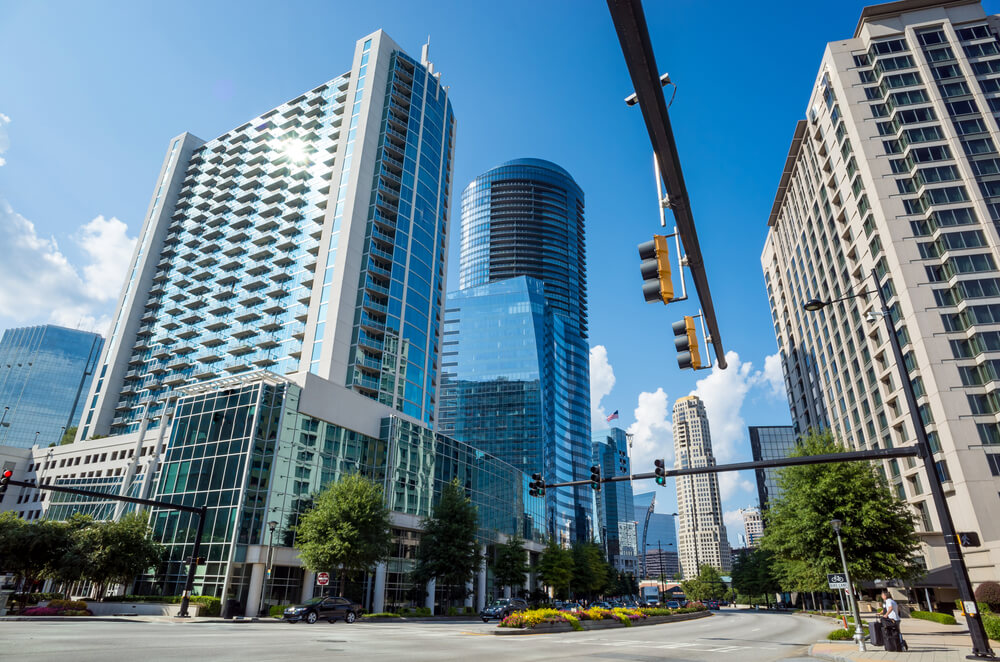 Resident retention in Atlanta's apartment market is expected to get much stronger over the next year, according to the recent Market Momentum survey from the National Apartment Association and RealPage. But that same survey also indicates strong sentiment toward the opposite – an outlook with lower retention and therefore higher turnover.
But how can that be? How can the same survey show seemingly contradicting results? Let's take a closer look.
Resident retention refers to the rate at which renters choose to renew their leases upon expiration rather than move out. Looking at three years of lease transaction history in Atlanta, aside from seasonality, a clear trend indicates a steady increase in resident retention. But a dramatic drop-off has occurred since peaking in February. Since then, renewal conversion has fallen by more than 6 percentage points, to about 50% in July. Furthermore, retention is declining just as new supply is reaching the highest levels since late 2003.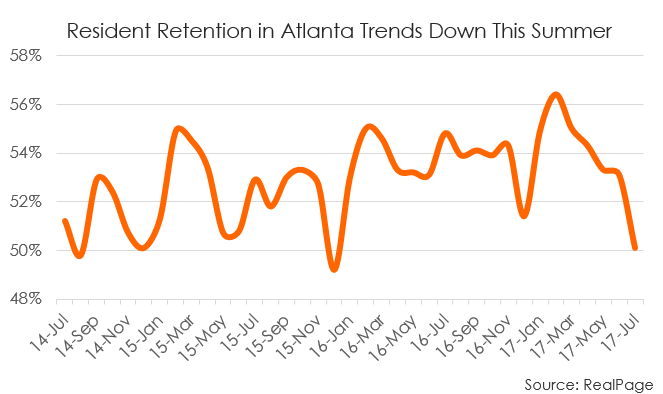 The recent divergence appears based on operator sentiment according to asset class and location. There is a big difference between retention at the metro level and retention in the urban core. This can explain why survey respondents placed Atlanta at both the top and the bottom of the list of expectations for resident retention over the next six to 12 months.
Resident retention in urban core areas is almost always less than the metro average. Although urban core retention trends follow the seasonality of the parent metro, turnover is almost always higher in the urban core. Downtown areas have a more transient renter base by nature. And it's easy to see why. Looking at characteristics linked to higher turnover, downtown areas rank highly in all three: young age, job growth levels and apartment supply. Young people, more likely to be single and without children, tend to move more often because of their life stage. They also prefer to live in downtown areas, where employment opportunities are also often concentrated. And in the current building cycle, elevated levels of apartment construction have caused urban inventories to swell.
The metro-urban core mobility split is exacerbated in Atlanta, a geographically bifurcated market.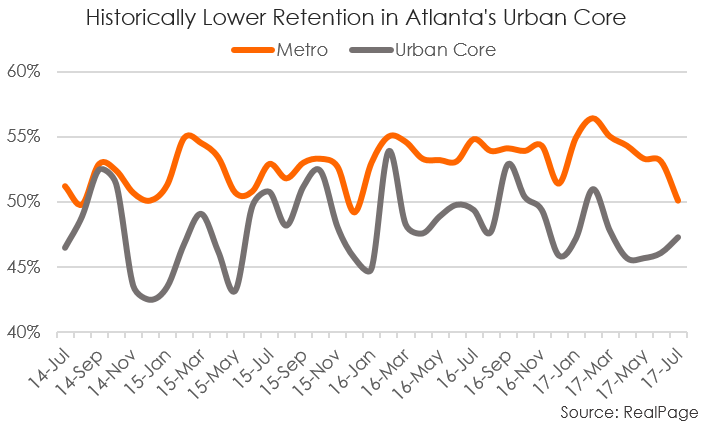 Atlanta was to home to nearly 900,000 people ages 20 to 34 in 2015, according to Census data. That's roughly 20% of the metro's population. But in terms of urban core population, the percentage is much higher. Additionally, Atlanta has added more than 80,000 jobs annually over much of the past three years. In the year-ending April 2017, the Atlanta metro added more jobs than any other U.S. metro, including New York.  And in the year-ending May 2017, the metro managed to sustain top-three status. Increasingly, jobs are becoming more clustered in the urban core and a handful of northern suburbs as more companies relocate to those areas.
Lastly, high turnover markets have more supply growth. And Atlanta's urban core apartment supply – in the Downtown Atlanta, Midtown Atlanta and Buckhead submarkets – is expanding at a much higher pace than the market as a whole. In fact, Atlanta's urban core is anticipated to expand about 12% at peak by the end of 2017. Nearly 40% of the metro's construction volume is being built in the three aforementioned urban core submarkets. Meanwhile, inventory growth at the metro level is expected to concurrently peak at just over 3%.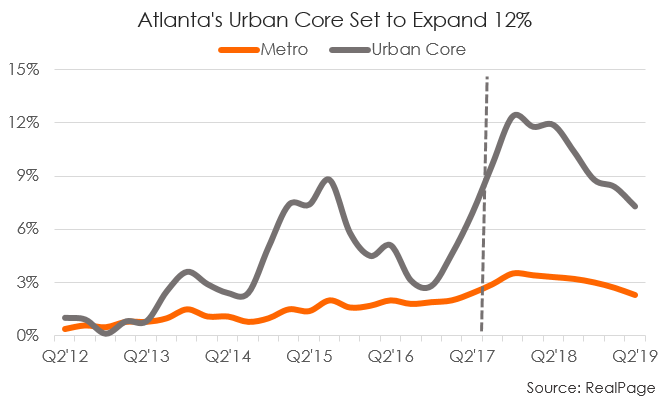 With such factors at play in metro Atlanta, apartment owners and operators in the suburbs might anticipate decreased resident retention and renewals, while another group with an urban-centric strategy might anticipate the opposite. In that case, both groups could be correct.