Major Texas Apartment Markets Log Big Occupancy Gains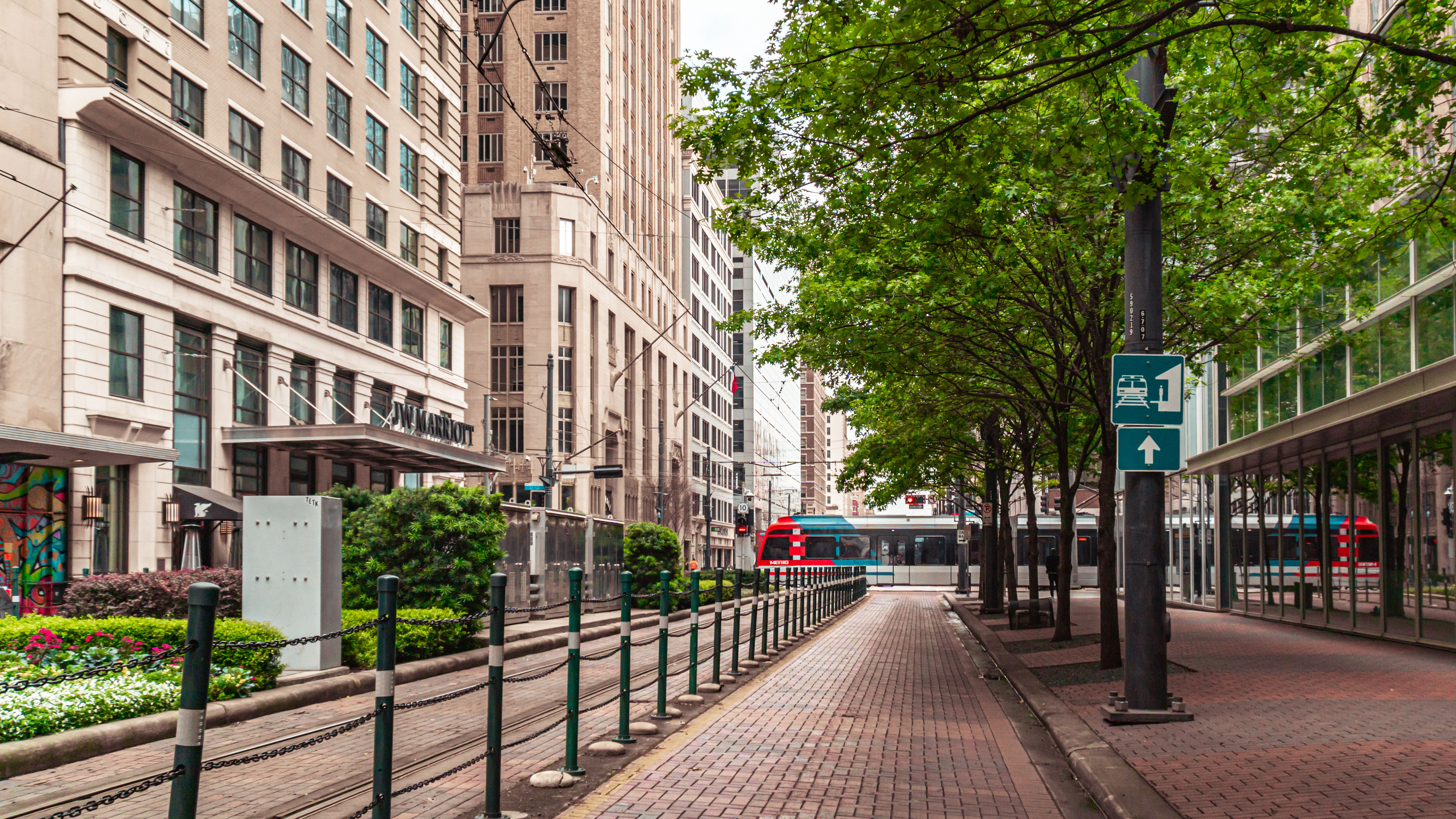 The big five Texas apartment markets logged some of the nation's biggest occupancy jumps in the past year.
Recent economic growth and population increases inspired sizable demand across Texas in the past year, leading to big occupancy upturns. Such big occupancy increases pushed rates to local records across the five major Texas markets.
Houston and San Antonio claimed the nation's biggest occupancy increases in the past year, with occupancy climbing 390 basis points (bps) in each market. Out of the five big Texas markets, these two had the most occupancy to gain, as rates this time last year were hitting at around 92% to 93%.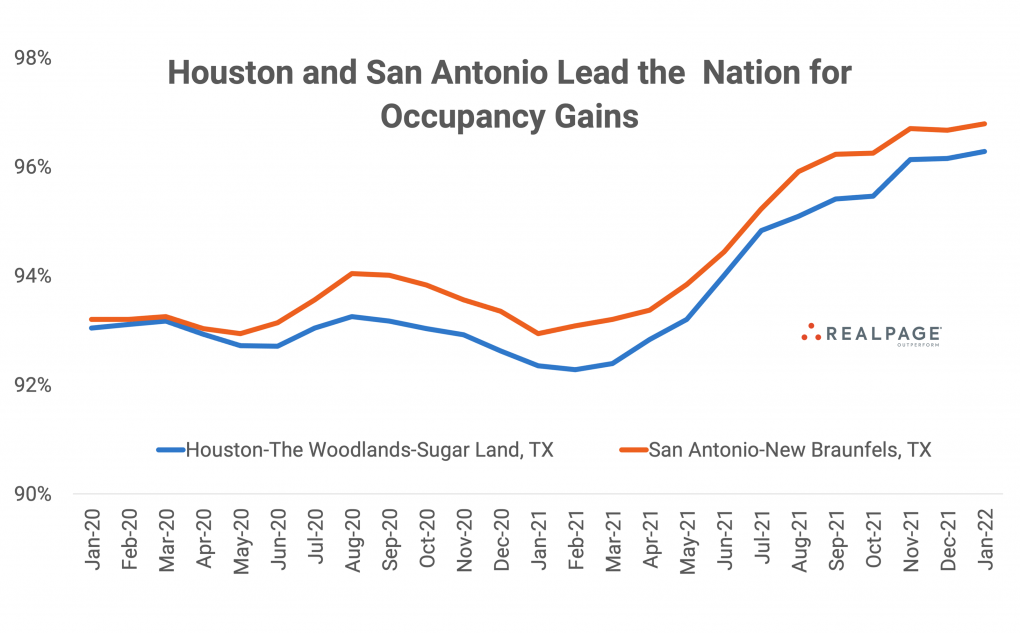 Houston
Houston's performance metrics tend to be bumpy, given the challenges this market faces during hurricane season and the extreme turbulence of the oil and gas market, which makes up a big part of the economy here. In the past year, however, apartment demand in Houston has been solid, with nearly 37,000 units absorbed. That pace more than doubled concurrent supply and pushed occupancy to 96.3% in January. 
San Antonio
San Antonio tends to rank as one of the lowest occupancy performers across the nation's 50 largest apartment markets. This slow and steady market generally misses out on the big occupancy and rent growth jumps seen in other areas of the state, but also dodges the deep declines suffered during market downturns. Occupancy approaching 97% in San Antonio is a significant record for the market, which has averaged closer to 93% during the past decade or so.
Among the other three major Texas apartment markets, occupancy growth over the past year was also significant – and well ahead of the national average. These three markets – Austin, Dallas and Fort Worth – logged rates above the 97% mark in January.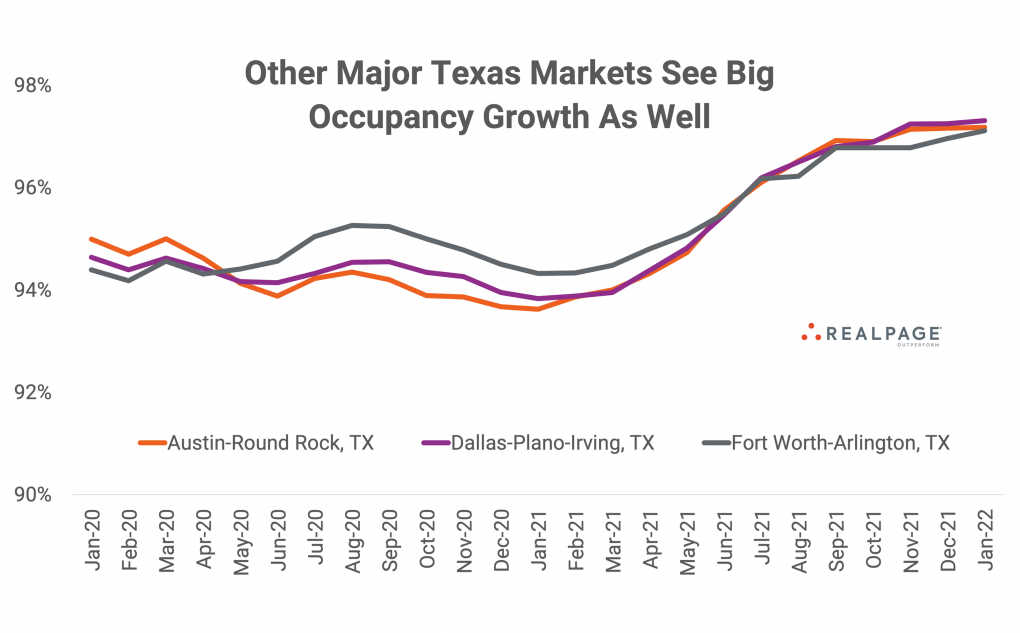 Austin
At 97.2%, Austin's January 2022 occupancy marked at least a 30-year high. Austin's year-over-year occupancy increase of 360 bps was the 4th largest among the nation's largest 50 apartment markets. Such a big occupancy jump is truly remarkable in Austin, given that more than 12,400 units delivered in 2021, with that volume of completions swelling the existing apartment base by 4.8%. That growth pace tied with Charlotte as the biggest increase nationwide in the past year. Ultimately, Austin's ability to absorb all that new product points back to demand. Austin has been a clear beneficiary of inbound migration patterns and continues to solidify itself as a tech industry giant.
Dallas
Occupancy in Dallas climbed 350 bps in the past year to stand at 97.3% in January. This was an incredible feat, given that this market has seen the delivery of almost 80,000 new apartments in just the past five years. But solid demand of over 38,000 units in 2021 shows that there is clearly continued necessity for housing in this market. This support for demand in Dallas stems from big population growth in the past year. Even prior to the COVID-19 pandemic, the Dallas/Fort Worth Metroplex was capturing more than 100,000 new residents per year, on average. That pace increased even further in 2021.
Fort Worth
The apartment market in Fort Worth logged occupancy at 97.1% in January, after climbing by 280 bps in the past year. This was the smallest increase in the state but was still well beyond the national norm of 220 bps. Fort Worth also didn't lose quite as much momentum during the economic downturn of 2020, and so didn't have as far to go to get back to recovery as neighboring Dallas. This is a smaller and less expensive apartment market, but still held its own for demand in the past year.
For more information on the apartment markets in Texas, including forecasts and data coverage of smaller markets, watch the webcast Market Intelligence: Texas Region Update.