Most Major Markets See Job Improvements in February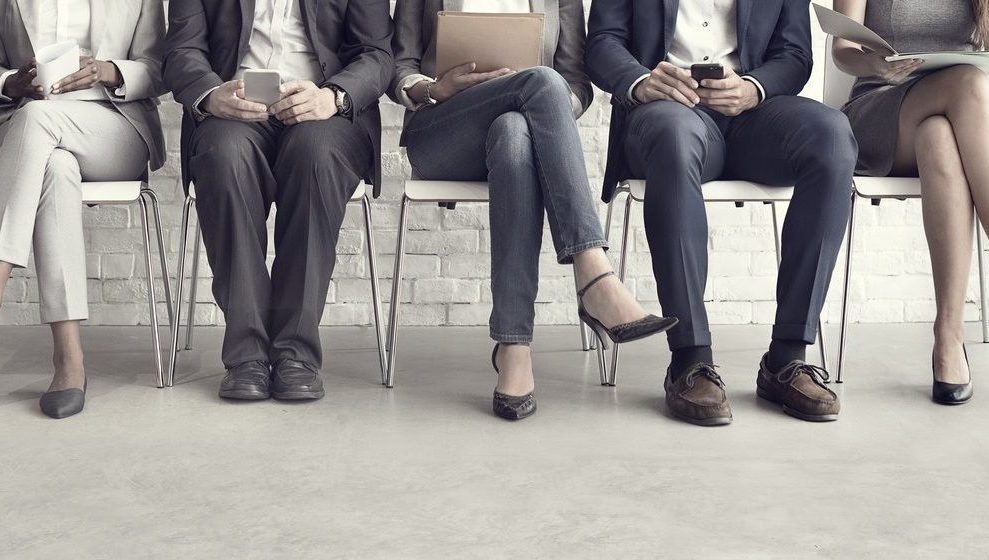 While most of the country was riding out a deep freeze in February, many major markets that have had some of the steepest job losses due to the pandemic saw some improvement in their labor markets.
Seven of the markets on the list of 10 steepest annual job losses through February gained back some of their lost jobs compared to January, while three had additional losses, according to data released by the Bureau of Labor Statistics (BLS).
February 2020 was the last unaffected month before the COVID-19 pandemic caused economic shutdowns and unprecedented job losses, so a one-year comparison avoids any seasonality concerns.
The list of markets with the steepest annual job losses was again headed by New York, with Los Angeles, Chicago, and Boston returning in their same spots as well this month. According to the BLS, New York lost more than 861,000 jobs for the year-ending February 2021, roughly 2,600 more than in January.
Los Angeles, Chicago, and Boston regained an average of about 5,000 to 12,000 jobs compared to their losses through January, but were still down by roughly 250,000 to 550,000 jobs in the past year. Houston lost an additional 18,900 jobs in February, taking total loss to 233,000 jobs for the year through February, displacing Detroit, which improved enough to fall off the list of the nation's 10 steepest job loss markets.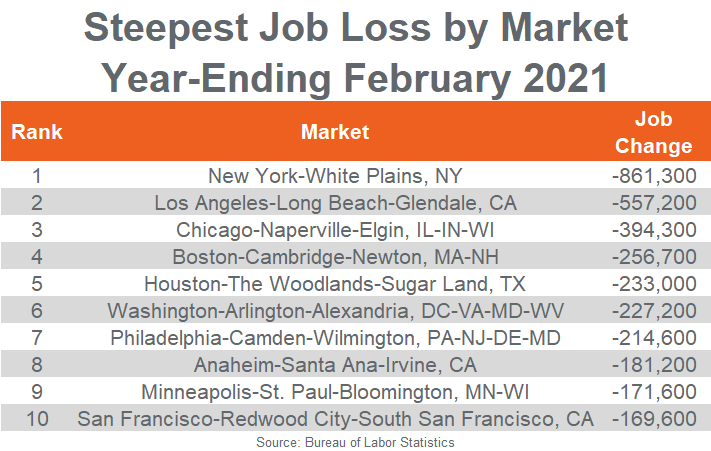 Washington, DC was the third metro of the 10 worst job loss markets to add to their annual employment deficit with 4,700 fewer jobs than January, though previous losses left the workforce  227,200 positions shy of the previous year's number. Philadelphia and Anaheim had solid improvement in employment of about 14,000 to 16,000 jobs in February, reducing their annual losses to 214,600 and 181,200, respectively.
Minneapolis-St. Paul and San Francisco each added back about 2,500 jobs bringing their total job losses for the year-ending February 2021 to about 170,000 apiece. Orlando barely missed a spot on this list, but the market's job story was essentially the same, gaining just shy of 4,000 jobs for the month, but still down nearly 170,000 for the year.
Although month-over-month comparisons of labor data from the BLS when it is not seasonally adjusted, even when annualized, can sometimes be misleading, it nonetheless is often telling. In addition to Detroit, Anaheim, Philadelphia, and Chicago, other markets with significant improvement of more than 10,000 jobs compared to last month included San Diego, Riverside, Denver and Seattle.
Of these 10 hardest hit markets, Houston, Philadelphia and Washington, DC are the closest to recovering the jobs lost during the steep declines of the COVID-19 pandemic. The job base in these markets is only about 7% under February 2020 totals, based on seasonally unadjusted data. Most of the markets on this list, however, are 8% to 12% away from full recovery. San Francisco's job base is still 13% away from recovered.
Only three other markets in the nation are further away from a full recovery. Las Vegas employment is still down by 13.8%, while Urban Honolulu has 15.5% left to make up and Midland/Odessa's energy-dependent economy is 17.7% away from recovery.
On the other hand, only two of the 150 major markets tracked by RealPage have regained all the jobs lost during the pandemic – Provo, UT and Lakeland, FL (although Boise City, ID and Salt Lake City, UT are very close – with only 0.2% of the job base left to recover).
The list of markets with at least 100,000 jobs lost through February improved by one to 22 as Riverside dropped off, well below the 49 markets in April. Additionally, 16 markets lost between 50,000 and 99,999 jobs, the same number for the third month. Combined, the jobs lost in the 10 worst markets accounted for 36% of the total losses for the top 150 markets RealPage tracks. The next 10 markets for job losses accounted for another 15% of total job losses.
As with the list of markets with the steepest job losses, the list of steepest percentage change in employment has many returning entries. According to the BLS, all but one of last month's list returned with several changing places. Returning major markets include New York, San Francisco, Orlando, Los Angeles, and Las Vegas. Anaheim was replaced with Springfield, MA this month, while Midland/Odessa continues to have the worst percentage job loss among the top 150 markets.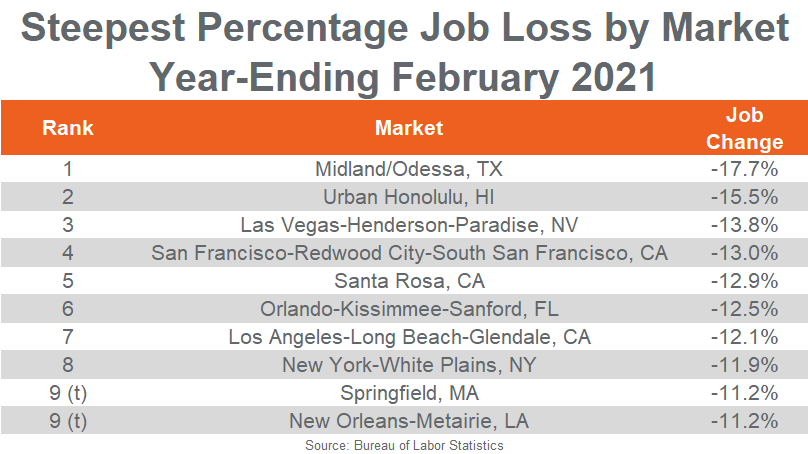 The range or spread of percentage job losses for the 10 worst markets was little changed from last month and the average improvement in percentage loss was about 37 basis points (bps).
Markets with the lowest percentage job losses are typically college-focused economies or small markets. Salt Lake City saw the smallest decline among the largest 50 markets at just 0.2%.