Major Markets Continue Adding Jobs but Are Still in Recovery Mode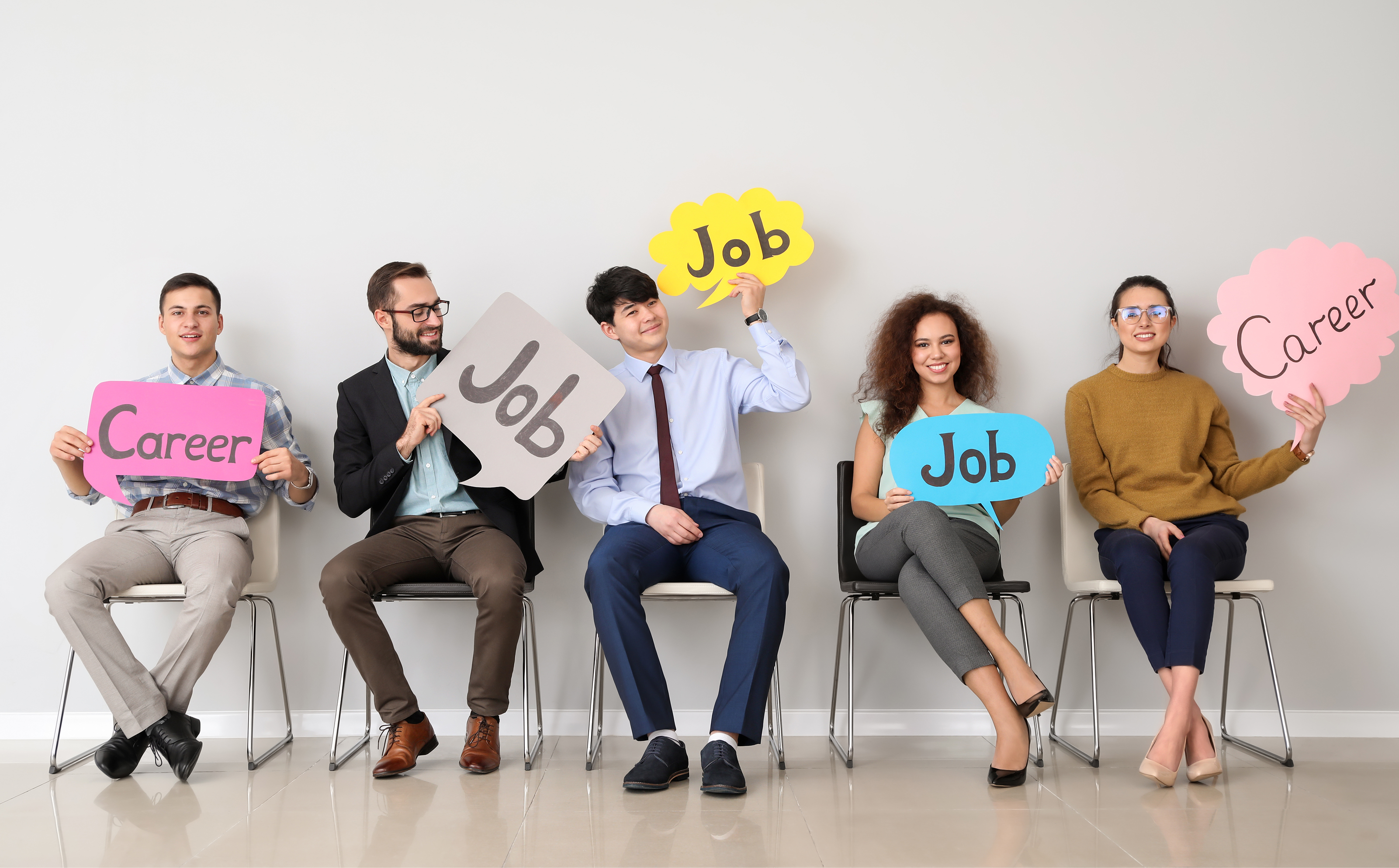 Despite some seasonal slowing, the top markets for job gains in the nation are continuing to add jobs at three to four times the rate they were averaging before the pandemic recession. However, eight of the top 10 job gain markets are still below the level of employment they held before the COVID-19 outbreak.
The top 10 job gain markets added about 1.9 million jobs for the year-ending March 2022, compared to a total of about 534,000 jobs in February 2020, according to data from the Bureau of Labor Statistics (BLS).
With the national unemployment rate at 3.6% and the labor force participation rate ticking up a few bps each month, the labor pool has tightened and along with rising pressure on wages, these job gain totals are quite impressive. But, as mentioned, we are still a long way from pre-pandemic normalcy.
All of the markets from last month's top 10 list returned in March, with a few changing places. As they did last month, the first four markets returned in the same order and New York again led the nation for job gains with 381,200 positions. However, New York is still 335,600 jobs below the pre-pandemic employment level.
Los Angeles (299,100) and Chicago (211,000) followed, but both are still at least 87,000 to 140,000 jobs from a full recovery. Dallas added 203,600 jobs in the year-ending March and regained its pre-pandemic employment level a few months ago. The market is now about 150,000 jobs above pre-pandemic employment.
Atlanta surpassed Houston for the #5 spot, adding 177,300 jobs for the year, and joining Dallas as the only top 10 markets to have fully recovered. Houston gained 150,400 jobs through March but is only about 28,000 jobs away from regaining all previously lost jobs.
Boston returned at the #7 spot, gaining 137,600 jobs, still, almost 75,000 jobs below recovery levels. Washington, DC moved up one spot to #8 with 114,100 jobs gained and Philadelphia added 113,500 jobs. Both markets are at least a year away from regaining all lost jobs due to the pandemic. Las Vegas retained its #10 spot, gaining 112,700 jobs for the year and needing only about 9,000 more jobs to return to pre-pandemic employment levels.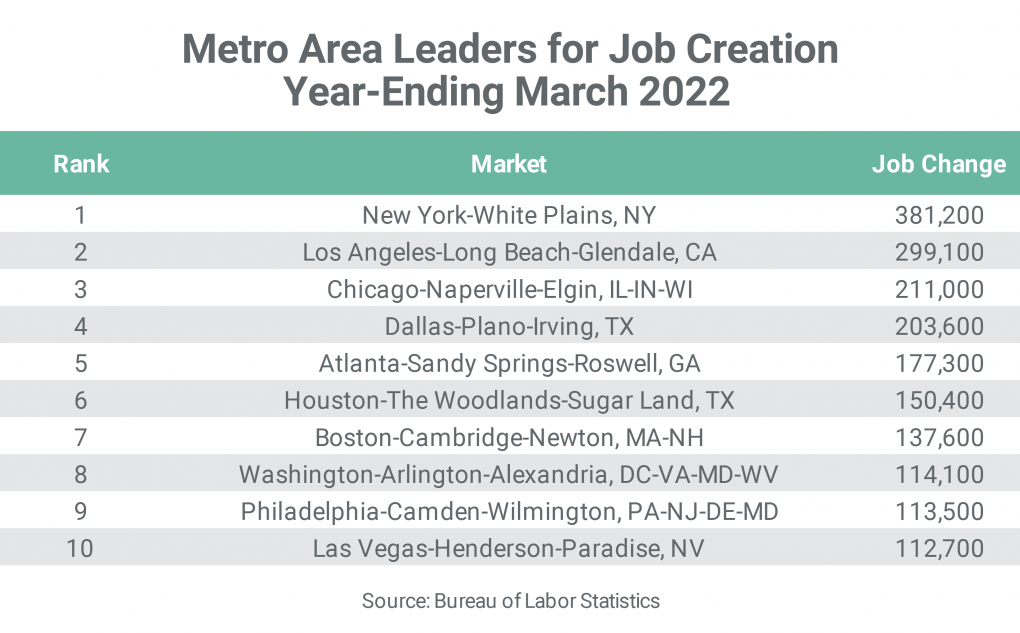 Seven of the next 10 top 150 markets ranked by March job gain are below their pre-pandemic employment bases, with Riverside, Austin and Phoenix surpassing recovery levels. Miami and Orlando should reach full recovery very soon. Fifty-nine markets in all have regained pandemic-induced job losses, leaving 91 markets yet to recover. Outside of this month's top 10 markets, Minneapolis-St. Paul, Pittsburgh, Anaheim and San Francisco have at least 50,000 or more jobs to regain.
Comparing annual job gain on a month-over-month basis, 44 of our 150 markets had higher annual job gains in March than in February with another four unchanged. That is down from 88 markets last month, likely due to seasonal slowing. Ninety-four of the remaining 102 markets were down by less than 10,000 jobs, with the steepest declines in Houston and Los Angeles. These month-over-month comparisons of not seasonally-adjusted labor data from the BLS can sometimes be misleading, but nonetheless give an idea of overall trends.
With the tighter labor market and difficulties in staffing continuing, only 12 markets had annual job gains of 100,000 or more compared to 14 in February and 17 in January. Another 21 markets gained between 50,000 and 99,999 jobs, three more than last month. Jackson, MS and Columbia, SC were the only two of RealPage's top 150 markets that had an annual job loss from last March.
NOTE: Changing apartment inventory levels has caused RealPage to adjust its top 150 markets to now include Ashville, NC, Crestview-Fort Walton Beach-Destin, FL, and Sioux Falls, SD at the expense of Davenport-Moline-Rock Island, IA-IL, Fort Collins, CO, and Montgomery, AL.
Annual percentage change in employment continues to be strong despite decreasing job gains, but the top performers have seen slowing job growth as well. Nine of February's top 10 returned in March with four of those 10 in California, compared to three in Texas and two in Florida.
Las Vegas continues to lead the top 150 for percentage annual growth in employment at 12.1%. Orlando remained in the #2 spot with an 8.6% gain, as two of the hardest hit markets during pandemic lockdowns are now regaining their footing.
Austin's tech boom helped boost employment by 8.5% in March, while San Francisco is seeing more momentum in recovery with an 8.3% annual gain in employment, moving the market to the #4 spot. Perennial job growth leader Dallas moved up three spots with an annual growth rate of 7.6%, and San Diego jumped four spots with a 7.4% growth rate.
Los Angeles remained at the #7 spot, growing employment by 7.2% for the year, while Midland/Odessa slipped back to the #8 spot with 7.1% growth – with Salinas, CA. Miami moved into the top 10 growth rate markets with an annual change of 7%.
Compared to February's list, the levels of job growth shifted downward, with the difference between #1 and #10 averaging about 70 bps lower than last month. Job growth in the top market fell about 60 bps while the #10 market was 50 bps lower than February's #10. Additionally, only four of the top 10 in February were below 8% growth compared to six in March.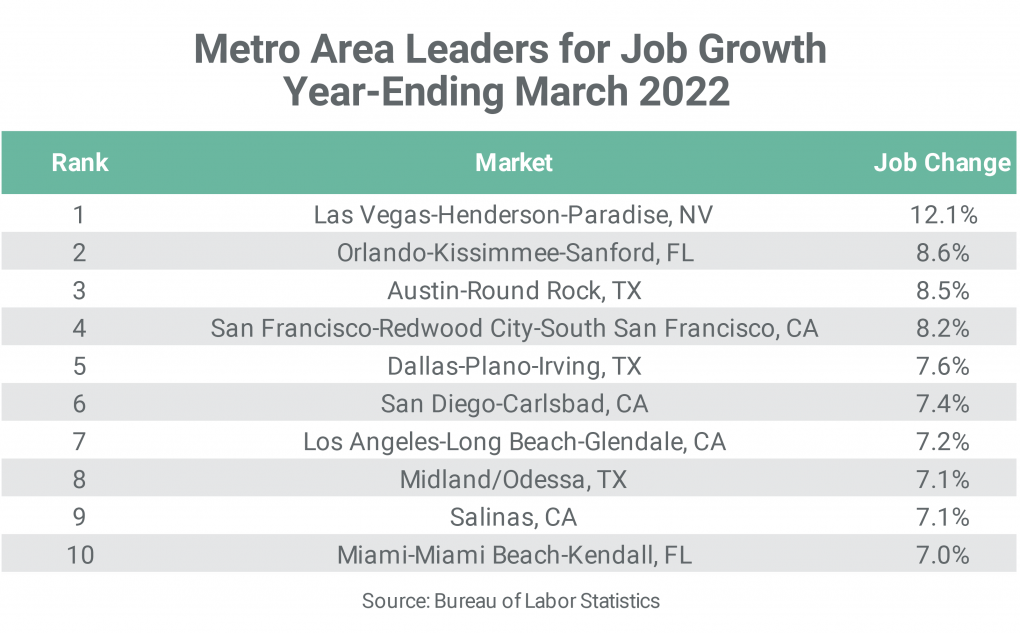 The weakest markets for percentage growth are primarily in the Deep South and industrial Midwest, with a few Northeast markets in the mix. Major markets with sub-3% growth include Kansas City, Cincinnati, Omaha, Richmond, VA, Milwaukee, St. Louis, Pittsburgh, Columbus, OH and Minneapolis. In addition to the top 10, strong job growth markets include: Atlanta, Riverside, Nashville, Seattle, Fort Worth and Anaheim. Fifty-seven markets had annual job growth rates above the not seasonally-adjusted national average of 4.6% compared to 58 in February.