Luxury Suburban Properties Boost Indianapolis Performance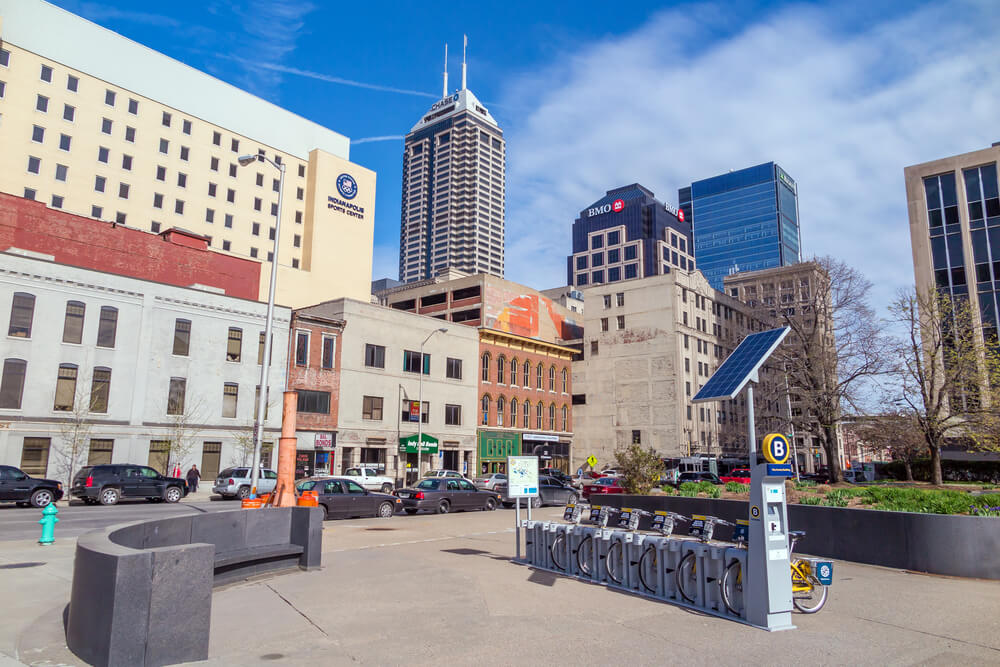 Exceptionally strong readings in Class A apartments in Indianapolis's suburban submarkets pushed annual rent growth to a decade high in June.
Rent change in Indianapolis already registered above the national norm throughout most of the global COVID-19 pandemic. But rates really took off in June, when annual effective asking rents climbed 8.3%, the strongest showing this market has seen in at least 10 years and well above the national norm of 6.3%.
Despite weighing down the market's overall price positioning performance throughout most of the last year, Class A rents rebounded fiercely in early 2021. Class A rents in Indianapolis climbed 10.7% in the year ending June, compared to 9.5% growth in Class B stock and 3.6% growth in Class C product.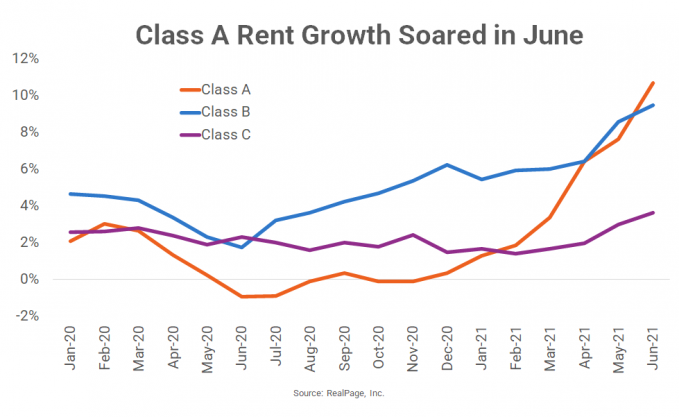 But a distinct divide exists when it comes to rent change in Class A properties across Indianapolis. Submarkets where Class A rent change is negative or lackluster tend to be more centrally located, whereas Class A rents are growing at the highest rates in the suburbs.
Class A rent growth topped 20% in four Indianapolis submarkets, including the suburban areas of Greenwood/Johnson County and West Indianapolis. Only two submarkets were still cutting Class A rents on an annual basis as of June: Downtown (-1.9%) and neighboring East Indianapolis (-3.3%).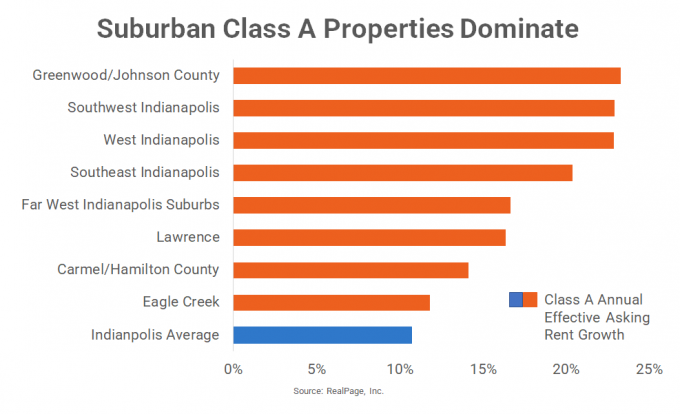 An example of luxury suburban stock boosting performance can be seen notably in the upscale suburb of Carmel/Hamilton County. Rent change here registered at 10.3% in June. Occupancy climbed 310 basis points (bps) in the last year – the best showing in Indianapolis. Occupancy in Carmel stands at 97.4%, ranking below only two other suburban submarkets: Far West Indianapolis Suburbs and Greenwood/Johnson County.
For both rent change and occupancy in Carmel/Hamilton County, an already strong performance was boosted by Class A properties in June. Occupancy climbed 380 bps in luxury stock in the last year, and rents were up a steep 14.1%.
Driving this performance, Carmel/Hamilton County is the market's heavyweight when it comes to annual demand. Over half of Indianapolis's annual apartment demand of 3,274 units came from Carmel/Hamilton County. The submarket's annual demand of nearly 1,800 units comes in well above its annual supply of nearly 1,200 units.
In contrast, some of the close-in submarkets such as Downtown, East Indianapolis and Southeast Indianapolis are still working off net move-outs as of 2nd quarter, but no more than a couple hundred units per submarket.
Meanwhile, occupancy in those close-in urban submarkets lags the market average. Indianapolis occupancy was at 96.2% in June, up 110 bps in the last year. Nationwide, occupancy registers at 96.5%, a more than 20-year high.
In Downtown Indianapolis, occupancy was a lackluster 90.7%. Occupancy also registers below the market average in Southeast, East, Northeast and Southwest Indianapolis.
Over the next year, the apartment performance in Indianapolis is forecasted to level out closer to its long-term averages. Rent change is expected to remain healthy, though not at June's high rate and occupancy should hover just under the national norm.