Low Risk, Low Upside: Consistency Key in Philadelphia
The largest city in Pennsylvania is also one of the nation's most constant. Apartment market fundamentals in Philadelphia have remained relatively stable throughout much of the current economic cycle, avoiding the fluctuation of some markets, according to a recent RealPage Asset Optimization webcast.
Throughout the current cycle, the Philadelphia market has maintained a narrow range for occupancy rates and rent growth levels. This consistency traces to stable demand drivers in the local economy and population. It also influences how much apartment renters move around.
The share of Philadelphia renters staying in place at initial lease expiration is very high, especially in the affordable Class C stock. When leases expire, 59.5% of renters in the City of Brotherly Love renew. That's a significant 780 basis points (bps) above the national average. This is nothing new for the market, which has seen lease renewals average about 540 bps above the U.S. norm throughout the current cycle. Philadelphia 's Class C stock is especially stable, with a renewal probability of 64%.
Less churn in the renter base means fewer vacant apartments to fill. As a result, occupancy in Philadelphia held relatively steady in recent years. In fact, since 2nd quarter 2014, occupancy here has hovered tightly between 95% and 96%. When the market logged a notable bump in fall 2018 that took occupancy to 96.3%, it registered just a hair above the recent average.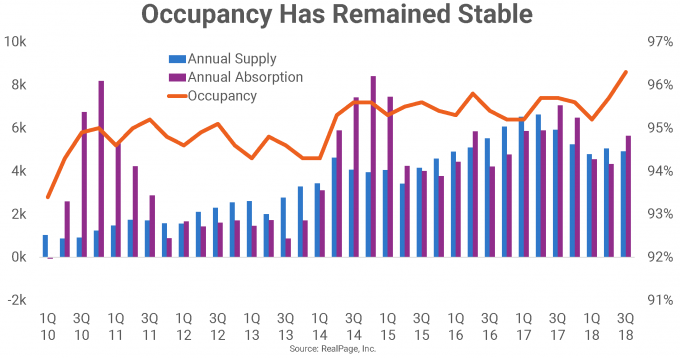 Also influencing occupancy trends, Philadelphia hasn't seen elevated supply volumes which have caused occupancy to fluctuate in many other markets this cycle. Developers added about 32,000 new units to the market since 2010, inventory growth of just 8.7% – one of the lowest rates nationally.
Philadelphia's Class C stock has made notable progress during the current cycle. Class C product in Philadelphia started the current economic cycle with occupancy at a frail 92.6%, 50 bps behind the other product lines. Consistently rising over the past eight years, occupancy in this affordable stock is now 140 bps ahead of the more expensive units. At 97.2%, occupancy in Class C product is at its tightest rate in at least two decades. Meanwhile, Class B stock was in line with the market norm at 96.4%, and Class A product trailed behind at 94.6%.
Submarkets with the tightest occupancy readings in fall 2018 were Northeast Philadelphia, Gloucester County and Newark. These areas, which are heavy in the affordable Class C stock, logged occupancy rates between 97% and 97.5%. Meanwhile, the market's expensive urban core – Center City Philadelphia – ranked alongside neighbors Southwest Philadelphia and Camden/Cherry Hill at the bottom of the performance spectrum, with occupancy between 94.5% and 95.6%.
Mirroring overall occupancy trends, rent growth has also been steady, but restrained compared to the national average. During the past four years, price increases have stayed between about 2% and 3% in Philadelphia. Even at its strongest, year-over-year price hikes never got above 4% during the current cycle. As of 3rd quarter 2018, year-over-year rent growth was at 2.4%, a bit behind the U.S. norm (3.0%). Stability in Philadelphia has led to a total price increase of 23.1% since 2010, when the current cycle began. While that progress has taken average monthly rents to an historical high of $1,313, Philadelphia's performance still runs a bit behind average U.S. cycle growth of 32.6%.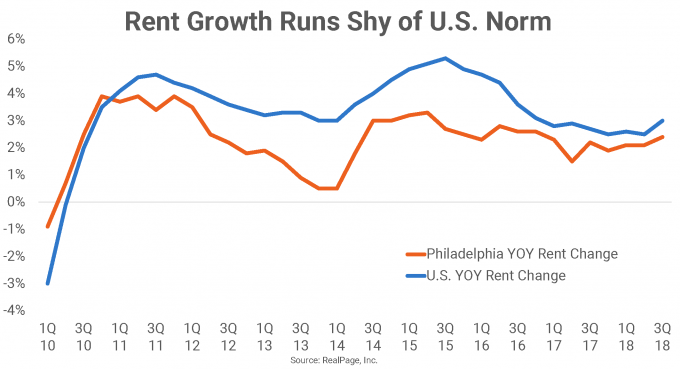 Unsurprisingly, year-over-year rent growth is most reserved in the Class C product line, at 1.4% as of 3rd quarter. Stronger growth was seen in the Class A (2.1%) and Class B stock (2.9%).
Among submarkets, the pricey Center City Philadelphia and the neighboring Camden/Cherry Hill area held back overall rent growth potential, with very reserved increases under the 1% mark.
Helping Philadelphia hold onto its resident base and absorb new stock, the metro's economy has a heavy concentration of education and healthcare institutions. Those sectors, which comprise nearly one-fourth of all jobs in the metro, somewhat insulate the economy during downturns, but they also limit upside potential during economic expansions. With a concentration in these industries, Philadelphia is one of the nation's lowest income growth cities.
The metro is also experiencing sluggish population growth. The population in Philadelphia increased just 1.3% from 2012 to 2017, well below the national average (3.8%). Like many Northeast metros, the population base in Philadelphia has a relatively high median age, which presents headwinds for the local apartment market.