Los Angeles Tops Major Markets for Jobs Gains as of September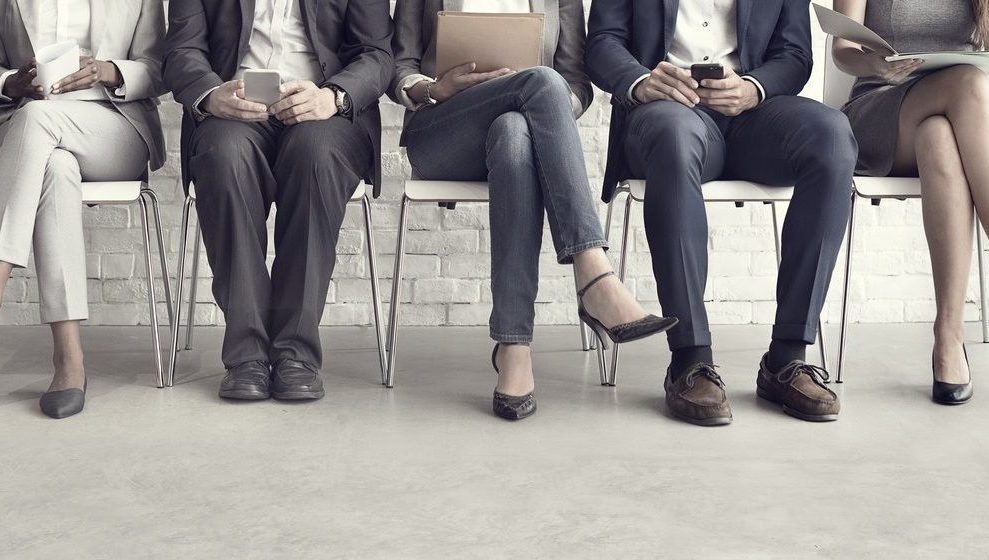 For the first time since the pandemic recovery began, Los Angeles bested New York for annual employment gains.
The Los Angeles-Long Beach-Glendale metro division gained 254,600 jobs in the year-ending September, according to data from the Bureau of Labor Statistics (BLS). This was almost 33,000 more jobs than the 221,800 jobs gained in the #2 New York-White Plains metro division.
While the Delta variant of COVID-19 has dampened job growth around the country, with most of the top markets for job gains reporting lower annual totals than last month, many of the same top markets for job gains returned to the top 10 list in September. In fact, two of this month's top 10 markets improved their job gain totals from August's figures. Houston moved up to the #3 spot on the list with 148,100 jobs gained for the year, almost 9,000 more than last month.
Dallas and Boston each slipped one spot on the list to #3 and #4 with 134,500 to 140,000 jobs gained each. Both were down around 14,000 jobs from last month's annual totals. Phoenix and Atlanta remained in the #6 and #7 spots, respectively, gaining an average of 124,000 jobs between them but down around 5,000 jobs from August.
Despite losing a little ground in annual employment gain from last month, Chicago moved up two spots to #8 on this month's list with 116,900 jobs gained for the year. Anaheim remained at the #9 spot with a total of 109,500 jobs gained, almost 10,000 fewer than the month before. The nation's capital – Washington, DC – moved back onto the top 10 list for jobs gained with 105,100 more employed than the year before. That was about 3,400 more than in August.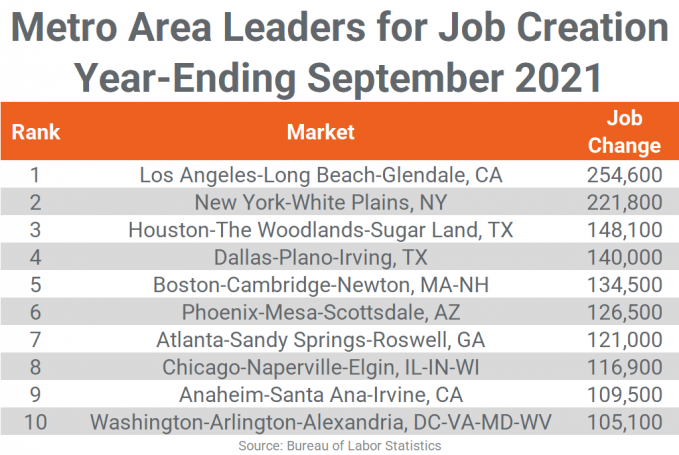 With annual job gain totals slipping from last month's pace for the majority of markets, the employment recovery effort to reach the same level of employment before the pandemic began has faltered. Dallas remains the only top 10 job gain market to have recovered all of the jobs lost since February 2020. Phoenix is close behind and on the cusp of hitting that milestone (just 1,700 jobs down). With the exceptions of New York (-8.5%) and Los Angeles (-7.4%), the remaining top job gain markets are about 3% to 5% from returning to pre-pandemic employment levels.
Despite the hiring slowdown, 26 of the 150 markets RealPage tracks have regained all of the jobs lost during the pandemic, 11 more than last month. In addition to Dallas, Salt Lake City, Austin, and Kansas City are some of the major markets to have recovered all pandemic-induced job losses, unchanged from last month. Besides Phoenix, the list of major markets that are less than 1% from pre-pandemic employment levels include: Memphis, San Antonio, Fort Worth, Birmingham, Raleigh/Durham, and Cincinnati. In addition to New York and Los Angeles, markets that still have a long road to full recovery include Midland/Odessa, Urban Honolulu, New Orleans, Oakland, Las Vegas, San Francisco, and Orlando. Each are still 7% or more below their February 2020 employment levels.
Comparing annual job gains on a month-over-month basis, about one-third of our 150 markets had higher annual job gains in September than in August as the remaining 99 markets felt the Delta variant effect more keenly. The areas that experienced month-over-month improvement in annual job gains were primarily the major Texas markets (minus Dallas), northern Florida (Tampa and Orlando), and the Bay Area (San Francisco and San Jose). The deepest decline in annual job gains from August were along the eastern seaboard in the markets of New York, Philadelphia, Nassau County-Suffolk County, NY (Long Island), Baltimore, and Newark.
These month-over-month comparisons of not seasonally adjusted labor data from the BLS can sometimes be misleading, but nonetheless give an idea of overall trends. In addition to the markets listed above, Los Angeles, Detroit, New Orleans, Buffalo, and Boston had declines of about 15,000 jobs or more compared to last month.
With the slowing job gains, only 10 markets had annual job gains of 100,000 or more compared to 11 in August and 23 in April. Another 17 markets gained between 50,000 and 99,999 jobs, the same as in August. Only New Orleans had an annual job loss from last September out of the top 150 markets.
Annual percentage change in employment continues to be strong but with moderating job gains, as the top performers have seen reduced job growth as well. Seven of August's top 10 returned in September with Austin, Orlando, and San Francisco replacing Rochester, Buffalo, and Portland, ME on the top job growth markets list. Six of the top 10 growth markets had slower annual growth than last month and only the small Urban Honolulu market had double-digit growth.
Compared to August's list, the range of job growth slipped as only two markets had growth of 8% or greater in September while four markets did last month. Excepting the big gain in Urban Honolulu, the average change in job growth for the remaining nine markets was about 32 bps lower than in August.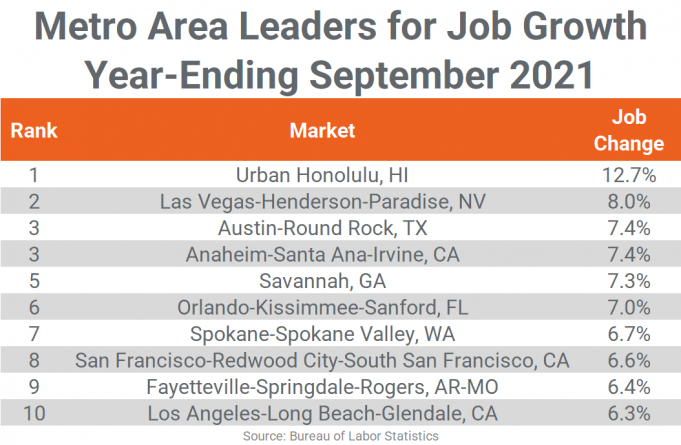 The weakest large markets for percentage growth had growth rates of less than 3% and were mostly in the Midwest (Omaha, Chicago, Pittsburgh, Indianapolis, Columbus, OH, St. Louis, Cleveland, and Milwaukee. In addition to the top 10, strong job growth markets include Phoenix, Tampa, Miami, and Seattle. Markets that had annual job growth rates below 3% numbered 54, compared to 44 in August.