Following the pattern seen across most U.S. markets during the COVID-19 pandemic, Charlotte saw job change turn negative in recent months.
According to the Bureau of Labor Statistics, Charlotte's average annual employment change for the first four months of 2020 yielded a loss of 25,000 jobs. That was quite a change from the performance Charlotte put in over the course of the past decade, when the market added an average of about 31,000 jobs per year. Expansion in Charlotte peaked in 2015, when employment growth averaged at 42,000 jobs annually.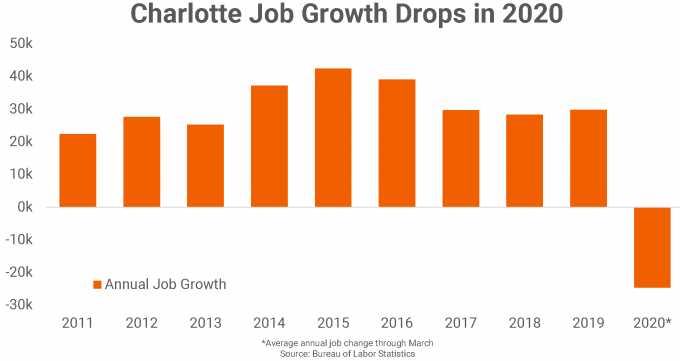 Breaking down Charlotte's average job losses in 2020, the damage progressively gets worse by month.
While Charlotte was still creating roughly 25,000 jobs annually in January and February, employment growth was cut in half in the year-ending March, when about 13,500 jobs were created. Results turned negative in April, when this market lost a considerable 162,000 jobs, effectively wiping out all the economic strides Charlotte had made in the previous five years.
As with most U.S. markets, recent losses have been steep in the Leisure and Hospitality sector, but Charlotte also saw deep declines in Health Care, Professional Services and Retail Trade. On the other hand, jobs are still being added in Charlotte's Finance and Construction sectors.
For more information on Charlotte's apartment market, watch the RealPage webcast, Up Close and Local: Charlotte.