Metro Leaderboard for Annual Permits Remains Largely Unchanged in October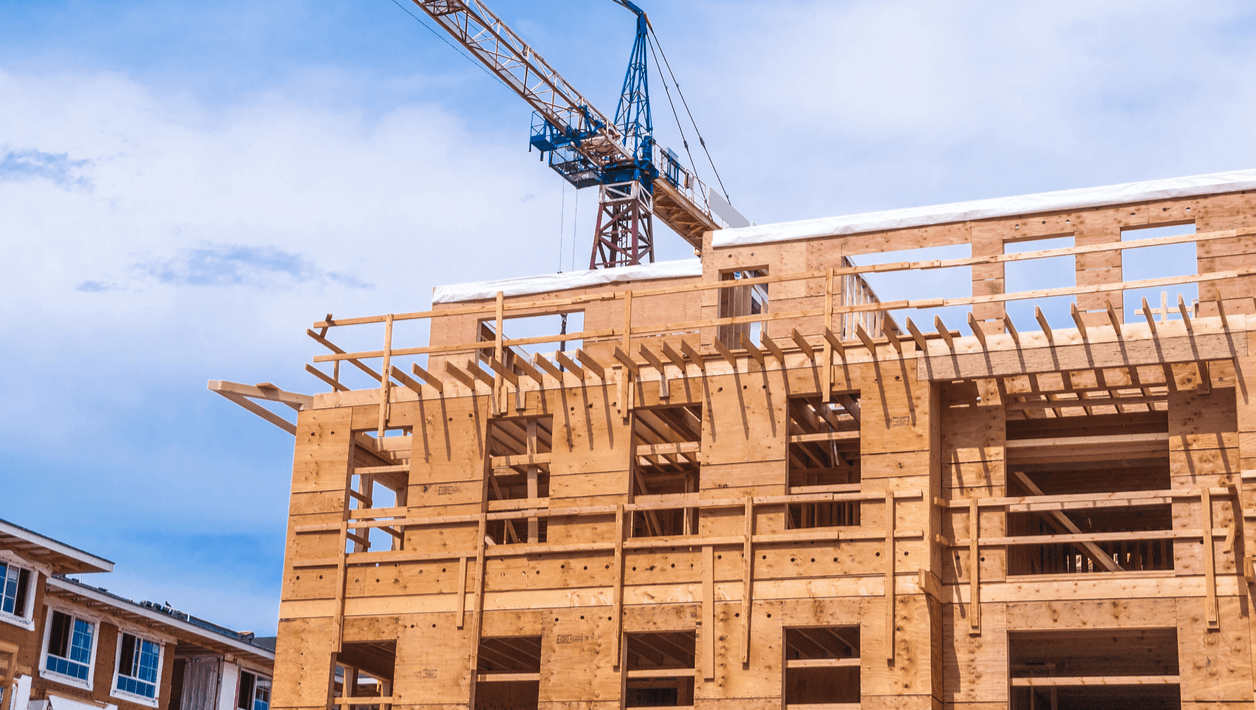 The latest permits data shows national permit totals are plateauing.
According to the U.S. Census Bureau, local governments across the country approved 416,000 units in the year-ending October 2017. That permitting activity, inclusive of the 40,087 units authorized during the month of October, represents a 13.4% increase over September 2017's annual volume and a 12.2% decline from October 2016's annual total.
On the metro-level leaderboard for annual activity, the first nine of the top 10 metros remained the same as they did in the previous four months, and the first five remained in order. Austin moved up two spots to #6 and Washington, DC vaulted from #9 to #7, pushing Chicago and Atlanta down two spots each to #8 and #9, respectively.
Four of the top 10 metros issued fewer multifamily permits in the 12 months ending in October 2017 than they did in the preceding 12 months, with Atlanta experiencing the only double-digit percentage decline. Registering a 27.6% year-over-year decline in annual authorization volumes, Atlanta's permitting activity continues to cool from last year's peak, settling in around the 9,000-unit level common throughout 2014 and 2015.
Meanwhile, Dallas and Denver both saw double-digit increases year-over-year. In Dallas, a large number of permits issued in October, specifically, drove up the annual volume. However, the annual tally of 22,061 permitted units remained below the late 2015 to early 2016 peaks of 24,000 to 25,000. Denver's current totals remain elevated, relative to recent norms.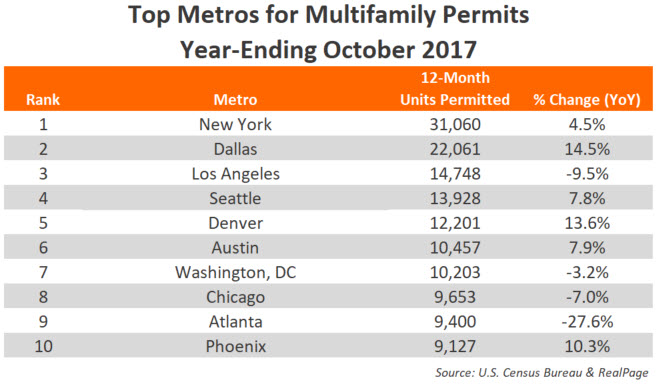 With six of the top 10 apartment markets reporting increases in annual multifamily permits, the annual total of multifamily permits issued in the top 10 metros – 142,838 – was 1.4% greater than the 140,828 issued in the previous 12 months. The total number of permits issued in the top 10 metros was almost equal to the number of permits issued within the 11th-40th ranked metros.
For the month, Dallas returned to #1, bumping New York to a distant #2. The North Texas hub permitted nearly 3,200 units in October 2017, the metro's largest single-month volume since August 2015.
Other notable shifts include Los Angeles' four-spot drop to #6 and Washington, DC's six-spot rise to #3. Washington, DC permitted 2,131 units – rivaling New York's monthly activity – to log a 95.5% year-over-year spike in authorization volumes. At the same time, Washington DC's annual authorization tally saw a slight decline.
The monthly leaderboard's greatest year-over-year change belonged to Austin. Permitting 1,019 units, the Texas capital significantly increased multifamily authorizations over October 2016. Austin has seen a four-year supply wave contribute to restricted pricing power and a dip in occupancy.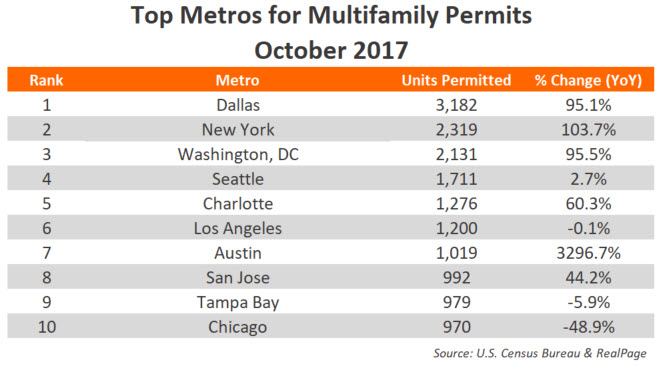 Meanwhile, the introduction of Austin, Chicago, San Jose and Tampa Bay pushed Boston, Nashville, Phoenix and Portland from the standings.