Las Vegas Tourism Suffers While Construction Builds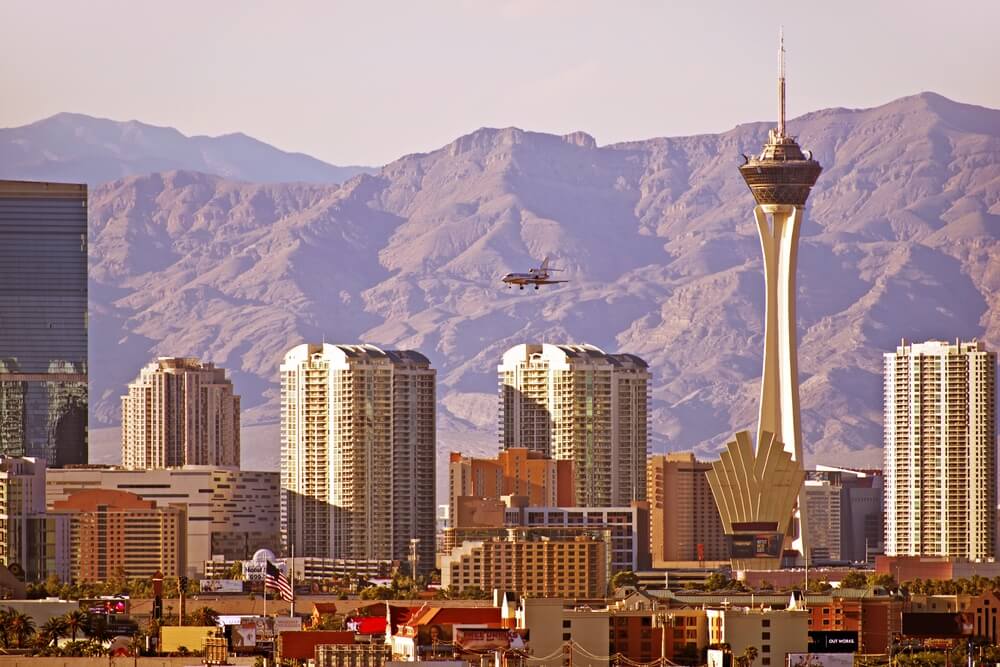 Las Vegas' key tourism segment saw job cuts in December, but the growing construction sector helped elevate the metro's overall job numbers for the year.
Preliminary data from the Bureau of Labor Statistics reports the Las Vegas metro saw annual job growth of 29,900 positions in December 2017, up slightly from the gains seen in 2016. But what that big-picture number doesn't show is the job cuts the metro's Leisure/Hospitality Services segment suffered after tourism dropped off in the final quarter of the year. This sector, which makes up nearly one-third of Las Vegas' total employment makeup, saw reductions of 600 jobs in December, the first net job cuts the segment has seen in almost eight years. Cuts were isolated to tourism-related subsectors.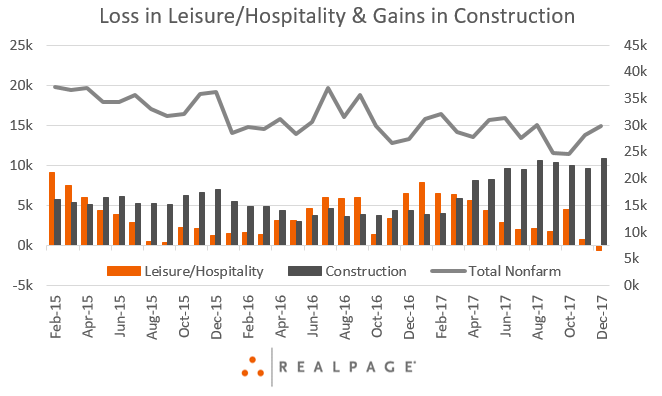 Coinciding with the job cuts, the Las Vegas Convention and Visitors Authority (LVCVA) reported the metro hosted 42.2 million visitors in 2017, which represents a 1.7% decrease year-over-year. The LVCVA suggests the slowdown is a result of the temporary inventory reductions due to room renovations taking place at several properties in combination with the impact of the mass shooting at a music festival in October.
MGM Resorts International, which owns and operates the Mandalay Bay resort and casino, announced in November its intent to cut several hundred employees at its Las Vegas locations. An MGM spokesperson told the Las Vegas Sun the layoffs are due to the economic effects of the October mass shooting carried out from the window of the Mandalay Bay resort on the strip.
The Centers for Disease Control and Prevention's National Vital Statistics System reports the wedding industry also saw a setback after the October tragedy. The number of marriages in Clark County, a popular U.S. destination for weddings, fell to a 26-year low in 2017, with most of the decline occurring in the last two months of the year.
Diversifying the economy and largely offsetting the slowdown in Leisure/Hospitality Services jobs was the Construction segment, which added 10,800 jobs in 2017, an 18% increase year-over-year. This was one of the strongest growth rates in the country for this job sector.
Contributing to the rise in construction jobs in Las Vegas is elevated apartment development activity. More than 3,500 units completed here in 2017, a volume well above the metro's long-term average. Also contributing to Construction sector job growth were large projects like the football stadium that broke ground in November at Russell Road and Dean Martin Drive and the Resorts World Las Vegas casino currently underway on the Strip.
Other Las Vegas job sectors with notable growth in 2017 included Government (5,500 jobs), Professional/Business Services (5,300 positions) and Education/Health Services (4,400 jobs).