Las Vegas Sends Mixed Signals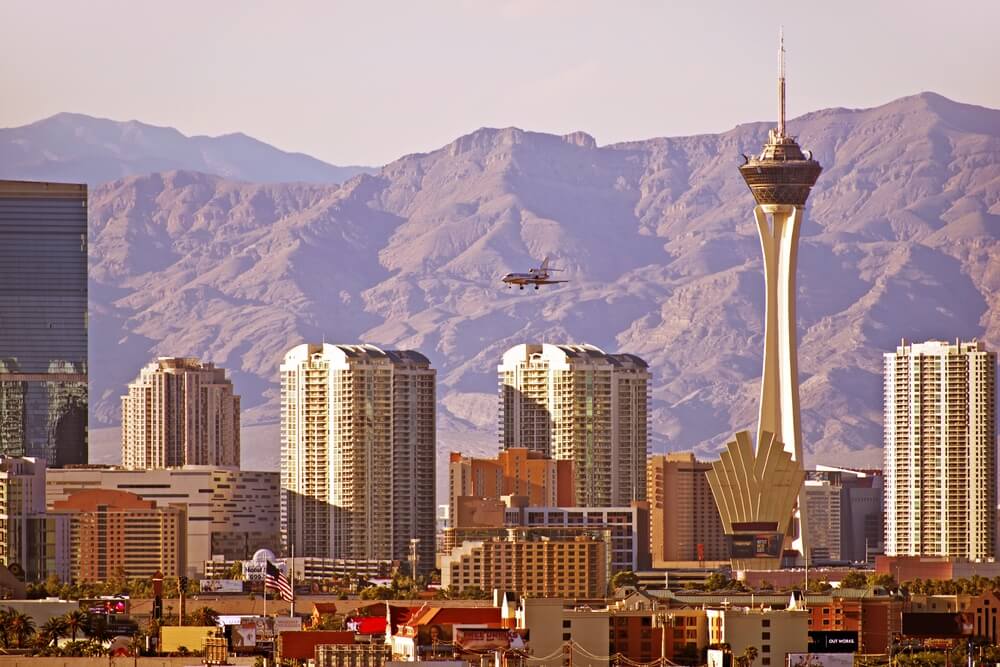 Going back to Spring 2020, Las Vegas appeared to be a local apartment market headed for trouble. However, the metro ended the year in surprisingly good shape, posting solid demand as well as an uptick in occupancy and rent achievement.
While that's good news, it's questionable whether today's momentum can be sustained, given that the local economy is severely damaged and that the number of missed rent payments is unusually high.
Year-End 2020 Stats Are Encouraging
Demand for Las Vegas apartments came in at roughly 4,900 units in calendar 2020, as the metro achieved its biggest product absorption tally in two decades. While that demand performance seems nearly impossible given enormous job destruction in the hospitality-heavy local economy, Las Vegas appeared to pick up a big block of households relocating from West Coast (especially Southern California) cities, opting for a more affordable living environment.
That impressive demand pushed the Las Vegas apartment occupancy rate to 96.1% as of December, up from 95% a year earlier.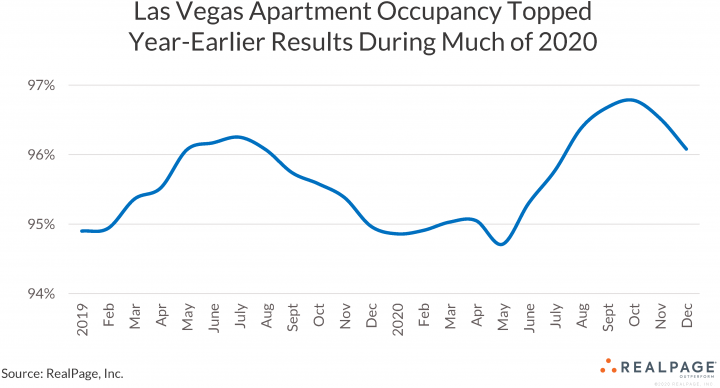 Furthermore, effective asking rents for new leases climbed by 3.9% during 2020, rising across every single neighborhood and in every product niche.
What Happens Next?
Las Vegas can't depend on newcomers to sustain apartment demand over the long term, and there's a huge hole to fill in once the local economy again becomes the primary driver of housing absorption.
Today's job count is still about 9% under the pre-pandemic total from early 2020, and the unemployment rate is among the highest in the country at 11.5%. The rollout of COVID-19 vaccines obviously should allow the local hospitality, entertainment and gambling facilities to expand operations, but it remains unclear how quickly the city's giant convention revenues could begin flowing once again.
Another concern here is that Las Vegas ranks among the nation's key trouble spots for missed rent payments. RealPage calculations show that the share of apartment households meeting their rent obligations from April 2020 through the end of the year fell by a monthly average of 5.2% from the year-earlier rate.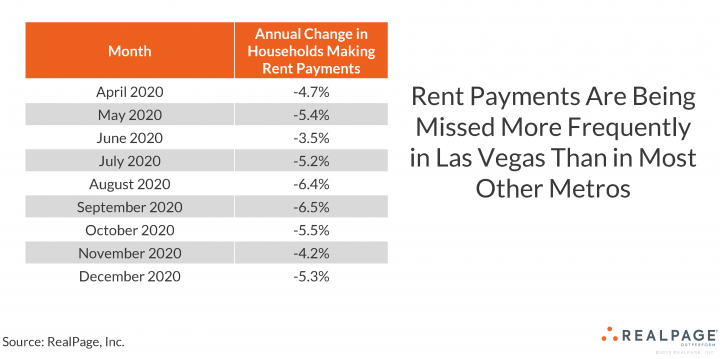 While RealPage analysts are not anticipating a huge spike in evictions from professionally managed apartments when eviction bans expire in most places, Las Vegas is a metro where the eviction numbers could be unusually substantial. In turn, occupancy could correct downward to a significant degree in a very short time period.
Overall, then, there's likely more downside risk for the apartment market performance outlook in Las Vegas than in other places registering similar results for occupancy and rent change.
Join RealPage analysts next week as they discuss the Las Vegas apartment market's recent strength in the upcoming webcast Up Close and Local: New and Improved Markets.